Tuesday, August 8, 2023
---
Leadership Program Reading Groups Confront Challenging Questions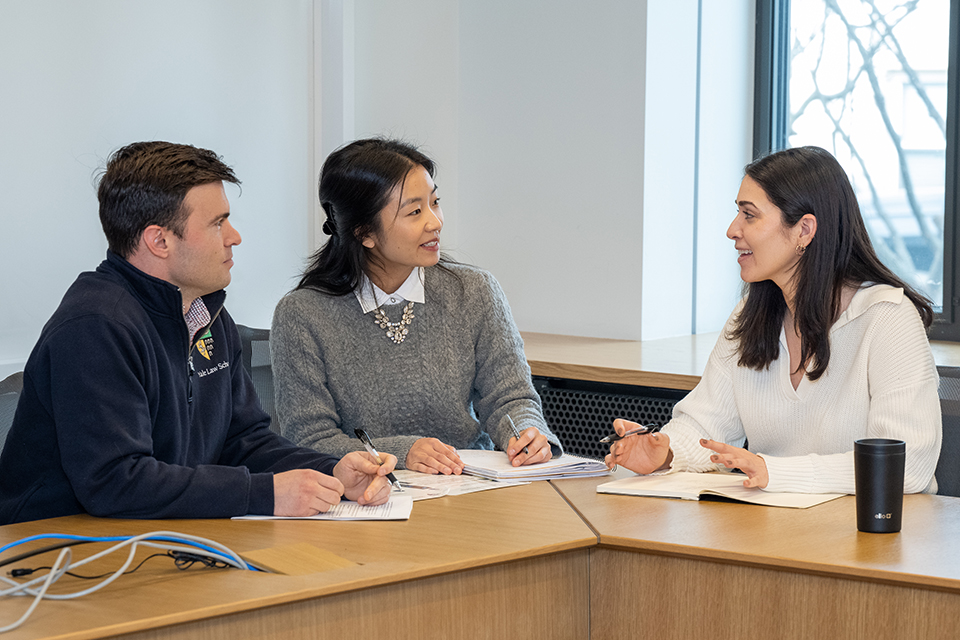 Student reading groups can provide an intimate setting for challenging conversations.
Topics include leading in crisis, domestic extremism, identity, and failure
Last fall, as part of a reading group called "Leading in Crisis," Yale Law School students engaged firsthand with people who have led major organizations, advocacy groups, government agencies, and populations under extraordinary circumstances: Over the course of a semester, speakers included Deval Patrick, the former governor of Massachusetts who brought his people to "Boston Strong" in the aftermath of the Boston Marathon bombing; Timothy F. Geithner, who led the Treasury Department during the global financial crisis of 2008; and Fatima Goss Graves '01, president and chief executive officer of the National Women's Law Center, which advocates for gender justice.
The reading group was organized by Davis Parker '24. Yale Law School Dean Heather K. Gerken and Joseph Tsai '90 attended every session to bring their perspectives into the mix alongside guest speakers. Tsai, the founder of The Tsai Leadership Program, spoke about his own experiences as a co-founder of the Alibaba Group and owner of several sports teams, including the Brooklyn Nets.
These high-level executives spoke candidly about their experiences leading teams through challenging circumstances and offered advice to students on how to hone their skills and prepare for uncertainty in their careers — essential skills in today's rapidly changing landscape. Tsai told students that one of the best ways to lead in crisis is to be "the lowest maintenance person in the room." He described his technique as setting aside his own needs for status or control so that he could listen carefully — singing along to validate the other person's expressed perspective without necessarily agreeing with it — and working hard to fully understand the needs of others to help him craft workable solutions. Referring to the importance of humility, he summarized, "A leader should not try to be the smartest person in the room."
The content — like many aspects of The Tsai Leadership Program — was designed to be practical: to train law students for their current and future roles, on campus and throughout their careers. Among the participants were the leaders of student organizations representing a broad swath of the class, including the Latinx Law Students Association, the Black Law Students' Association, the Yale Law Veterans Association, the Yale Law Journal, and the Federalist Society, among others. Part of the mission of this reading group was to bring together student leaders from disparate perspectives around their shared interest in sharpening their leadership skills.
Reading groups — long a feature of the intellectual life at Yale Law School — are an important component of The Tsai Leadership Program, which prepares students to be leaders in diverse settings and encourages them to think broadly and critically about complex challenges. In the program's second year, there were three groups: Leading in Crisis, Navigating Public Sector Careers and Leadership, and Countering Domestic Extremism.
"These are student-initiated and student-led," said Gerken. "It gives the students a chance to bring in some of the leading figures on these topics to discuss questions that are important to them. I learned a great deal from taking part and I know the students did as well."
Zoe Kreitenberg '24 and Nathan Hernandez '24 said they were inspired to create the Countering Domestic Extremism reading group based on their experience in the Leading in Crisis class. Both students are graduates of West Point, served several years in the Army, and were concerned, following the Jan. 6, 2021, attack on the U.S. Capitol, about reports of veterans' participation in extremist groups. (Parker also served in the military — the U.S. Marine Corps — before law school.)
"This opportunity was unique in that it allowed Yale Law School students to participate in real-world changemaking."
—Zoe Kreitenberg '24
Working under the supervision of Sterling Professor of Law Robert Post, Kreitenberg and Hernandez decided to structure their reading group in a summit format. They held several sessions with students that featured guest speakers and moderators, including Post and Dr. David Frey, the director of the Center for Holocaust and Genocide Studies at West Point. Then, they held a two-day summit attended by nonprofit and government leaders, including U.S. Rep. Jim Himes of Connecticut, ranking member on the House Permanent Select Committee on Intelligence; and U.S. Rep. Glenn F. Ivey of Maryland, who sits on the House Committee on Homeland Security.
"Even just trying to define domestic extremism — what falls inside the bucket and outside the bucket — really pushed us to think through what these things mean and how, as a society, we're supposed to decide what's beyond the pale versus what's acceptable," Hernandez said.
Following the summit, participating students submitted policy proposals for Himes and Ivey focused on better data collection, more regulation, and addressing the problem through the lens of security and public health.  
"We do a lot of thinking and talking and writing about the law, and those things are really important," Kreitenberg said, "but this opportunity was unique in that it allowed Yale Law School students to participate in real-world changemaking."
Reading groups also provide an intimate setting for challenging conversations. Sage Arik Mason '24, who used Parker's syllabus as a model for his Navigating Public Sector Careers and Leadership reading group, said that — in addition to offering insights into nonprofit and government career paths — he wanted his group to contribute to the sense of community among Tsai Leadership Program participants. The reading group included sessions on policy, private-sector engagement, ethics, identity, success, and failure.
"A lot of times, at a place like Yale Law School, it seems like people are presenting themselves as perfect," Mason said. "But it does everybody a disservice when talking about your path in life if you don't acknowledge that there have been setbacks along the way."
Sydney Daniels '24 said Mason's group "created space for honest, frank, and candid conversations about values."
"There was mutual trust and understanding," she said. "We all came from very different backgrounds, but, despite that, we were able to find a lot of common ground with a presumption of goodwill."
The 2022–2023 reading groups were so popular that the student leaders behind them have developed new groups for the coming academic year. Mason will be co-leading a new group on policymaking with co-Ludwig Fellow Samuel Feineh '24. And Kreitenberg and Hernandez are working with Dean Gerken on a leadership ethics reading group.
"That's something we're looking forward to," Kreitenberg said. "It's an opportunity for us to recenter on some of these issues that are important to us and that we hope will prepare us and our very talented classmates for the future."