Thursday, December 5, 2019
---
LEAP Hosts ASPCA's Nancy Perry on Wildlife Law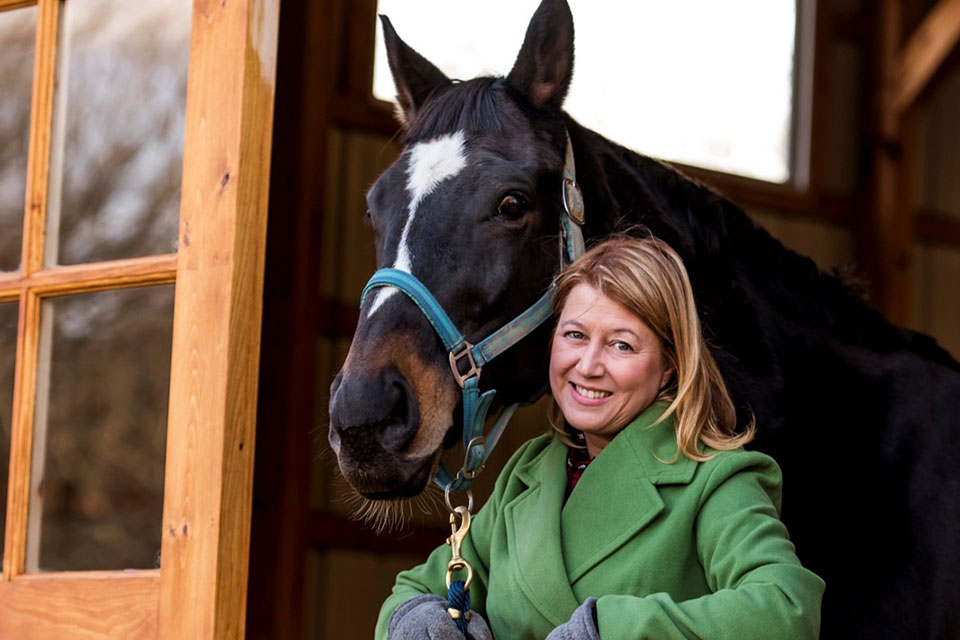 The Law, Ethics & Animals Program (LEAP) hosted Nancy Perry, Senior Vice President of Governmental Relations for the ASPCA, to discuss her work.
The Law, Ethics & Animals Program (LEAP) hosted Nancy Perry, Senior Vice President of Governmental Relations for the American Society for the Prevention of Cruelty to Animals (ASPCA), to discuss her work as a strategist, lobbyist and spokesperson for legislation regarding humane treatment of wild horses. Her talk took place on October 28, 2019 as part of the Fall 2019 Animal Law course.
Perry leads and oversees the ASPCA's legislative efforts and policy work at the local, state, and federal levels. She has been a key architect and leader for more than 20 successful state ballot measures, has testified in Congressional hearings, and has helped pass laws on animal crush videos, fur animals, puppy imports, animal fighting, and horse slaughter.
As a case study of wildlife law, Perry described the modern history of efforts to protect wild horses and burros in the American West. Following a high-profile campaign by Velma Johnston, also known as "Wild Horse Annie," and subsequent efforts by activists, a series of U.S. laws were passed in the mid-20th century to protect and manage wild horse herds, including the Hunting Wild Horses and Burros on Public Lands Act of 1959 and the Wild and Free-Roaming Horses and Burros Act (WFRHBA) of 1971, which outlawed mustanging and declared wild horses "living symbols of [the] pioneer spirit." The national wild horse population protected under the WFHBA is estimated to be approximately 88,000.
Newer amendments, actions by the Bureau of Land Management (BLM), and recent votes in the House Appropriations Committee, however, have chipped away at their protections. The Burns Amendment of 2004, for example, disrupted decades of national policy on the humane treatment of wild horses by striking down protections and essentially forcing the sale of wild horses for slaughter for human consumption. While some lawmakers seek to promote the interests of the cattle industry, others have raised concerns for the longterm well-being of the herds given the complete lack of sustainable management. In recent years, Congressional leaders have united in their desire to see implementation of a proactive, nonlethal management plan. Perry argues that a new approach that shifts management away from reliance on removals and instead implements fertility control on the range is needed to eliminate the constant threat of lethal interventions.
Faced with a stark political reality, Perry described how her organization, working in concert with other humane and wild horse advocacy groups, began to consider a new approach that could gain the support of lawmakers, ranchers, rangeland advocates, and local land managers. A massive scale-up of fertility control would have to be coupled with removals for the first five years and then equilibrium would be established between removals and adoptions. In exchange for expanding fertility control efforts (which are widely seen as more humane than roundups and removals) and prohibiting the killing and sale of horses to slaughterhouses, the BLM would continue to remove animals from "Herd Management Areas" for the first five years. The plan is controversial among some wild horse advocacy groups, but it has received positive reactions from both House and Senate appropriators.
Perry also serves as a Professorial Lecturer in Law at George Washington University Law School, where she has taught courses in Animal Law since 2004. Prior to joining the ASPCA, she served as Vice President of Government Affairs for The Humane Society of the United States, where she managed the organization's state and federal legislative efforts over her 16-year tenure.
The Law, Ethics & Animals Program (LEAP) is a new initiative at Yale Law School that leads and coordinates a diverse program of activities. It seeks to contribute to defining, expanding, and advancing the field of animal law. Among recent and upcoming speakers are Lori Gruen, Jennifer Jacquet, Becca Franks, and Charles Siebert.
By Hope Bigda-Peyton