Friday, June 24, 2022
---
Liman Center Marks 25 Years and Looks to the Future
Students, faculty, alumni, and public interest advocates from across the country marked the Liman Center's 25th anniversary on April 7-9.
The Arthur Liman Center for Public Interest Law honored its 25th anniversary on April 7–9 at this year's annual Liman Public Interest Colloquium. Titled "An Intergenerational Community Committed to Public Service Education and Lawyering," the event also recognized 50 years of the Jerome N. Frank Legal Services Organization (LSO) and Yale Law School's clinical program. More than 300 people participated, including students, faculty, alumni, scholars, speakers, experts, lawyers, and public interest advocates.
In her welcoming remarks, Judith Resnik, Arthur Liman Professor of Law, provided a brief history of the Liman Center, which began as a program in 1997, when it funded a single Yale Law School graduate for a one-year fellowship.
The Liman Center now supports more than ten such fellowships each year, and more than 170 YLS graduates have received Liman Fellowships since 1997, Resnik said. The center has also helped to support several hundred Summer Fellowships, including about 30 this year, for students from Barnard College, Brown University, Bryn Mawr College, Harvard University, Princeton University, Spelman College, Stanford University, and Yale University.
Resnik described the many other activities of the center. In addition to sending fellows to organizations around the country, the Liman Center teaches classes, hosts workshops, and conducts research with current students at Yale Law School. Current Liman Center projects include data collection on solitary confinement, research on the impact of Connecticut's law imposing a lien on assets of individuals who have left prison, and efforts to increase access to voting for people in prisons and jails.
Resnik pointed to the legacy of Arthur Liman '57, after whom the Liman Center is named, as an example of what it means to do public service in a deeply divided time. She also noted that many attendees at the colloquium have walked in the footsteps of public interest pioneers Clinical Professor Emeritus of Law Dennis Curtis '66 and William O. Douglas Clinical Professor Emeritus of Law Stephen Wizner, and the late professors Frank Dineen '61 and Dan Freed '51, who brought Yale's clinical programs into being.
READ ABOUT CLINICAL EDUCATION AT 50
After reflecting on past decades and the current challenges, Resnik said the question to ask is, "What do we do now?"
That question was the subject of discussions during the three-day event.
The panel, "Social Movements, Entrepreneurialism, and Legal Change," moderated by former Liman Center Director Jenny Carroll, focused on the role of innovation and entrepreneurialism in promoting equality in opportunities and resources. In her introduction, Carroll noted that all the panelists were involved in generating and sustaining new institutions. One panelist, Jessica Sager '99, was a Liman Fellow when she co-founded the New Haven nonprofit organization All Our Kin to support the training and professionalization of childcare providers.
Shelley Geballe '76 and Henry Fernandez '93 were likewise focused on creating change in Connecticut. Geballe, Assistant Professor in the Yale School of Public Health, co-founded Connecticut Voices for Children, a research and advocacy organization that aims to improve the state's policies related to families. Out of that work came the Connecticut Mirror, an online news site that covers public policy, government, and politics. Fernandez is both a founder and the current Director of Leadership, Education and Athletics in Partnership (LEAP), which trains high school and college students to work with children living in high poverty urban neighborhoods in New Haven. Another set of inventive endeavors discussed were based on the West Coast. Yale Law School's Professor Gerald Torres '77 explained efforts to lower police-based conflicts through his development of the Urban Peace Institute in Los Angeles, which originated as part of the Advancement Project, a civil rights organization he also helped to found. Former Liman Fellow Robert Hoo '04, who is an organizer with the Industrial Areas Foundation in Los Angeles, described his work partnering with local leaders and institutions to help people across lines of race, class, ethnicity, religion, and political perspective build power together on their shared agendas, such as improved access to health care.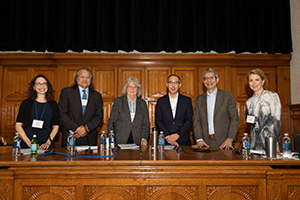 The panel "Confronting, Collaborating, Coordinating, and Disagreeing with Government" brought together activist Ady Barkan '10 and District Attorney of San Francisco Chesa Boudin '11, both former Liman Fellows, who participated via Zoom from the West Coast. They were joined by Abbe R. Gluck '00, Faculty Director of the Solomon Center and Alfred M. Rankin Professor of Law at Yale Law School, and two former deans who are also LSO alums, Richard Revesz '83 from New York University School of Law and Martha Minow '79 from Harvard Law School. Revesz spoke of his work in an LSO clinic, where as a first-year student, he argued — under the supervision of Professor J.L. Pottenger Jr. '75 — to the U.S. Parole Commission that people convicted in D.C. and held in federal prison had rights they were not being accorded. His insights prompted a nationwide class action that established the D.C. Parole Board's jurisdiction over individuals held in U.S. Bureau of Prison custody for violations of the D.C. Code. Minow echoed the importance of the law school clinics, describing how representing children in LSO gave her the confidence to stand up in court and make arguments. Fatima Goss Graves '01 spoke of her experiences advocating for federal and state policies and engaging in public education campaigns as President and CEO of the National Women's Law Center, and Thomas Saenz '91 added insights from his roles as Counsel for the mayor of Los Angeles, President and General Counsel of the Mexican American Legal Defense and Educational Fund, and member of the Los Angeles County Board of Education. The session was moderated by former Liman Center Director Sarah Russell '02, who is now a professor at Quinnipiac School of Law, where she directs its Civil Justice Clinic.
To explore the relationship between public and private sector lawyering, Resnik moderated the session "Public Service/Private Practice," in which Brad Karp, Chair of Paul Weiss, and former Liman Fellow Yaman Salahi '12, Partner at Edelson, P.C., described how their firms set priorities in the kinds of pro bono cases they accept. Former Liman Fellow McGregor Smyth '99, Executive Director at New York Lawyers for the Public Interest, spoke about working with law firms to staff public interest cases, and Conchita Cruz '16, Co-Founder and Co-Executive Director of the Asylum Seeker Advocacy Project, discussed the needs of fledgling NGOs seeking support from law firms.
The session "Engaging/Employing/Encountering and Defusing Protest" examined the roles of lawyers, law students, and organizations in mass movements. Amy Kapczynski '03, Professor of Law at Yale Law School, discussed the complex role lawyers play in helping movements get their messages across in the age of social media. Ahilan Arulanantham '99, Professor at UCLA School of Law, described the way that lawyers who are also from the impacted groups they represent sometimes wear two hats as both advocates and community members. Hope Metcalf, a former Director of the Liman Center and now the Executive Director of the Orville H. Schell, Jr. Center for International Human Rights at Yale Law School, explained the importance of learning from clients — such as those in solitary confinement in Connecticut — and drawing from their protests to shape law reform. Marbre Stahly-Butts '13, Executive Director at Law for Black Lives, discussed the ways in which protests create new possibilities and horizons for social movements. The challenges of lawyers' accountability to the communities with which they work were the topics raised by Michael Wishnie '93, William O. Douglas Clinical Professor of Law at Yale Law School, and Lisa Daugaard '95, Executive Director of the Public Defender Association and one of the first Liman Fellows. The panel was moderated by Emily Bazelon '00, Lecturer in Law and Truman Capote Fellow at Yale Law School. Bazelon underscored the contributions lawyers could make in implementing goals of protestors.
In opening the panel "Why Clinics Matter? Clinical Education's Many Modes and the Academy" moderator J.L. Pottenger Jr. '75, a longtime member of Yale Law School's clinical faculty, noted the progress of building experiential learning into curricular requirements. Speaking about the structure of clinics, Marisol Orihuela '08, 2008 Liman Fellow and Clinical Professor at Yale Law School, and Robin Walker Sterling, Associate Dean for Clinical Education at Northwestern Pritzker School of Law, discussed how clinical teaching is self-reflective and emphasized client-centered advocacy. Muneer Ahmad, Sol Goldman Clinical Professor of Law at Yale Law School, asked the audience to think about how clinical legal education can continue to be responsive to social movements. Susan Sturm '79, Professor at Columbia Law School, discussed how innovative curricula can respond to the difficulties now facing democracy, and described her efforts to teach courses shaped by incarcerated people themselves. Brett Dignam, who taught at LSO for almost two decades before joining Columbia Law School's faculty, where she is now Clinical Professor Emerita of Law, emphasized that a client-centric approach to law distinguishes clinicians from many of their colleagues.
A final session, "What Comes Next? Law Schools, Centers, Fellowships, and Funding: A Critical Assessment in Complex Times," was moderated by former Liman Director Anna VanCleave, who is now the Director of the Criminal Defense Clinic and Associate Professor at the University of Connecticut School of Law. To begin, Margie Adler, Executive Director of the Law School's Ludwig Program in Public Sector Leadership, joined Robin Walker Sterling in describing the need to bring practical skill-building opportunities to students and to create a supportive community of people dedicated to public interest work. Alexandra Harrington '14, former Senior Liman Fellow in Residence and now an Associate Professor and Director of the Advocacy Institute's Innocence and Justice Project at University at Buffalo School of Law, discussed the interactions between major system reform and individual legal representation. Robert Solomon, Clinical Professor at the University of California, Irvine School of Law, emphasized the challenges of ambitious clinical work. Solomon taught clinic at Yale Law School for more than 25 years and was Director of Clinical Education for nine. Sarah Russell '02 touched on the important pedagogical role that in-house law school clinics play, particularly in comparison to student externships.
The colloquium included opportunities for smaller group discussions focused on issues ranging from discrimination to environmental justice, health, housing insecurity, immigration, international human rights, policing reform, poverty, and sentencing reform.
The 26th annual Liman Public Interest Colloquium will be held April 20–22, 2023.
The Arthur Liman Center for Public Interest Law sponsors an annual colloquium to bring together scholars, students, and a diverse group of lawyers and advocates from across the country for discussion. These annual conferences are one component of the Liman Center, which aims to improve the ability of individuals and groups to obtain fair treatment under the law.