Monday, October 24, 2022
---
Ludwig Hall Dedication Kicks Off Alumni Weekend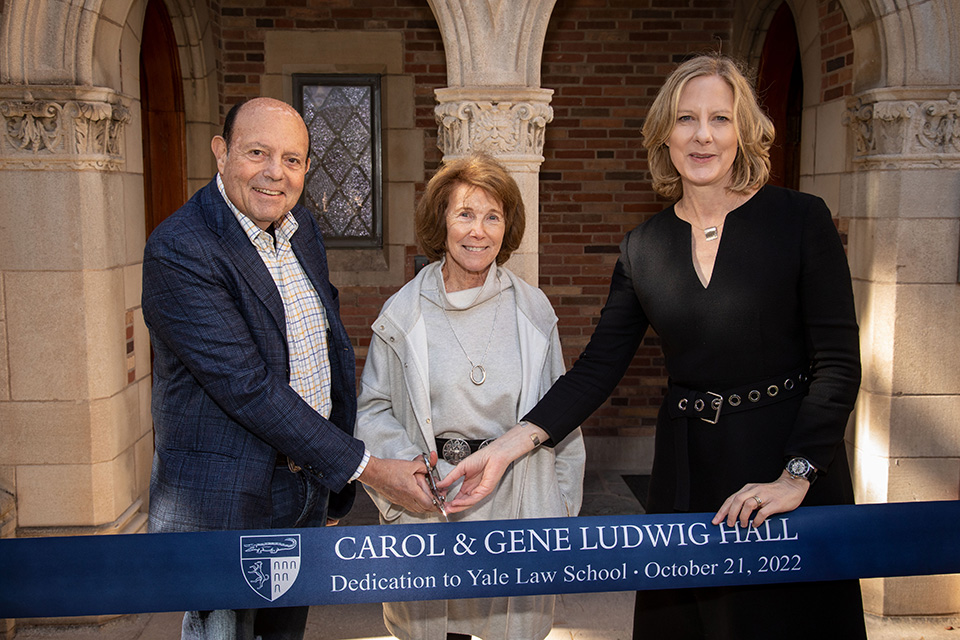 Gene Ludwig '73 and Carol Ludwig prepare to cut the ribbon for the dedication of Ludwig Hall with Dean Heather K. Gerken.
Nearly one year after the launch of The Tsai Leadership Program, alumni, faculty, and staff gathered on a sunny afternoon in the Courtyard during Alumni Weekend 2022 to celebrate the dedication of Carol & Gene Ludwig Hall, the program's newly renovated home.
The program opened with introductory remarks from Dean Heather K. Gerken, Sol & Lillian Goldman Professor of Law, in which she recognized the founders of The Tsai Leadership Program — Joe Tsai '90 and Clara Wu Tsai, Michael Chae '97 and Alexa Chae '97, and Gene Ludwig '73 and Carol Ludwig.
"I cannot imagine a more fitting name for this hall to bear than Gene and Carol," Gerken said. "Together they embody everything that the Law School and The Tsai Leadership Program stand for. Their intellect is matched only by their empathy. Their creativity and curiosity led them to think of solutions that others didn't even think were options." 
The program's new space sits adjacent to the Courtyard in what was formerly known as "The Cottages" in the heart of the Law School campus and will house The Tsai Leadership Program and its two pillars, the Michael S. and Alexa B. Chae Initiative in Private Sector Leadership and the Carol and Gene Ludwig Program in Public Sector Leadership.
"This new building emphasizes the role that the Courtyard has long played, creating more space to focus on our connections and our commitments to one another for the next generation at the Law School," Gerken said. "This building is the nexus of that mission."
Sterling Professor Emeritus of Law Guido Calabresi '58 also gave dedication remarks, in which he asked, "What is it that names do?" Calabresi said that names tell a story about a life lived and teach students and others what they can do with their lives. "Our school stands for leadership in the broadest of ways: to change the world and to do what's good and right," Calabresi said.
In his keynote address, Gene Ludwig said he was honored to be associated with Joe Tsai and Michael Chae, whose character, decency, excellence, and ability to give back exemplify the best characteristics of Yale Law School alumni. Ludwig shared three stories with one element in common: that everyone wants to have access to the American Dream and that in public service, the needs of low- and middle-income families can be met when multidisciplinary approaches, advocacy, and successful implementation combine.
The event concluded with Dean Gerken and Gene and Carol Ludwig cutting the ribbon to Ludwig Hall. Self-guided tours were available for attendees.
Nearing its one-year anniversary, The Tsai Leadership Program seeks to invent a curriculum for the next century as well as to teach critical skills to develop future leaders who are ready to tackle a diverse set of challenges in the private and public sectors. The curriculum includes numeracy courses such as accounting, corporate finance, and statistics; ethical decision-making; and emerging issues related to technological change, big data, and globalization. Students are able to hone professional management skills through specialized intensives, boot camps, and workshops. The Program also brings mentors-in-residence to campus to advise students on the many paths available to a graduate of Yale Law School. 
Ludwig served as the 27th Comptroller of the Currency from 1993 to 1998, and spearheaded efforts to stop discrimination in the banking system. He is an expert on banking, regulation, risk management, and fiscal policy. He is Managing Partner of Canapi Ventures and CEO of Ludwig Advisors. He founded the Promontory family of companies, which have advised financial institutions and created fintech products for banks. 
Dr. Carol Ludwig is a neurologist and President of the Carol and Gene Ludwig Family Foundation (LFF), which supports medical research, particularly in the neurodegenerative diseases, and educational opportunities for low-income and first-generation students. 
For more information about The Tsai Leadership Program, visit the website.