Friday, February 7, 2020
---
Marbre Stahly-Butts '13 on Movement Lawyering for Black Lives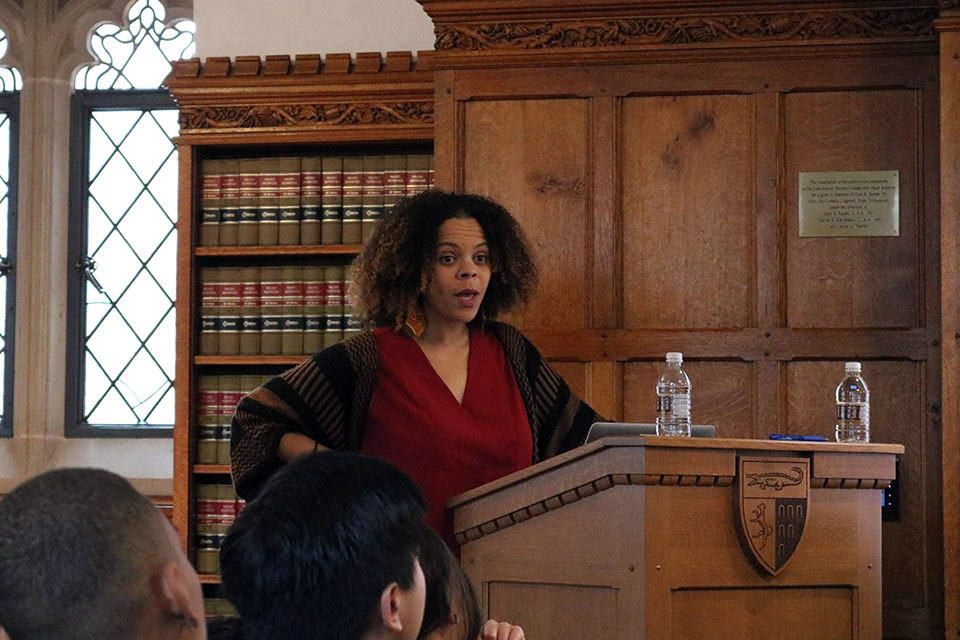 At the February 6, 2020 Human Rights Workshop, Marbre Stahly-Butts '13 discussed her work with Law For Black Lives, an organization focused on building a "responsive legal infrastructure" for movements including Black Lives Matter to "advance and actualize radical policy." As the Executive Director of Law for Black Lives, Stahly-Butts also spoke about movement lawyering and its politics, theories of social change, and radical reform and reparations.
In her time at Yale Law School, Stahly-Butts described having wanted to understand "the language of the law" in order to "exercise power in spaces [of public defense and class actions]." However, she soon concluded that "the law is not going to set [African Americans] free." While she acknowledged that understanding the law is a substantial part of advocacy and policy work, she said she found that the "law is stacked against us." She reflected that "law school deeply radicalized" her. After law school, as a Soros Justice Fellow in 2013, Stahly-Butts began working with families affected by "aggressive policing and criminal justice policies" to develop meaningful policy reform.
Formed in the wake of the protests following police shootings of African Americans in Ferguson, Baltimore, Staten Island, Cleveland, Chicago, and Detroit, the Law for Black Lives network began in 2015 as a two-day convention organized by the Center for Constitutional Rights, Stahly-Butts explained. At the time, she said,"There was this mythology of a post-racial America...where race was no longer a defining characteristic of one's life." However, the "uprisings and rebellions" that emerged in response to police brutality, Stahly-Butts argued, showed that racism was still widespread and institutionalized in the United States.
The Law for Black Lives founders assessed the climate of police brutality at the time and determined that there was a "lack of legal infrastructure for radical organizers and movement organizations" and "severe isolation amongst lawyers doing the work." Many demands that were being made by American youth were "dismissed by institutions." In order to lead and achieve "systemic institutional and cultural change," Law for Black Lives recruited a community of lawyers that could support movements and adopt a "movement lawyering" approach.
According to Stahly-Butts, a movement lawyer is one who "supports and advances social movements," helps legitimize "collective power," and aids in the "transformation of the systems that created these [oppressive] conditions." For Stahly-Butts, like many movement lawyers, this approach is grounded in humanity, intersectionality, courage, and a commitment to social change. She emphasized her view that social change occurs "when you're willing to risk your privilege and reputation."
Movement lawyers, Stahly-Butts said, recognize that the "law is one of many tools [to drive change], but not always the best one" and they "relinquish their privilege in order to stand up for justice." She cited the 1954 U.S. Supreme Court case of Brown v. Board of Education as an example of the law as a tool to "mitigate harm," rather than fundamentally alter the harmful system; despite the decades since the case, many school districts still suffer from de facto segregation. It is this type of incomplete reform, according to Stahly-Butts, that causes movement lawyers to reject a law-centric theory of change.
As an explicitly political organization, Law for Black Lives (as well as movement lawyers more broadly) draws on black queer feminist, anti-capitalist, and prison abolitionist theories in their practice. Intersectionality, Stahly-Butts said, is at the center of movement lawyering. She quoted the Combahee River Collective, a black feminist lesbian organization based in Boston in the late 1970s, saying, "If black women were free, it would mean that everyone else would have to be free since our freedom would necessitate the destruction of all the systems of oppression." Following this theory, Stahly-Butts explained, Law for Black Lives approaches policy-making "from the margins." Movement lawyers, she said, often ask themselves: "how do we center the most marginalized people in society in our discussions?"
According to Stahly-Butts, movement lawyers also understand that capitalism and white supremacy have had "a long, long love affair," pointing to capitalism as a system of exploiting labor. She also highlighted the criminal legal system as an "extension of slavery and a mechanism to control and exploit labor." Prison abolition, which she described as a "gradual project of decarceration in which radically different legal and institutional regulatory forms supplant criminal law enforcement," is to Stahly-Butts an extension of the movement to abolish slavery; she said that she rejects the idea that the abolitionist movement ended with the Thirteenth Amendment. Previously absent in law school conversations, Stahly-Butts expressed her happiness that students are gradually incorporating abolitionist ideas into their legal analysis.
"Decarceration is not always abolition," Stahly-Butts explained, because "abolition is a reimagination of what safety looks like — erasing cages for humans in America and dealing with harm in a way that addresses harm…it's dismantling the prison industrial complex, and divesting from and delegitimizing ICE, cops, surveillance, prisons, and jails." Still, Stahly-Butts emphasized, this project is as dependent on what is built in place of these mechanisms as much as it is dependent on what is destroyed.
In Law for Black Lives' fight for racial justice and radical reform, Stahly-Butts highlighted reparations as an "act or process for making amends for a wrong." Acknowledging that it is a "divisive subject" in the United States, Stahly-Butts emphasized that "materially addressing past and continuing harms" is vital in order to achieve equity and end racial injustice.
"Without remedying the accumulated impact of past harms, we are destined to perpetuate them," Stahly-Butts said. "We need to look back to go forward...we need to reckon with our past and the racial and gender economic disparities in this country."