Tuesday, November 5, 2019
---
Michael Chae '97 Receives Yale Law & Business Society Alumni Achievement Award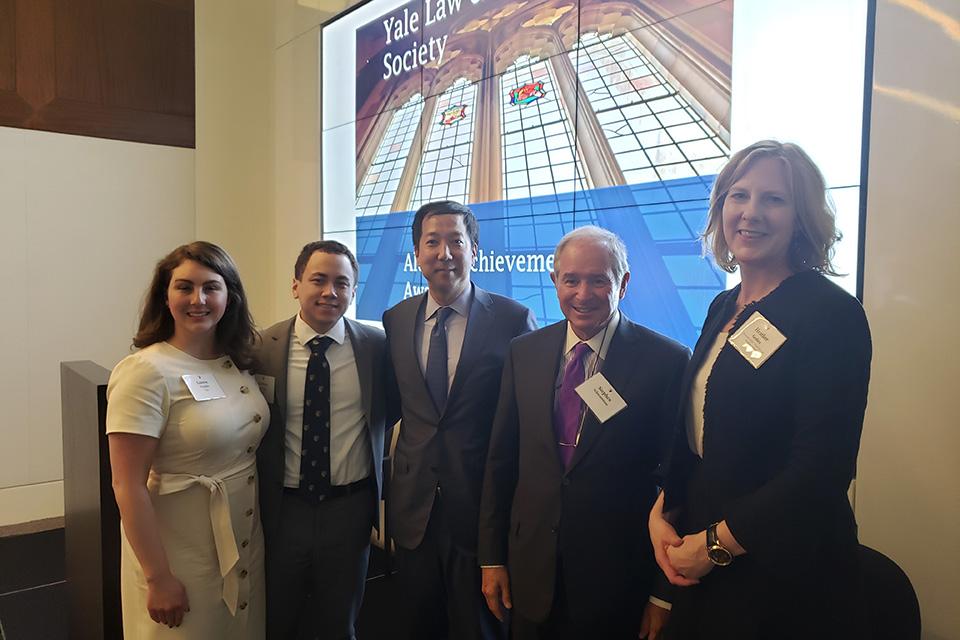 Current YLBS co-Presidents Lauren Trujillo '21 and Damien Chang '21, award recipient Michael Chae '97, Blackstone CEO Stephen Schwarzman, Yale Law School Dean Heather Gerken.
The Yale Law & Business Society (YLBS) presented the 2019 Alumni Achievement Award to Michael S. Chae '97 on June 10, 2019 in New York City.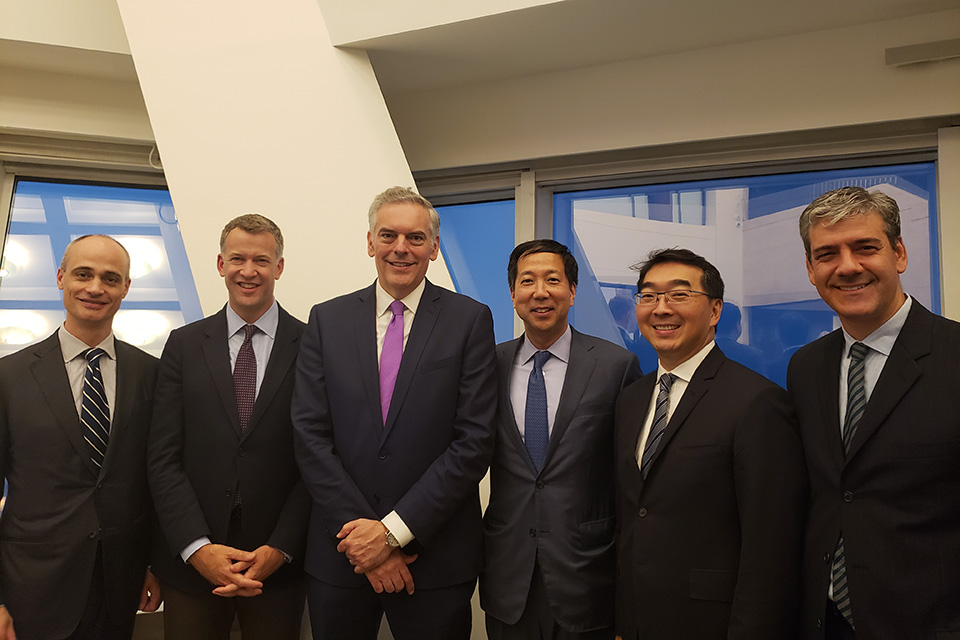 Chae has had a remarkable career. He currently serves as the Chief Financial Officer of the Blackstone Group, a position to which he was elevated in 2015. He has steadily supported the firm's continued expansion and growth, while also playing a key role in the conversion of the partnership into a corporation. Prior to being named CFO, he was a central figure in some of the firm's largest and most successful investments, including Hilton Worldwide Holdings and the retailer Michaels Companies.
The YLBS board selected Chae because of the dedication, drive, and versatility he has shown throughout his career. Former YLBS co-President Farrah Ricketts '20 said that selecting Chae "was the first and most simple decision that the Yale Law & Business Society board made. He is an outstanding figure in the financial world."
Current co-Presidents Damien Chang '21 and Lauren Trujillo '21 introduced guest speakers Stephen Schwarzman, CEO of the Blackstone Group, and Dean Heather K. Gerken.
Schwarzman hailed Chae's intellect and his ability to successfully adapt to new situations throughout his career. Dean Gerken also spoke to his dedication to Yale Law School, having worked with him on an initiative for students interested in leadership in the business world.
Chae himself spoke about two important characteristics of his legal education that have followed him throughout his life: rigor and honesty, both intellectually and personally. He credited his parents with giving him a broad education from an early age in all aspects of life, from current events and history to the arts and sciences, as well as a healthy skepticism in pursuit of truth. He described his work in the private equity field as primarily connected with that same search for truth: trying to get to the bottom of how companies and industries work and how they can be made more efficient and successful.
The Yale Law & Business Society connects students interested in corporate law, business, entrepreneurship, corporate social responsibility, and regulation. YLBS presents lectures and workshops and organizes networking events to support the academic and professional interests of its members. In its programming, the Society works closely with the faculty at YLS and the Yale School of Management (SOM) and both schools' alumni.