Monday, June 29, 2020
---
Owen Fiss Awarded Prize in Jurisprudence
Sterling Professor Emeritus of Law Owen Fiss has been awarded the 2020 Henry M. Phillips Prize in Jurisprudence by the American Philosophical Society.
Established in 1888, the Henry M. Phillips Prize in Jurisprudence is awarded in recognition of outstanding lifetime contributions to the field of jurisprudence and important publications which illustrate that accomplishment. In the 125 years since its inception, the Society has bestowed the prize only 26 times.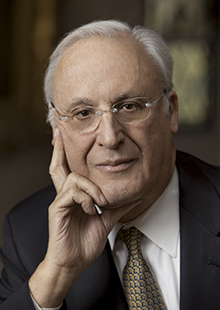 The prize is scheduled to be presented to Fiss at the Society's Autumn General Meeting in November.
The American Philosophical Society, the oldest learned society in the United States, was founded in 1743 by Benjamin Franklin for the purpose of "promoting useful knowledge." In the 21st century the Society sustains its mission through honoring and engaging groundbreaking scientists, seminal thinkers in the humanities and social sciences, and leaders in civic and cultural affairs. It supports research and discovery through grants and fellowships, lectures, publications, prizes, exhibitions, and public education. The Society also serves scholars through a research library of manuscripts and other collections.
At the Law School, Fiss has taught procedure, legal theory, and constitutional law. He is the author of many articles and books, including The Civil Rights Injunction, Troubled Beginnings of the Modern State, The Structure of Procedure (with Robert Cover), Liberalism Divided, The Irony of Free Speech, A Community of Equals, A Way Out: America's Ghettos and the Legacy of Racism, Adjudication and its Alternatives (with Judith Resnik), The Law as it Could Be, The Dictates of Justice: Essays on Law and Human Rights, and A War Like No Other: The Constitution in a Time of Terror.  His most recent book is Pillars of Justice: Lawyers and the Liberal Tradition. In a 2012 study, four of his articles were named as among the top 100 most-cited law review articles of all time.