Wednesday, April 24, 2019
---
Portrait of Robert Post '77 Joins Historic Law School Collection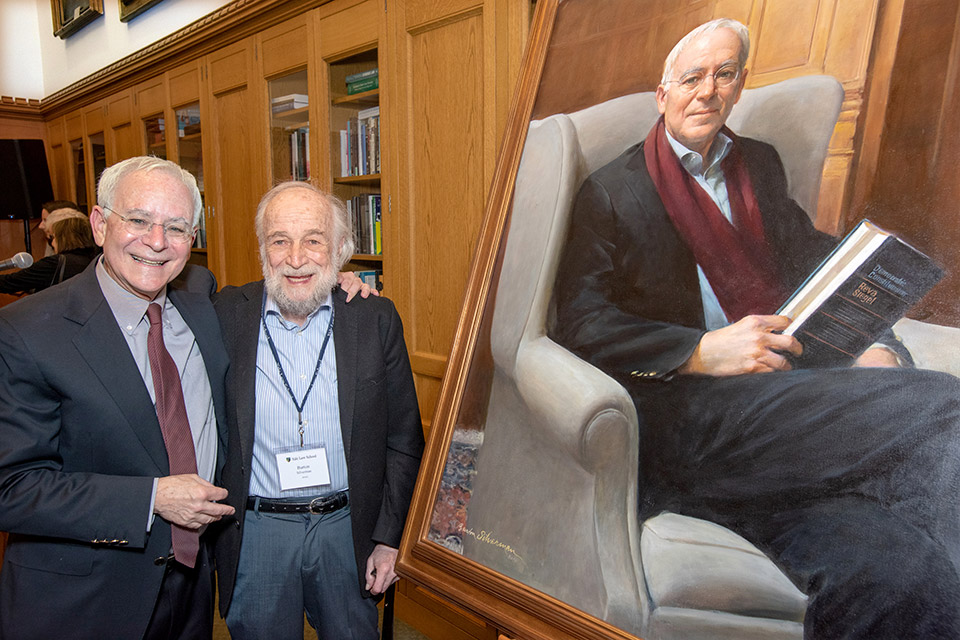 Former Dean Robert Post '77 and Burton Silverman, the artist of his official portrait
As the 16th Dean of Yale Law School, Robert Post '77 had many experiences with portrait unveilings, which he usually lightened up with a joke.
But it was no joke when the Sterling Professor of Law and former Dean found himself about to be on the other side of the easel, having his portrait painted for permanent display in the Alumni Reading Room. Instead, Post told the audience gathered for the painting's reveal, it was "terrifying."
"In a portrait, you are studied and you are fixed," he said. "And let me tell you: what it feels like is having your therapist frame her notes and nail them to the wall. Trust me, it is very vulnerable making."
Post made these remarks at a ceremony on April 18, 2019 attended by friends, family, and colleagues from the Law School and University, an event that also served as a celebration of the renowned constitutional law scholar and legal historian's career.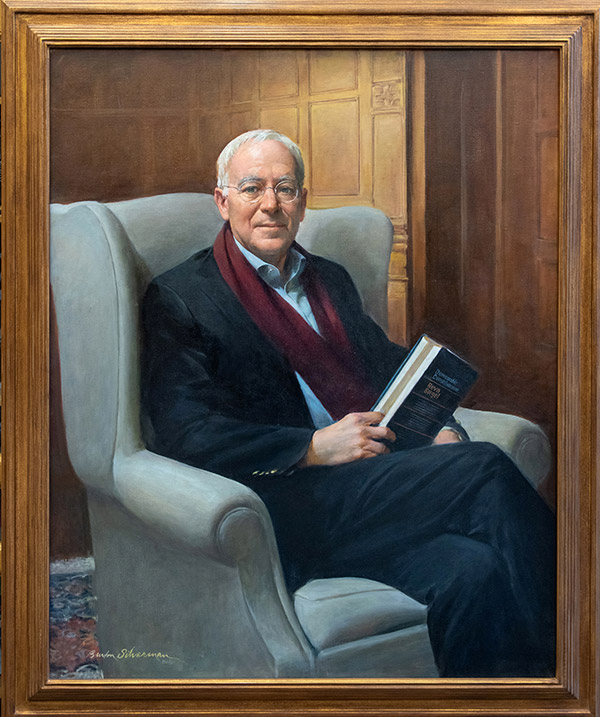 Referencing the portraits of his predecessors hanging above, Post described how he decided how he wished to be portrayed. At first, he only knew how he did not want to be depicted — certainly not as the smiling blue Muppet, "friendly but harmless," who has stood in for him in the Yale Law Revue variety show. Nor did he want to be gazing into the distance. He did know, however, that the portrait must exemplify his commitments as Dean and it had to somehow include Reva Siegel, the Nicholas deB. Katzenbach Professor of Law and Post's partner and collaborator.
In the end, Post entrusted this dilemma to artist Burton Silverman, whose work has appeared on the cover of The New Yorker, in the National Portrait Gallery, and on the cover of a Jethro Tull album. Silverman portrayed Post seated in a club chair, neither smiling nor unsmiling, his eyes appearing to meet the viewer's. In his hand is a book, Democratic Constitutionalism, with Reva Siegel as the author. The book shares its title with an essay Post and Siegel co-wrote.
Speakers recounted Post's time as Dean and how he left his mark on the School. Post led from 2009 to 2017, taking helm shortly after the global financial crisis that created challenging conditions for many institutions. Dean Heather Gerken, Post's successor, said the Law School not only withstood these difficult years, but came out stronger under Post's direction.
"With peerless vision and exceptional leadership, Robert made Yale bigger, brighter, and bolder," Gerken said. The school literally became bigger with its first expansion in decades, Baker Hall. Post brought in new faculty and new ways of teaching with the creation of policy centers, "a third kind of education" between practice and theory. And through it all, Post continued his scholarship, writing two books, as well as continuing to teach.
"A generation of students have left this place not only prepared for their careers, but empowered and inspired — thanks to Robert," Gerken said.
Yale President Peter Salovey echoed Gerken's remarks about Post's contributions to scholarship and to the Law School, including adding the new Ph.D. in law program — the first in the nation.
"Robert's legacy is all around us. It is manifest in the students he taught and inspired — and in the great works of legal scholarship he authored while serving as dean," he said. "He has worked tirelessly to ensure that Yale remains at the forefront of legal education."