Friday, April 21, 2023
---
Postgraduate Fellow Spotlight: Tim Hirschel-Burns '22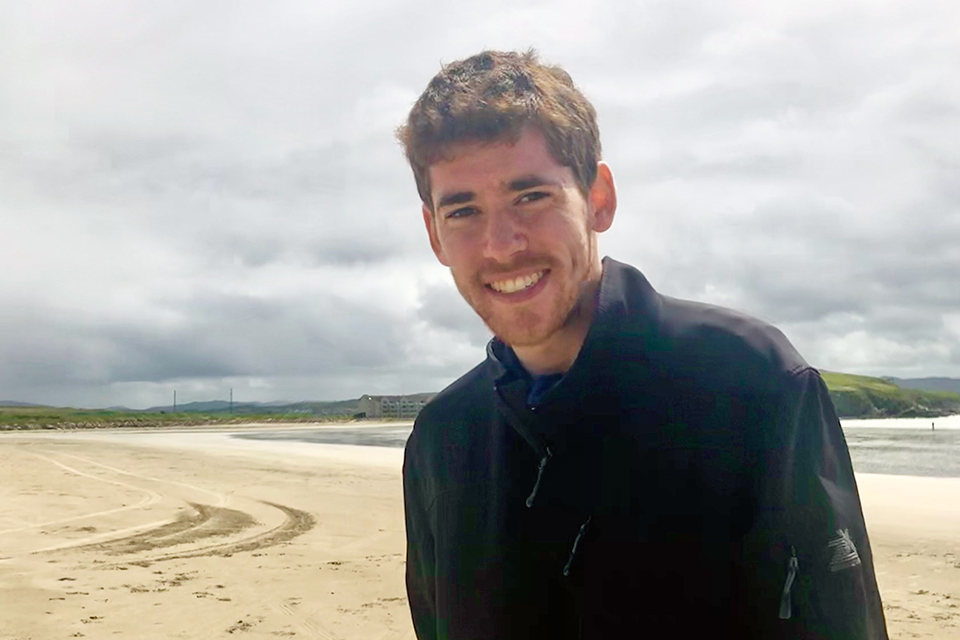 Tim Hirschel-Burns '22 is a Bernstein Fellow.
Tim Hirschel-Burns '22 discusses his time as a Bernstein Fellow at Oxfam America in Washington, D.C. 
---
How long have you been working at Oxfam America?
I started working at Oxfam America in September, so about seven months now.
What does it look like to ensure human rights in the mining of minerals necessary to the energy transition?
Climate change and the energy transition create a really thorny human rights challenge. Climate change is a massive threat to human rights like food, housing, health, and more. Rapidly phasing out the coal, oil, and gas that cause climate change is essential. 
But the renewable energy sources that we need to replace fossil fuels require minerals like lithium, cobalt, and copper, primarily for batteries that store energy. Mining has historically been a highly polluting and abusive industry, and one in which resource-rich poor countries bear the cost of extracting minerals but get few benefits in return. Right now, the energy transition is on course for a situation in which mining increases to meet rising demand and mining companies continue on a business-as-usual path where they profit from mining while contributing to human rights abuses in mining-affected communities. 
In a more just energy transition, mining companies would apply strong human rights safeguards — including standards accounting for the disproportionate effects mining has on women and Indigenous peoples — and share benefits fairly with communities and governments. Governments would also put policies in place that reduce the need for mining, like battery recycling programs and reducing car dependence. (Electric vehicles demand batteries that use a lot of minerals). In short, the question is not whether we need a rapid energy transition, but how we do it.
"Natural resources a really interesting and troubling example of the way imbalances in power are intertwined with the global distribution of poverty. Many people are extremely poor even as they live alongside resources that are generating a lot of money — just not for them.
—Tim Hirschel-Burns '22
Could you describe a project you've worked on?
One project I'm working on is a study looking at the human rights policies of companies that mine lithium, copper, cobalt, graphite, and nickel. These are minerals that are experiencing a surge in demand due to the energy transition. Some of the companies mining these minerals are established companies that have been around for a long time, while others are new companies that are rapidly scaling up production and have yet to receive much scrutiny. 
At Oxfam, I have been working to analyze these companies' policies, which includes interviewing company officials to see whether their policies align with human rights standards, including free, prior, and informed consent. Unfortunately, we are finding what we feared: the companies that governments are counting on to deliver minerals for the energy transition are woefully unprepared to protect human rights.
What have been some of the challenges of this work?
My team at Oxfam works on a range of human rights violations, from communities who were kicked off their land to make way for mine construction to people who cannot afford basic health care while an oil company uses tax havens to avoid paying taxes in their country. 
But these groups often lack much power. The governments and companies that do have the power to change these situations often display disregard for human rights. Moreover, because many of these human rights abuses take place on a transnational basis, there usually is not a clear human rights body to turn to for enforcement. 
Oxfam is creative and strategic about using the power we have to influence decision makers, but our work also underscores the need for human rights advocates to focus not only on pointing out human rights violations, but also to think about how we can build the power needed to make key actors respect, protect, and fulfill human rights. 
What experiences prior to and at Yale motivated you to pursue this opportunity?
I have centered my studies, in one way or another, on the question of how the actions of rich countries affect people around the world living in poverty. I also grew close to a number of people living in poverty during my time living in rural Benin before law school. Poverty has such profound impacts on people's lives, from stifling their education to forcing them to suffer from treatable illnesses to constraining their ability to make basic choices about their lives. 
And poverty remains extremely widespread: a large majority of the world lives on incomes below the U.S. poverty line. In this context, I've always found natural resources a really interesting and troubling example of the way imbalances in power are intertwined with the global distribution of poverty. Many people are extremely poor even as they live alongside resources that are generating a lot of money — just not for them. I thought it would be very valuable to learn more about the global systems governing natural resources, and hopefully, be able to make things a little fairer.
What do you hope to gain from this experience?
I have admired Oxfam for a long time. Oxfam addresses the direct impacts of poverty, but unlike a lot of peer organizations, they also work to address the root causes of poverty and inequality. Oxfam is a global organization, too, meaning that people from all over the world get to shape Oxfam's work. 
This fellowship has been a great way to learn from colleagues who have significant experience working to address how climate change, tax, and corruption influence poverty and inequality, and that insight will be very helpful for me moving forward.