Tuesday, April 18, 2023
---
Postgraduate Fellow Spotlight: Yussef Al Tamimi '22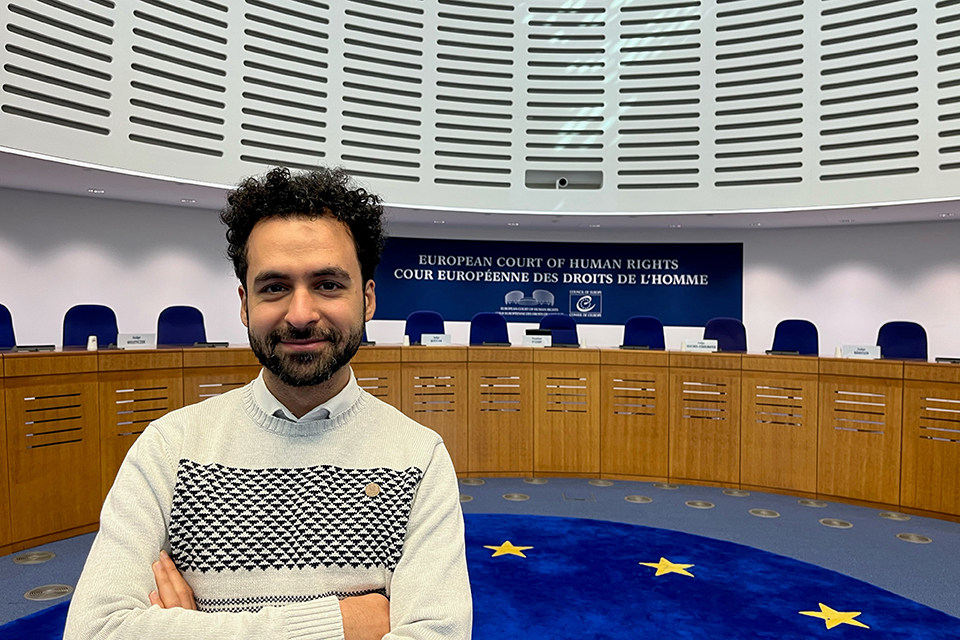 Robina Fellow Yussef Al Tamimi '22 in the courtroom of the European Court of Human Rights.
Yussef Al Tamimi '22 discusses his time as a Robina International Human Rights Fellowship at the European Court of Human Rights in Strasbourg, France. 
Supported by the Robina Foundation and administered by the Orville H. Schell, Jr. Center for International Human Rights at Yale Law School, Robina Fellowships allow recent graduates of the Law School to gain experience in international and foreign courts and other international institutions that address the promotion and protection of human rights or to carry out independent human rights research.
---
How long have you been working as a Robina Fellow?
I have been working at the European Court of Human Rights since September 2022. 
What does your work at the European Court of Human Rights entail?
I clerk for Judge Darian Pavli. This is a really dynamic part of my work and I deal with different areas of law and policy every week, which is very stimulating. I also draft reports on case law developments for the research unit of the court. Some of these reports are for internal use and others are published externally on the court's website. 
Describe a project you've worked on.
Recently, I worked on the question of whether regulations that impose testosterone level thresholds on intersex athletes violate human rights law. This involved collecting viewpoints from soft law guidelines, medical associations, and sports federations, among other sources. After reporting to the court, it's up to the chamber of seven judges to decide!
What have been some of the challenges of clerking and reporting on case law developments in multiple legal areas?
I feel lucky that I get to work on very pressing human rights issues at the court, but some cases are extremely grave, especially when the violations involve children or the treatment of migrants. Reading such cases can feel really upsetting. I try to take a break and sit with the emotion for a while when that happens. It also helps that I have lovely colleagues whom I can have fun with to blow off some steam when needed. 
What experiences motivated you to pursue this opportunity?
I wrote my Ph.D. on the role of emotions in the judgments of the European Court of Human Rights. The Robina Fellowship was a wonderful opportunity to enter the court and see how things work from the inside. Mostly, one comes to the realization that is quite common when entering any institution of authority: that they are all human, including the judges and lawyers who seem so distant in the written form. 
What do you hope to gain from this fellowship experience?
I hope to gain a more realistic vision of how human rights cases are processed, how judges come to their decisions, and what strategies are employed to get member states to adhere to international human rights norms. The fellowship has so far been extremely illuminating in each of these respects. 
Is there anything else you would like to share?
Living in Strasbourg has been really nice! The city has its own regional identity which makes it a fascinating place to live, and as it is home to several European institutions, it has an international feel to it, too.