Monday, October 15, 2018
---
Professor Ackerman Receives Honorary Degree in Law from the University of Trieste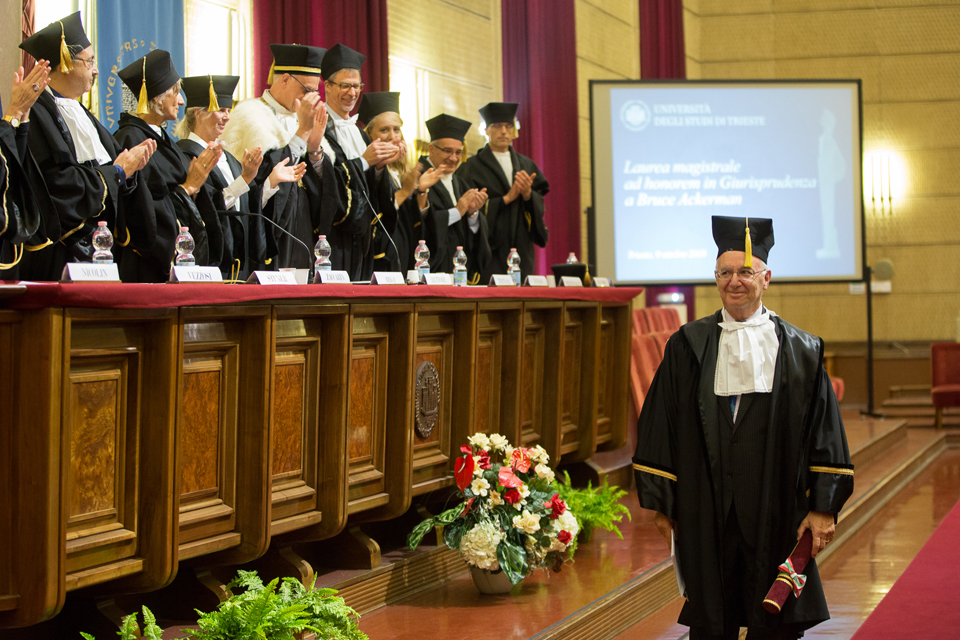 Sterling Professor of Law and Political Science Bruce Ackerman '67 received an honorary doctorate in jurisprudence from the University of Trieste in Italy on October 8, 2018.
Ackerman was recognized by the university for his distinguished contributions to comparative constitutional law. His Lectio Magistralis, upon receiving the degree, presented the leading themes of his forthcoming book from the Harvard University Press, Revolutionary Constitutions: Charismatic Leadership and the Rule of Law. His lecture will be published by Trieste in the coming months.
READ PROFESSOR ACKERMAN'S REMARKS
In a newspaper article in Il Piccolo reporting the event, Ackerman rejected the present tendency to treat "populism" in completely "negative terms." He explained instead that the "progressive movement in the USA represents an effort to reclaim the fundamental principles of equality and liberty that represent the aspirations of populism at its best. It is an effort by ordinary citizens to respond to a failing system." The challenge in Europe is "to unite workers and professionals into a similar populist movement for greater equality of economic opportunity."
The honorary degree from Trieste complements many other recognitions for his accomplishments that Professor Ackerman has received over the course of his career. He has received the American Philosophical Society's Henry Phillips Prize for lifetime achievement in Jurisprudence. He is also a member of the American Law Institute, the American Academy of Arts and Sciences, and holds the rank of Commander in the French Order of Merit.