Wednesday, December 14, 2022
---
Professor Koh Receives Sohn Human Rights Award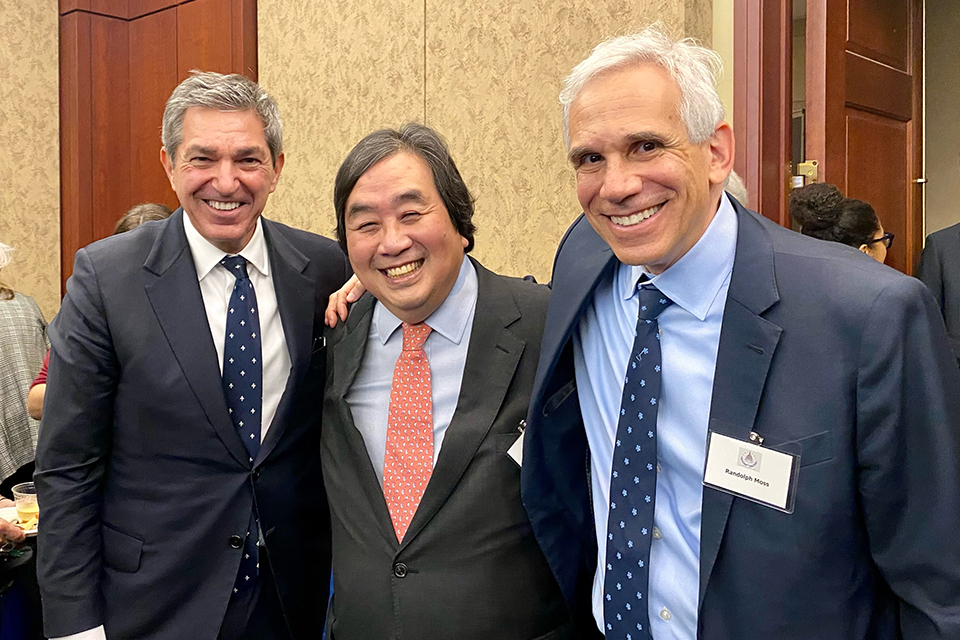 Professor Harold Hongju Koh, center, received the 2022 Louis B. Sohn Human Rights Award from the U.N. Association of the National Capitol Area. He is pictured here at the ceremony with his friends and former students. At left is Ambassador from the European Union to the U.S. Stavros Lambrinidis '88 joined by Judge Randolph Moss '86 of the U.S. District Court for the District of Columbia, who was Koh's first Coker Fellow.
Sterling Professor of International Law Harold Hongju Koh received the Louis B. Sohn Human Rights Award from the U.N. Association of the National Capital Area at its 2022 awards ceremony on Dec. 9 in Washington, D.C.
The group's annual Human Rights Awards honor human rights champions and their work, according to the organization's website. Among the honorees are individuals, professionals, and organizations, with criteria for the awards focusing on diplomacy, gender issues, local initiatives, and more. Honorees are nominated by the public and vetted through a UNA-NCA HRC subcommittee and the Executive Council of the UNA-NCA Board of Directors.
Koh said receiving the Sohn Award had special meaning for him. Sohn was the doctoral supervisor of his late father, the international law professor Kwang Lim Koh. Noting this connection Koh termed Sohn his "grandfather in the law."
Noting that he had heard Sohn mocked for his "idealistic" belief in the United Nations, Koh closed his acceptance remarks by saying, "People will call me an idealist. I hope they do. Because what I've learned from Louis Sohn, my family, from all of you, is that having ideals means caring more about principles than about power, more about human rights than about what job you have or how close you are to those who rule." 
Koh is one of the country's leading experts in public and private international law, national security law, and human rights. Koh first began teaching at Yale Law School in 1985 and served as its 15th Dean from 2004 until 2009. Koh has served four U.S. presidents as Attorney-Adviser in the Office of Legal Counsel, U.S. Department of Justice from 1983 to 1985, Assistant Secretary of State for Democracy, Human Rights, and Labor from 1998 to 2001, Legal Adviser of the Department of State from 2009 to 2013, and Senior Advisor in the Office of the Legal Adviser in 2021.
A recipient of 17 honorary degrees, Koh is the author of eight books and more than 200 articles. He has received lifetime achievement awards from Columbia Law School and the ABA International Law Section for his work in international law. He has appeared before many U.S. and international tribunals, including most recently in March 2022 as Counsel for Ukraine against Russia before the International Court of Justice.
Including the Sohn Award, Koh has now received more than 30 awards for his human rights work. 
Established in 1953, UNA-NCA is one of the oldest and largest chapters of the United Nations Association of the USA and a member of the World Federation of United Nations Associations.
Read Professor Koh's acceptance remarks and an interview with the U.N. Association of the National Capital Area.