Tuesday, July 10, 2018
---
Professor Resnik Awarded Honorary Doctorate of Laws by UCL
On July 3, 2018, at the UCL Law Faculty graduation held at Royal Festival Hall in London, Professor Judith Resnik received an honorary doctorate of laws. In presenting the Doctor of Laws Honoris Causa (LLD), Professor Dame Hazel Genn described Professor Resnik, the Arthur Liman Professor of Law, as "an academic and legal practitioner of outstanding productivity and distinction, whose interests range very widely across constitutionalism, the impact of democracy on government services, court procedure and adjudication, prisons, gender, citizenship and access to justice."
In front of a packed hall filled with more than 1200 people, Genn outlined Resnik's outstanding achievements in law and described her dedication to social justice.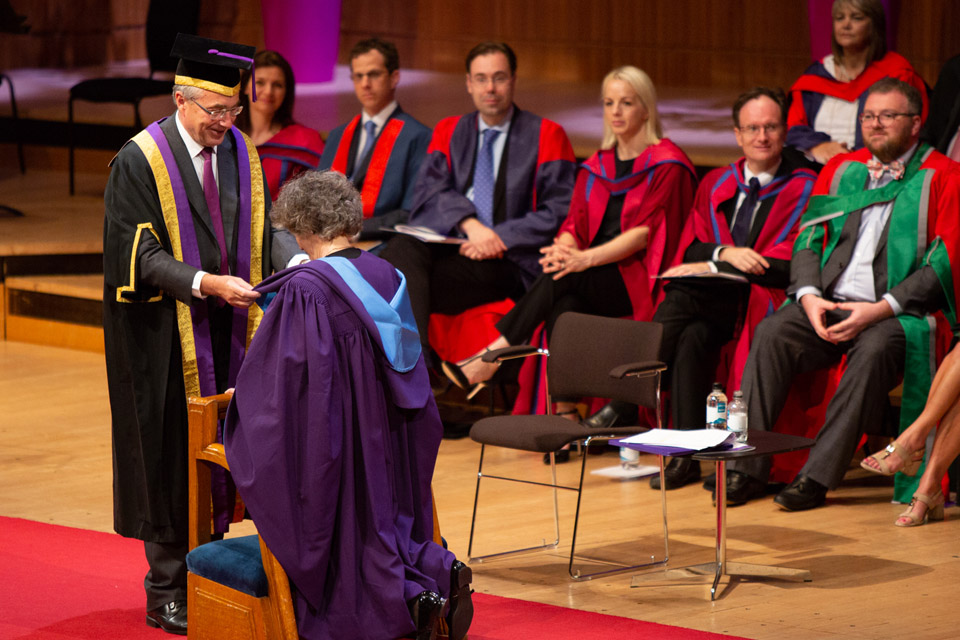 "Despite the breadth of her interests, the unifying and motivating objective of her teaching, research and litigation work is her profound commitment to equality and social justice," said Genn. "The arc of her career and her unrivalled achievements reflect the scale of her interests, but also her ability to integrate her focus on civil rights, courts and democracy and equal treatment through all three aspects of her professional life."
Genn spoke about how Professor Resnik has had a "global influence on the legal academy, transforming thinking and prompting vigorous debate."
Describing her scholarly work, Genn cited Resnik's renowned book Representing Justice: Invention, Controversy, and Rights in City-States and Democratic Courtrooms, calling it "one of her most extraordinary scholarly achievements." The book was co-authored with her husband, Yale Law Emeritus Professor Denny Curtis '66, who was in attendance at the ceremony.
"The exposition of the thesis is accomplished via an analysis of the way that the art and iconography of justice reflects the impact of democracy on courts," said Genn. "The scope of the book is breath-taking. The combination of haunting and often visceral imagery with powerful analysis makes the book both a joy to read and an inspiration."
Genn also lauded Resnik for her "legendary abilities to collect together the most outstanding judicial, academic and practitioner minds."
"But despite her global reputation and impact, Professor Resnik is a woman without a shred of pretension who is exceptionally generous in devoting time to colleagues and students at Yale and around the world, including UCL," added Genn.
In Professor Resnik's remarks to the graduating class and their families and friends, she reflected on graduations as a time of both celebration and separation. She told the graduates that there were "coming of age in the law at a time when separation is more of a theme that many of us would have wanted."
"Brexit is but one example of the ways in which the values and practices of the U.K. and of Europe are being tested," said Resnik. "In countries around the world, people are seeing profound challenges to the independence of judiciaries and to the vitality of democracy. On my side of the Atlantic, the government of the United States is putting up walls, literally and metaphorically. . . So we need to face frankly that this is a worrisome world in which to launch your legal and academic careers."
Resnik also discussed the rise of unilateralism and of nationalistic populism.
"Indeed, it is this context that makes all the more important your work and institutions such as this. Your studies have given you a set of skills that oblige you — and all of us with law degrees — to ask ourselves: what can we do to help?" asked Resnik. "How can we be useful amidst the many challenges and the acts of hostility? How can the past inform this moment? What precepts of law need to be underscored? And what new institutions and ideas do we need to invent?"
Resnik's remarks then focused on prior struggles over national identity and acts of separation – as well as acts of affiliation and connection – that shape our collective history.
Professor Piet Eeckhout, Dean of UCL Laws, said he was thrilled to be able to honor Professor Resnik, noting that she is an "exceptional individual."
"We are delighted to be awarding an LLD Honoris Causa to Judith Resnik of Yale Law School whose work on the impact of democratic, egalitarian principles on government services, from courts and prisons to post offices, and on equality and gender has huge significance to legal communities worldwide," said Eckhout.
After the ceremony, Resnik expressed her delight in receiving the honor from UCL.
"Being part of UCL is to be part of a remarkable university whose commitment to inclusion dates from its inception," said Resnik. "UCL was ahead of its peers in welcoming individuals of all religions, in admitting women, and in committing itself to innovative and radical critique. In the current world, this provides shining examples of values to celebrate. I am deeply honored to receive the honorary doctorate."
Professor Resnik is the Arthur Liman Professor of Law at Yale Law School, and the founding director of the Liman Center for Public Interest Law at Yale Law School. She teaches about federalism, procedure, courts, prisons, equality, and citizenship. Her scholarship focuses on the impact of democracy on government services, from courts and prisons to post offices, on the relationships of states to citizens and non-citizens, on the forms and norms of federalism, and on equality and gender. The Liman Center supports fellowships for law graduates and summer fellowships for students at Barnard, Brown, Bryn Mawr, Harvard, Princeton, Spelman, Stanford, and Yale. The Liman Center sponsors colloquia and seminars on the civil and criminal justice systems. From its inception in 1997 through 2018, 132 graduates of the Yale Law School have held Liman Fellowships.

In April of 2018, Resnik was selected as a member of the 2018 class of Andrew Carnegie Fellows, a two-year grant awarded to a small number of scholars to support innovative scholarship on pressing contemporary issues.
To read Professor Resnik's full bio and learn more about her scholarship, click here.