Monday, October 29, 2018
---
Professors Hathaway and Shapiro Discuss Kellogg-Briand Pact at the U.N.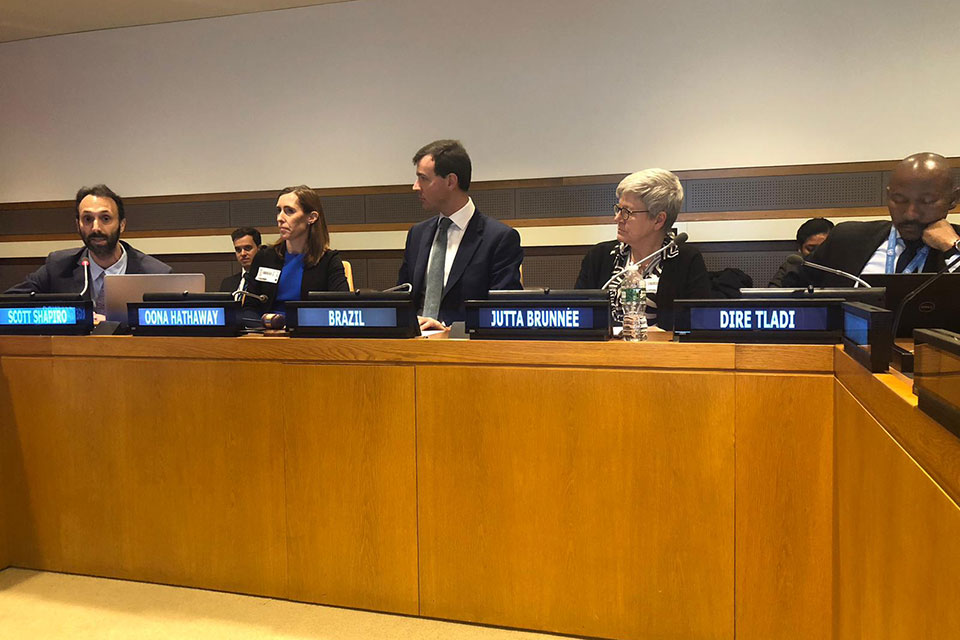 At the United Nations headquarters in New York on October 22, 2018, Gerard C. and Bernice Latrobe Smith Professor of International Law Oona Hathaway and Charles F. Southmayd Professor of Law and Professor of Philosophy Scott Shapiro addressed the historical, political, and legal factors that led to the prohibition of the use of force.
Their presentation was part of an event marking the 90th anniversary of the Kellogg-Briand Pact, a 1928 treaty under which signatories renounced the use of war as a means for dispute resolution.
Also participating in the event were Professor Jutta Brunée of the University of Toronto, Professor Tom Dannenbaum of the Fletcher School of Law and Diplomacy, and Patrick Luna, the Legal Adviser to the Permanent Mission of Brazil.
Participants discussed not only the Kellogg-Briand Pact's origins, but also present-day issues surrounding exceptions to the prohibition of the use of force and the recent activation of the International Criminal Court jurisdiction over the crime of aggression. The event was co-sponsored by the Center for Global Legal Challenges at Yale Law School and the Mission of Brazil to the United Nations and held in conjunction with International Law Week at the United Nations.