Monday, April 25, 2022
---
Q&A: Liman Fellow Kshithij Shrinath '21 on Immigrant Detention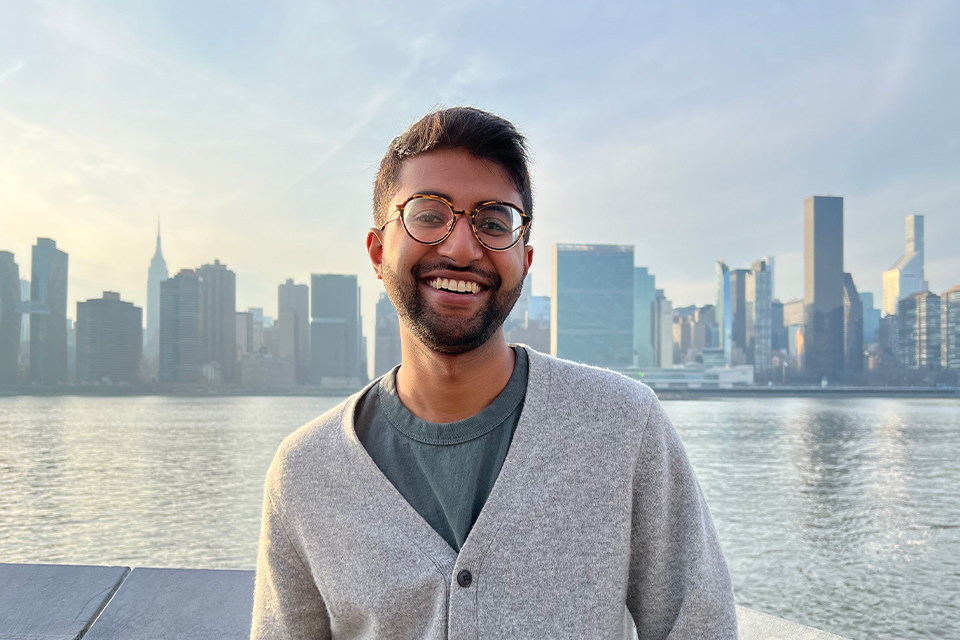 Kshithij Shrinath '21, photographed in New York, is a Meselson-Liman Fellow at the Bronx Defenders.
Kshithij Shrinath '21 is a Meselson-Liman Fellow at the Bronx Defenders, where he focuses on systemic civil rights violations affecting individuals in New York. 
At Yale Law School, he was a member of the Worker and Immigrant Rights Advocacy Clinic and a co-chair of the Asian Pacific American Law Students Association. Shrinath has interned at the Orleans Public Defenders and the New York Civil Liberties Union.
---
Tell us more about your Liman Fellowship project at the Bronx Defenders.
Detention has weighty consequences for people facing deportation, both for their ability to defend their case and for their physical and mental health. While some immigrants are subject to mandatory detention, others are subject to discretionary detention, which means both U.S. Immigration and Customs Enforcement (ICE) and immigration judges have the discretion to release individuals with or without bond while their immigration case is pending.
My project attempts to help immigrants by changing the practices of ICE and immigration judges at these custody determinations. For example, in the pretrial criminal detention context, the government generally bears the burden of proof to show that detention is necessary. However, immigration judges place the burden on the detained immigrant to prove their eligibility for bond. This requirement forces people in detention to try to gather extensive records. Although a chorus of federal district courts in New York have ruled that this approach is unconstitutional, those rulings do not translate into direct mandates to immigration judges. I am designing ways to challenge the imposition of this burden on immigrants at bond hearings and to ensure that immigration judges follow minimum due process standards.
Is there a specific case you have been working on that stands out?
One case I have been working on, Velesaca v. Decker, challenges a practice employed by ICE at custody determinations. Before an immigration judge holds a bond hearing for a person arrested by ICE, ICE itself makes a custody determination. When a person is not a flight risk or a danger to the community, ICE is supposed to release or set bond for that person. However, a Freedom of Information Act lawsuit revealed that, during the prior administration, ICE altered the algorithmic risk-assessment tool it uses to support custody determinations and eliminated the options of "release" or "bond." As a result, ICE's New York City Field Office uniformly stopped releasing people subject to discretionary detention, even when it acknowledged that they were low flight risks or unlikely to be dangers to the community. 
The Bronx Defenders, in partnership with the New York Civil Liberties Union, challenged this policy in the Southern District of New York and won a preliminary injunction in March 2020. I worked on the settlement of the case, which requires ICE to document its decision and to give an individualized assessment to persons subjected to discretionary detention that considers the person's special vulnerabilities and disabilities. 
What are the most important issues facing detained immigrants today? 
Although there are many important issues in this quickly evolving area, I will highlight two interrelated issues that I've been thinking about during my fellowship.
First, the conditions of immigration detention are grave. The pandemic exacerbated already existing failures in the system: inadequate medical care, overcrowding, and a decentralized patchwork of authority that inhibits accountability and oversight. Although access to counsel can improve outcomes for people in detention, it is not a panacea: even in New York, with universal representation for individuals who are detained, conditions are still awful. In addition, it is difficult for people in detention to communicate with their attorneys and to make their case against deportation. 
Second, recent data shows a massive uptick in the number of people subjected to GPS monitoring and ankle monitors, which are the two core components of ICE's expanded "alternatives-to-detention" program. These methods, which can create physical, mental, and emotional harms, go against traditional alternatives-to-detention programs, which generally rely on caseworker support to ensure attendance at court hearings. ICE instead uses these tools to surveil and impose restrictions on a large number of immigrants who otherwise would not be subject to any form of custody. 
With the support of the Bronx Defenders, the Liman Center has been able to extend your fellowship for a second year. What do you plan to focus on moving forward?
Immigration enforcement in the United States is entwined with enforcement of criminal laws. One particular form of entanglement is that immigration judges frequently use allegations of criminal involvement to claim that individuals are dangers to the community and deny bond. They do so even though immigrants are often not allowed by ICE to attend criminal court hearings to contest those allegations. I plan to address how to challenge the use of criminal allegations in these contexts. Although this is difficult because of the broad jurisdiction-stripping provisions that prevent federal courts from second-guessing most discretionary decisions by immigration judges, I hope to identify a way to navigate these provisions to place substantive guardrails on detention determinations. 
Animating principles of the Bronx Defenders' work — as well as the Liman Center's — are to recognize the wide-ranging negative effects that involvement with criminal legal systems can have, to emphasize the humanity of the people caught in those systems, and to resist efforts to define people solely by their interactions with criminal systems. My extension aims to carry those principles forward.
---
Liman Fellowships are awarded to Yale Law School graduates to support a year working in public interest law in the United States. These fellowships are a component of the Arthur Liman Center for Public Interest Law, which promotes access to justice and the fair treatment of individuals and groups seeking to use legal systems. The Meselson-Liman Fellowship honors the memory of Amy Meselson '02, a former Liman Fellow.