Thursday, April 29, 2021
---
A Q&A with Mike Widener on 15 Years as YLS Rare Book Librarian
After 15 years, Mike Widener will retire as Rare Book Librarian at the Lillian Goldman Law Library at Yale Law School on April 30, 2021.
Widener has "made the Law Library a model of creativity and service," said Interim Director of the Lillian Goldman Law Library Jason Eiseman in an email to the Law School community. During Widener's tenure, The New York Times covered the Law Library's rare collections and exhibitions six separate times. His exhibition of illustrated law books from the collection was exhibited at the Grolier Club in New York City. The exhibition drew worldwide attention and was accompanied by an award-winning exhibition catalog.
"On the day-to-day level, he used his many talents to help Law School faculty and students research, teach, and learn, and did the same for patrons throughout the University and far beyond," Eiseman said.
On the occasion of his retirement, we asked Widener to share some highlights from and reflect on his career at the Law School.
---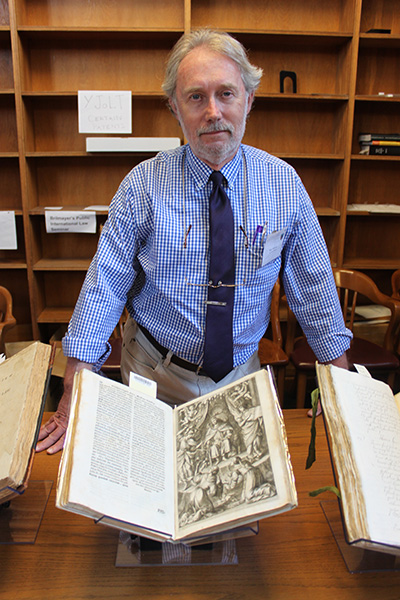 What have been some unique and interesting parts of your job?
My work is fairly typical of most special collections librarians, but among law librarians there are very few who have had the opportunity and privilege to work with such a wide and deep range of materials: everything from medieval manuscripts to early printed books, children's books, and even bobblehead dolls. Building the collections has been great fun, with the help of a network of dealers in the U.S. and Europe. Before the pandemic, visits to the annual book fairs in Boston and New York were annual highlights.
The most gratifying part of my work has been the opportunity to share our extraordinary collections with students, faculty, researchers, and visitors. Professor John Langbein regularly invited me and our books to his History of the Common Law class. I've supported a number of other classes in the Law School, history and art departments, and the Graduate School. I've taught sessions to high school students in the Yale Young Global Scholars program and the Yale for Life classes for adult learners. Tours for entering LL.M. students and the Linkages program are among my favorites. I teach a one-week intensive summer course for the University of Virginia's Rare Book School, "Law Books: History & Connoisseurship," and teaching it here in the Law Library with our collection gives my students hands-on experience with the entire gamut of western legal literature, book bindings, and print formats.
Both building and sharing the collections has been possible thanks to the sustained support of the Law School and the Law Library.
What are some of your favorite exhibitions over the years?
In part because I don't have a law degree, I've always been drawn to the physical aspects of law books. I've done several exhibitions on law books as objects. Perhaps the most successful was "Reused, Rebound, Recovered: Medieval Manuscript Fragments in Law Book Bindings." Benjamin Yousey-Hindes, my co-curator, provided the subject and language expertise, and made the initial selections. The parchment that most medieval manuscripts were written on remained durable long after the texts became obsolete or unwanted, so early bookbinders would recycle it. Today there is a cottage industry in identifying and studying these fragments, some of which are all that remain of long-lost texts. Our exhibition coincided with the 2010 annual meeting of the Medieval Academy of America at Yale. At an open house for conferees, we brought out dozens of volumes that couldn't fit in the exhibition and invited the medievalists to help identify the fragments. They were like kids on Christmas morning, snapping photos and talking excitedly. One of the world's leading experts took Ben aside and told him, "A week from now I won't remember any of the conference papers, but this I'll remember."
I've done most of my exhibitions with an outstanding cast of co-curators who provided subject expertise, collections, and inspiration. These include Yale Law School faculty (Judith Resnik, Dennis Curtis, and Allison Tait '11 on legal iconography), Yale Law students (Justin Zaremby '10 on Elizabethan law, Ryan Martins '20 on early legal textbooks), Yale Law School alumni (Edward Gordon '63 on Hugo Grotius), other Yale faculty, librarians, and students (Anders Winroth on the pope as lawmaker, Cynthia Roman on Queen Caroline's trial, Christopher Platts on Venetian law), legal historians (William E. Butler on Russian law, Wilfrid Prest on Blackstone's Commentaries), book collectors (Mark Zaid's law-related comic books, Farley Katz's collection of the French book illustrator Joseph Hémard, Bryan Garner's association copies), and rare book dealers (Michael von der Linn on early Connecticut legal education, Lorne Bair on the radical labor organizer Tom Mooney, and Michael Laird on historical bindings).
Our largest exhibition, "Law's Picture Books: The Yale Law Library Collection," showcasing 140 of our illustrated law books at the Grolier Club in New York City, was a collaboration with legal historian Mark S. Weiner '00. I am especially fond of the two exhibitions I co-curated with my wife, Emma Molina Widener, a former librarian and literary scholar. "Murder and Women in 19th Century America," drawing on our outstanding collection of trial pamphlets, was her idea. She was also my co-curator on "Around the World with Law's Picture Books," featuring illustrated law books from every continent except Antarctica.
What are a few of your favorite items in the YLS collection? 
I have so many favorite items that it's hard to know where to start. I've become particularly fond of illustrated books and Italian books, and a book that checks all my boxes is Francesco Maria Pecchio's Tractatus de aquaeductu, a four-volume treatise on the law of aqueducts published in Pavia between 1700 and 1713. The illustrations of watercourses are rendered in vigorous, almost abstract woodcuts. The thick paper retains a wonderful drape after three centuries. The volumes have plain, limp bindings made of very thick and flexible paper, called "cartoncino" in Italian, which develops a soft, velvety patina and opens the way a book binding should. The text itself is an early example of intersections between law, technology, and engineering.
I love small-format law books, designed to be portable and affordable for practitioners, local officials such as justices of the peace, and law students. Their simple, dinged-up bindings and scribbled notes demonstrate their usefulness to early owners and remind us that law is a human endeavor. Books on the fringes of law, such as law reform tracts, satires, and other popular works, display passion and zing that black letter law lacks.
In general, early printed law books are a visual delight. Even the simplest ones make some attempt at adornment, and many are lavish productions, with engraved title pages, type ornaments, and decorated initials. The contrast with modern codes and case reports is stark, and I wonder what this suggests about changing attitudes toward the law itself.
What makes the YLS Rare Book Collection special for you?
For me, it is the human element that pervades every aspect of the collection. Books produced before the Industrial Age are handmade objects, often bearing the marks and scars of their use and their movement from one hand to another. Our collection bears the imprint of the professors and librarians who formed it, beginning with the Founders (Staples, Daggett, and Hitchcock), followed by law librarians such as Albert Wheeler, Frederick Hicks, Samuel Thorne, and Morris Cohen. It is a collection I have had the privilege of enhancing and sharing with students, faculty, and scholars, with the support and encouragement of past library directors Blair Kauffman and Teresa Miguel-Stearns, my supervisor the incomparable Fred Shapiro, and the finest academic law library staff in existence. At their best, collections such as ours are profoundly social instruments.