Friday, February 9, 2018
---
Robert Todd Lang '47 Dies at 93
Robert Todd Lang '47, a senior partner at Weil, Gotshal & Manges, died on February 6, 2018. He was 93 years old.
Lang was instrumental in the creation of the Yale Law School Center for the Study of Corporate Law. The Center was established in 1999 following conversations between Lang and then Dean Anthony T. Kronman '75. Lang served as Chairman and Founder of the Center's Board of Advisors, and his generosity helped establish, among other things, the annual Weil, Gotshal & Manges Roundtable, which fosters dialogue among academics, legal practitioners, leaders of the business and investment communities, and policymakers.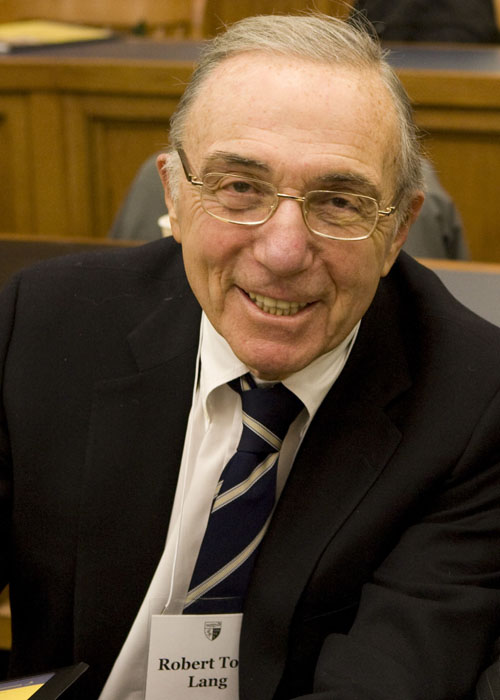 In addition to his work with the Center, Lang served as Chairman of the Board of the Yale Law School Fund, and was a graduate of Yale College. In recognition of his distinguished service in law and business, Lang received the Simeon E. Baldwin Award from the Center in 2007.
As Roberta Romano '80, Center Director and Sterling Professor of Law said on that occasion, "Robert Todd Lang is not just one of the great corporate lawyers of his generation, but he has also worked tirelessly on every important bar committee and task force on corporate governance and securities regulation over the past several decades. As a consequence, the benefit of his wisdom has gone far beyond his clients; our laws are infinitely better for his efforts. He has also been a steadfast friend of YLS who had both the vision to recognize the need for a corporate law center at the Law School when none existed in the country, and the generosity to get such a project off the ground. Students, faculty and alumni in the law and business area have all been the beneficiaries of his foresight and generosity, which has enriched students' educational experience and faculty research, and fostered interaction among students, faculty and graduates. It is befitting that Robert Todd is the first recipient of the Simeon Baldwin award that the Corporate Law Center has established to recognize an individual's contribution to law and business."

In the legal community, Lang's dedication to his firm and the practice of law was renowned. After joining Weil in 1948, he went on to become its tenth partner. Along with several others, Lang managed the firm until 1989, overseeing tremendous growth during this time period and fostering a culture of entrepreneurship, teamwork, camaraderie and commitment to the greater community. In addition to being co-managing partner, Lang was chair of Weil's Corporate Department for many years.

During his illustrious career, Lang was a frequent lecturer and author on corporate, acquisition and securities law topics. Indeed, he was pivotal in the development of these areas of law, having chaired or served on numerous bar committees and task forces, including the American Bar Association's Business Law Section Committee on Corporate Governance, as well as its Task Forces on Shareholder Proposals, Listing Standards of Self-Regulatory Organizations, Hedge Fund Regulation, and Review of the Federal Securities Law. Lang also served as a director of Human Rights First (formerly the Lawyers' Committee for Human Rights).
Lang is survived by his wife Joann, four children, and several grandchildren and great-grandchildren.