Thursday, April 5, 2018
---
San Francisco Files Student-Generated Civil Rights Case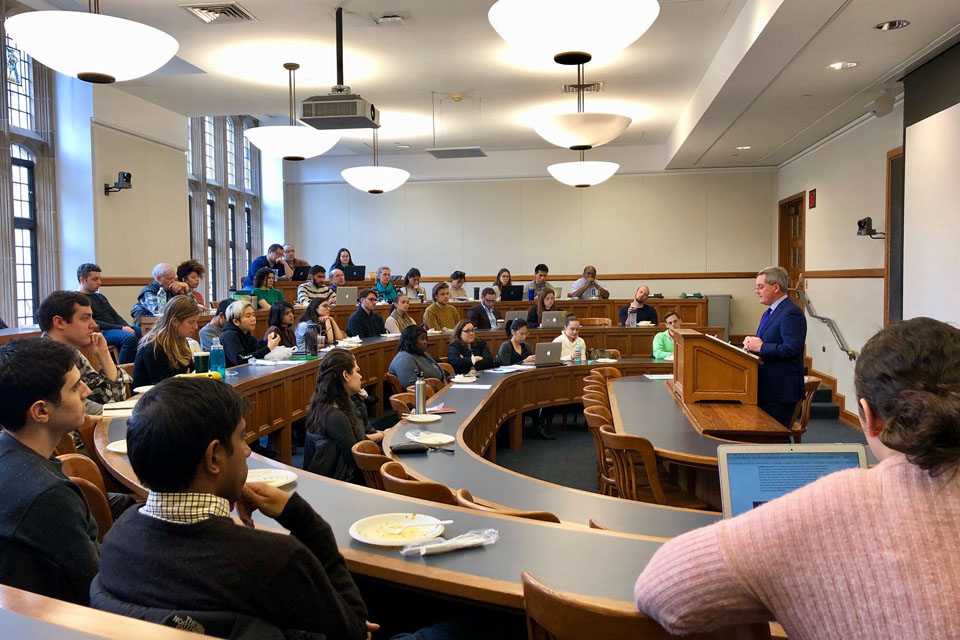 San Francisco City Attorney Dennis Herrera speaks to students during a visit to Yale Law School in March 2018.
Students from the San Francisco Affirmative Litigation Project (SFALP) are taking on the federal government—again.
San Francisco City Attorney Dennis Herrera filed a federal lawsuit on April 5, 2018, challenging U.S. Attorney General Jeff Sessions's decision to repeal U.S. Department of Justice (DOJ) civil rights documents that protected the poor, youth, immigrants, people of color, and people with disabilities.
The case originated in the "new ideas" SFALP working group, whose mission is to generate new public interest litigation ideas for San Francisco to pursue. This work requires students to think creatively about how the City Attorney's Office can use the legal tools at its disposal to protect San Francisco's most vulnerable residents.
"This is not the first time the City Attorney's Office has brought a suit that our students dreamed up, and it won't be the last." — SFALP Fellow Christine Kwon '17
This semester, students had the opportunity to pitch their litigation ideas directly to City Attorney Dennis Herrera. For her pitch, first-year law student Alisa Tiwari '20 presented the idea for a case against the attorney general's rescission of civil rights guidance documents. Just two weeks later, Tiwari's case is in court. 
"When I was watching the students pitch their ideas to the city attorney, I knew they were the only students in the country with this kind of opportunity," said Dean Heather Gerken, SFALP's faculty director. "And to see one of those cases being filed so quickly is inspiring."
"Generating new ideas for affirmative litigation requires the exceedingly difficult task of marrying factual development to viable legal theories," explained SFALP Fellow Christine Kwon '17. "This lawsuit would not exist but for Alisa's resolute determination to drive the case forward with exhaustive research and sharp legal analysis. This is not the first time the City Attorney's Office has brought a suit that our students dreamed up, and it won't be the last."
Tiwari, who worked in the civil rights arena before law school, said she found it difficult to watch from the sidelines as "the Trump administration weakened our nation's civil rights promises."
"Joining SFALP and developing this lawsuit with some of the country's most innovative affirmative litigation attorneys provided an opportunity to translate part of my frustration into action," said Tiwari. "It has allowed me to think creatively about the law as a vehicle for change for the good. That is why I came to law school—and especially Yale Law School—in the first place."  
In December 2017, Attorney General Sessions rescinded 25 guidance documents, which the DOJ and other federal agencies use to communicate agency interpretations of governing law or regulations. To explain the repeal, the attorney general announced that the documents were "unnecessary, inconsistent with existing law, or otherwise improper." San Francisco claims that six of these documents were withdrawn without meaningful explanation, in violation of the Administrative Procedure Act. These six documents instructed state and local governments on how to comply with federal civil rights laws concerning unlawful fines and fees against juvenile offenders and low-income individuals, discrimination protections for disabled individuals, and anti-discrimination provisions of the Immigration and Nationality Act. The complaint asks the court to void the DOJ's rescission and reinstate the guidance documents. 
"This repeal matters," said Tiwari. "It matters for the communities that the guidance documents aimed to protect, like the poor or those with disabilities. It matters for regulated entities—like San Francisco—that are left without a proper explanation as they strive to abide by federal laws. And it matters for members of the public, who deserve to know their government's policies on civil rights issues as they cast their votes in upcoming elections."
SFALP is a partnership between Yale Law School and the San Francisco City Attorney's Office. SFALP students work with San Francisco Deputy City Attorneys to conceive, develop, and litigate some of the most innovative public-interest lawsuits in the country—lawsuits that tackle problems with local dimensions but national effects.