Thursday, October 27, 2022
---
Symposium Explores Incarceration and the Human Mind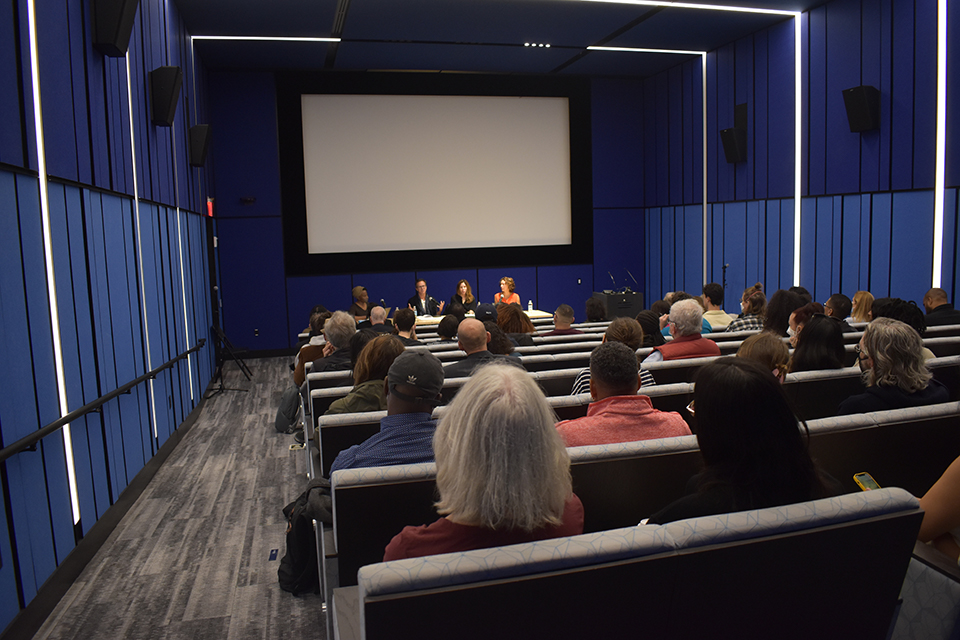 The symposium Incarceration and Imagination explored writing inside and outside of prison walls.
How does writing from inside and outside prison walls help us understand life behind bars and what it does to body and mind? The Oct. 14 symposium Incarceration and Imagination brought together scholars, activists, artists, writers, students, and the public to explore the realities of incarceration, its narratives, and the literature and social movements that surround it. The daylong event was co-sponsored by the Whitney Humanities Center, the Arthur Liman Center for Public Interest Law, and Freedom Reads.
The symposium opened with remarks from Peter Brooks, Sterling Professor Emeritus of Comparative Literature at Yale University and author of the new book Seduced by Story. Brooks spoke of his experience teaching at East Jersey State Prison and the promise of turning prisons into universities. 
"A grand aspiration towards the transformation of the carceral space this country has created into a place of learning and creativity...that is the hope that brings us together today," he said.
The vivid presence of prisons and the political, legal, and literary contributions of incarcerated people were the leitmotifs that laced the panels and readings over the course of the day.
The session "The Literary History of the Incarcerated Mind," moderated by Emily Bazelon '00, Lecturer in Law, Senior Research Scholar in Law, and Truman Capote Fellow at Yale Law School, included the writer Rachel Kushner; Yale University Professor of English and American Studies Caleb Smith; and Williams College Ebenezer Fitch Professor of Humanities Joy James. They discussed the role of fiction as a "parallel universe" that offers insights into the one in which we live, how to use a story such as a conversion narrative to recognize the catastrophe of mass incarceration, and what would change when writers and scholars consider incarcerated people as peers rather than subjects.
The next session, "The Image of Prison in the Public Mind," was launched by Judith Resnik, Arthur Liman Professor of Law. She provided glimpses of centuries of depictions of prisons, whips, treadwheels, and overcrowding as well as of uprisings and lawsuits by incarcerated individuals. Resnik showed how, throughout past and present, the public could learn a good deal about the practices of prison if people are willing to look and read. These practices — which, at times, have been challenged as immoral and illegal — were portrayed as visible and knowable.
Elizabeth Hinton, Associate Professor of History and African American Studies at Yale and Professor of Law at Yale Law School, then drew on her latest book, America on Fire: The Untold History of Police Violence and Black Rebellion Since the 1960s. She discussed the numerous uprisings, over many decades, that were prompted by policing that aimed to control communities of color. Ekow Yankah, Thomas M. Cooley Professor of Law at the University of Michigan Law School, offered the concept of "deputization" to the actions of white individuals who took it upon themselves to pursue Black men whom, they claimed, were predatory. Zachary Lazar, author of The Apartment on Calle Uruguay, read excerpts from his novel as he discussed the relationship between incarcerated and non-incarcerated individuals. Tracey Meares, Walton Hale Hamilton Professor and a Founding Director of the Justice Collaboratory at Yale Law School, commented on the distinctions to be drawn between visibility and knowledge.  
A third panel, "Incarceration, Decarceration, and Education," chaired by Peter Brooks, turned to the role of universities in working to provide educational opportunities inside prisons. Bernard Harcourt, the IIsidor and Seville Sulzbacher Professor of Law at Columbia Law School, discussed his experiences teaching the work of George Jackson and others at Rikers. Antonne Henshaw, Director of the Transformative Justice Initiative at Rutgers University, recounted taking courses with Brooks while incarcerated in New Jersey, and described the work he does to assist individuals leaving prison now. Zelda Roland, Founding Director of the Yale Prison Education Initiative, shared lessons learned from her work creating a college-in-prison program that enables incarcerated students to earn credits and seamlessly enroll in degree-granting programs at the University of New Haven upon release. Ben Berger, Associate Professor of Political Science and Executive Director of the Lang Center for Civic and Social Responsibility at Swarthmore College, spoke about the liberating effect prison education can have for both the people inside and those coming from the outside as teachers and students to join the classes.  
The final segment of the symposium enabled the audience to listen to readings by poet Randall Horton, author of the memoir Dead Weight, which chronicles his journey to becoming the only tenured professor in the United States with seven felony convictions. He was joined by Richard Rivera, Associate Director of Cornell's Prison Education Program. Horton's readings featured references to Ralph Ellison's 1952 novel, Invisible Man, while Rivera closed by reading the poem "Confession," by Freedom Reads founder Reginald Dwayne Betts '16.
This symposium is one of several events co-sponsored by the Liman Center to enable dialogues about modes of punishment in the United States. 
"These discussions probe what is known, what is seen, what ought to be known, what ought to be seen about incarceration, and what ought to be changed," said Resnik, Founding Director of the Liman Center.
The Liman Center will continue to examine punishment practices at its 26th annual colloquium, Budgeting for Justice: Fiscal Policy and Monetary Sanctions, on April 20–22, 2023. Supported by Arnold Ventures, this conference will be co-hosted by the Fines and Fees Justice Center, the Center on Budget and Policy Priorities, the Policy Advocacy Clinic at the UC Berkeley School of Law, the Insight Center, and the Brennan Center for Justice. The conference will examine issues including how local and state governments use fines, fees, assessments, and other charges from individuals seeking to use or conscripted into the legal system, and how to develop financing models that do not rely on regressive policies that disproportionately harm communities of color.