Monday, February 3, 2020
---
Ted Hamilton Speaks on Civil Disobedience and the Climate Necessity Defense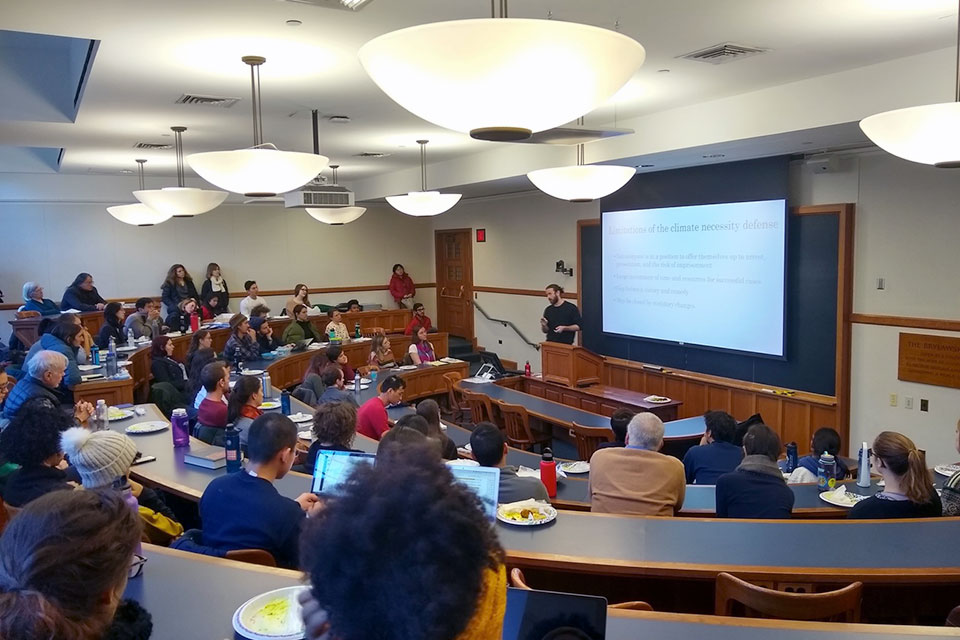 Ted Hamilton, cofounder of Climate Defense Project, spoke about the "climate necessity defense," a legal theory put forward to defend climate change activists.
The Law, Ethics & Animals Program (LEAP) at Yale Law School hosted Ted Hamilton, cofounder of Climate Defense Project, to discuss the "climate necessity defense," a legal theory put forward to defend climate change activists.
His talk, "Climate Activism on Trial: Civil Disobedience and the Climate Necessity Defense," took place on January 21, 2020 and was cosponsored by the Yale Animal Law Society and the Yale Environmental Law Association.
WATCH: Video of Ted Hamilton's talk
"The work of Ted and his colleagues at Climate Defense Project is among the most powerful climate law advocacy happening on the planet," said LEAP Faculty Co-Director Doug Kysar. "They have found a way to not only confront officialdom with the raw facts of our climate emergency, but to do so in a way that supports people who are rightly regarded as moral heroes."
Hamilton traced the history of the "necessity defense," a legal argument that an individual's criminal action is justified if it was necessary to prevent a greater harm from occurring. Typically, the defendant must demonstrate that the action fulfills four criteria: that it was the 'lesser evil' of all possible actions, that it was an attempt to prevent imminent harm, that there was a causal connection between the action and averting the harm, and that they had no legal alternative. Hamilton described the necessity defense as a way for judges and jurors to consider the scope and stakes of the climate crisis and to take part in a "community sanction." 
The necessity defense for climate change-related civil disobedience was employed most prominently in the case of five activists who become known as the "Valve Turners." On October 11, 2016, climate activists trespassed onto lands in four different states containing pipeline infrastructure and turned the safety valves of the pipes to block the flow of oil. After they were arrested, each of the activists asserted a climate necessity defense, claiming that by turning the valves, they had prevented greater harm from the fossil fuel emissions linked to the pipeline. While the cases remain pending, acquittal by virtue of a necessity defense would set an important legal precedent.
The Valve Turners have popularized the necessity defense among climate change activists. Since 2016, activists have employed it in more than thirty legal cases, according to Hamilton. So far, these cases have mostly not made it to juries, with judges dismissing the necessity defense cases at pretrial hearings or prosecutors dropping charges on the eve of trials. Hamilton, however, sees promise in the strategy. "We've been seeing changes in the way these cases develop," he said.
Notably, prosecutors have dropped charges against activists in several recent cases, and pre-trial judges have been less dismissive of the climate necessity defense. Washington became the first state to recognize the climate activist's right to present the necessity defense at trial when it considered the case of valve turner Ken Ward, whose charges stem from shutting down the Kinder Morgan TransMountain pipeline carrying Canadian tar sands oil to refineries in 2016. Though the climate necessity defense has not, to date, led to an acquittal by jury, Hamilton believes Ward's case shows promise.
"These really are questions of fact: how severe the climate crisis is, are there legal alternatives, is our Congress or legislative system so corrupt or so resistant to stopping the fossil fuel industry that we have to take action otherwise," Hamilton said. "These are questions that a jury might be better equipped to decide because they require a consideration of evidence, rather than a judge deciding on their own that those legal alternatives do not exist, or that civil disobedience is not efficacious, or that global warming is not imminent. The effect of a judge deciding at the outset that none of that evidence will come in is incredibly restrictive of the jury's role to decide these questions."
Hamilton is the cofounder of the Climate Defense Project, a nonprofit that represents climate change activists engaged in frontlines civil disobedience. The organization provides direct legal support for activists, connects attorneys with climate justice communities and campaigns, and pursues climate impact litigation. Hamilton is also a Law, Ethics & Animals Program Student Fellow at Yale Law School and a Ph.D. student in Comparative Literature at Yale, where his research focuses on environmental ideologies and social change in the United States and Latin America, with a focus on the way that the human-nonhuman divide is represented in law and literature. He received his J.D. from Harvard Law School. In 2019, Hamilton coauthored the first law review article on the climate necessity defense in the Stanford Environmental Law Journal.
The Law, Ethics & Animals Program (LEAP) is a new initiative at Yale Law School that leads and coordinates a diverse program of activities. It seeks to contribute to defining, expanding, and advancing the field of animal law. Among recent and upcoming speakers are Sheila Jasanoff, Timothy Pachirat, and Gene Baur.
By Sebastian Quaade