Monday, July 31, 2017
---
Tsai Center Engages China's Mental Health Professionals on LGBT Discrimination
Dr. Ilan Meyer poses with Beijing LGBT Center and Tsai Center staff after presenting at a national conference of the Chinese Psychological Society. (from left to right: Beijing LGBT Center volunteer Joyce Chen, Tsai Center Fellow Siodhbhra Parkin, UCLA Williams Institute Williams Distinguished Senior Scholar of Public Policy Dr. Ilan Meyer, Beijing LGBT Center Director Ying Xin, Tsai Center Fellow Darius Longarino, Beijing LGBT Center Program Manager Cai Yao)

 
In July 2017, the Paul Tsai China Center worked with Professor John Pachankis of the Yale School of Public Health and Dr. Ilan Meyer of UCLA's Williams Institute to conduct a series of workshops on LGBT-affirming therapy with mental health professionals in China. Although China officially depathologized "homosexuality" in 2001, recent research shows that about one-third of mental health professionals and dozens of university textbooks still hold that same-sex attractions are a form of mental illness. Reports of "conversion therapy" also remain common, including electroshock and drug treatments. However, with support from civil society organizations, such as the Beijing LGBT Center, networks of LGBT-friendly therapists and scholars are growing, and efforts are underway to raise awareness, replace discriminatory textbooks, and put conversion therapists out of business. The Tsai Center's program seeks to complement these efforts by providing research and training support to stakeholders in the mental health profession.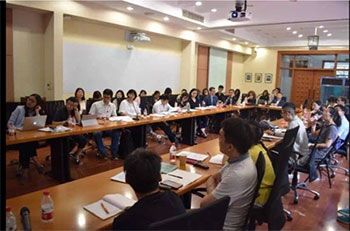 At activities in July sponsored by the Tsai Center, Beijing Normal University, the Chinese Psychological Society, and the United Nations Development Program, Dr. Meyer and Professor Pachankis demonstrated that social stigma and discrimination cause LGBT people to suffer worse health outcomes than non-LGBT people, and Professor Pachankis provided technical training on providing clients with stigma-coping skills through therapies such as ESTEEM. Participants discussed how mental health professionals can use their positions as practitioners as well as leaders in schools and associations to promote respect and equality for LGBT people. Some participants even shared how the discussions caused them to reflect on their individual prejudices and gave them the opportunity to think about how to be more open and supportive. A number of leaders in the field also expressed interest in working with international experts to create Chinese-language learning modules on LGBT-affirmative therapy that could be used to train students and practitioners.
According to Darius Longarino, Senior Fellow at the Paul Tsai China Center, mental health professionals are an important group to engage because they are often the first authoritative figures consulted during the self-realization/coming-out process. "When a parent brings a child who has just come out to a therapist, the child's future can depend greatly on the therapist's attitude toward LGBT people," Longarino says. "Mental health professionals also hold influence over the general public and policymakers through their positions at universities and professional associations and though their presence in the media." Longarino argues that if a substantial number of mental health professionals believe that being LGBT is an illness, social stigma will likely remain widespread. Conversely, a mental health profession that is supportive of the LGBT community can play a leading role in reducing discrimination throughout society.
To help grow this support, the Tsai Center is continuing its cooperative work with the Yale School of Public Health's pioneering ESTEEM program and with therapists in China. Together the team aims to develop learning resources on LGBT-affirmative therapy and to foster the sharing of best-practices among Chinese and U.S. mental health experts committed to the respect and equal treatment of LGBT people.