Friday, July 6, 2018
---
WIRAC Files Emergency Lawsuit to Reunify Asylum-Seeking Families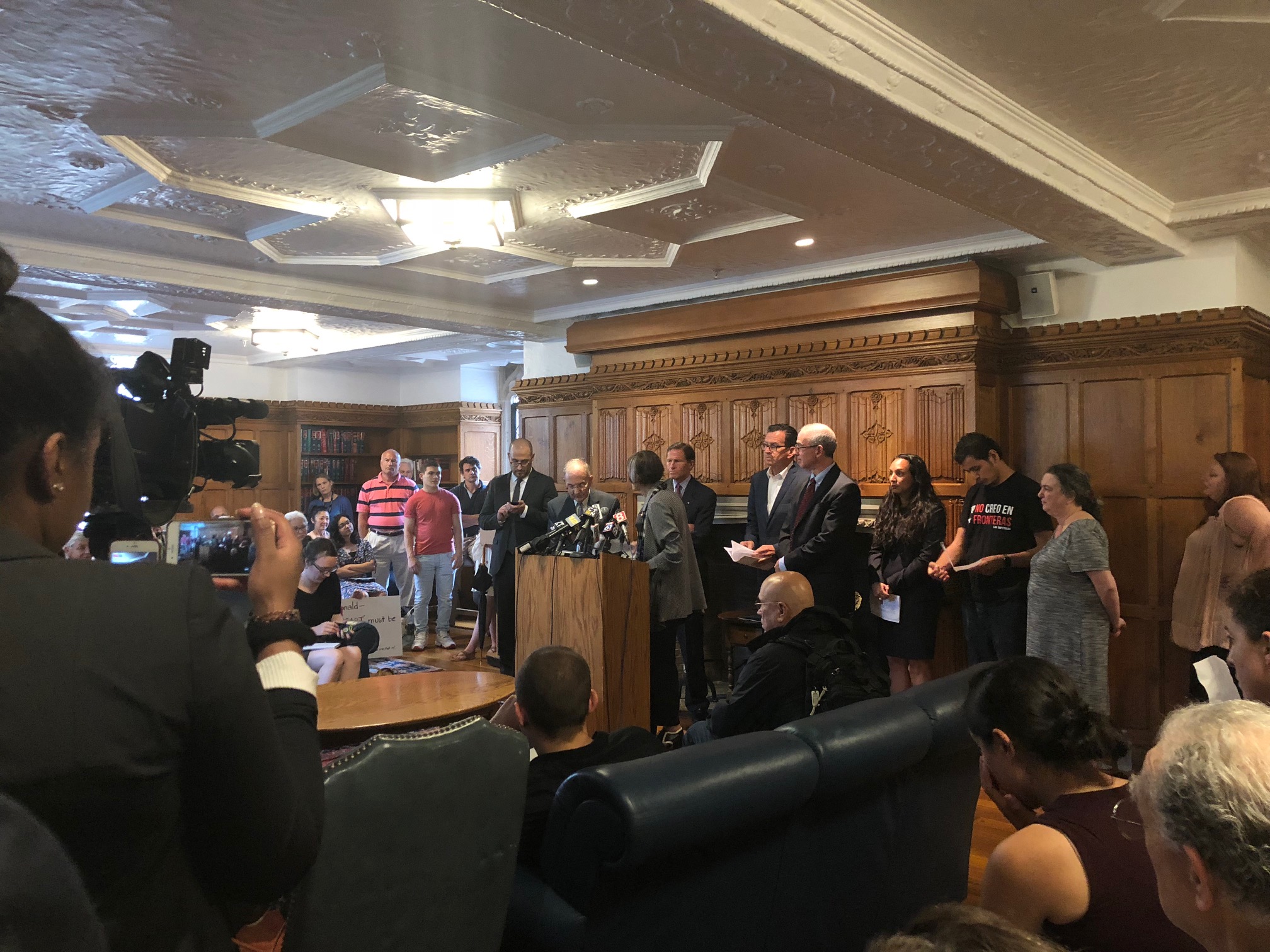 Media packed the faculty lounge on July 6, 2018, for a press conference with Governor Dan Malloy, U.S. Senator Richard Blumenthal '73, and Congresswoman Rosa DeLauro.
On July 6, 2018, two asylum-seeking children, forcibly taken from their parents in Texas and shipped 2,000 miles to Connecticut by immigration officials, filed federal lawsuits seeking immediate release and reunification with their families. The children, a 9-year-old boy and a 14-year-old girl, fled violence and persecution in their home countries only to face the terror of being separated from their parents by the U.S. government. The children are being held at a shelter in Connecticut that contracts with the federal Office of Refugee Resettlement. Their motions for emergency relief, including their immediate release and reunification with their parents, will be heard in U.S. District Court in Bridgeport on Wednesday, July 11.
The Worker and Immigrant Rights Advocacy Clinic (WIRAC) at Yale Law School and Connecticut Legal Services represent the children in their emergency lawsuits.  The lawsuits cite constitutional and statutory grounds, including the constitutional right to family integrity, in challenging the Trump Administration's practices that have resulted in the dismantling of thousands of asylum-seeking families.
J.S.R., age 9, fled Honduras with his father after his grandparents were murdered and a body was left in his family's backyard. When J.S.R. arrived to the United States to seek asylum in June of this year, he and his father were locked in a detention facility in South Texas. According to the lawsuit, while J.S.R. was asleep, immigration agents took his father away and deceived the child about his father's whereabouts. Immigration officials then placed J.S.R. in a cage for approximately four days. He has been detained in Connecticut for approximately three weeks and was allowed to speak with his father only once before filing the lawsuit.
V.F.B., age 14, came to the United States with her mother seeking refuge from persecution in El Salvador after her stepfather was murdered. While V.F.B. and her mother were detained at a Texas facility, immigration officials told the child she was being taken to bathe, according to the lawsuit. When she returned, her mother was gone, and immigration authorities pretended not to know where she was. V.F.B. has not seen her mother since that time 50 days ago and was allowed to speak with her only once before she sued the government.
According to the lawsuit, the separation of J.S.R. and V.F.B. from their parents is the result of the Trump Administration's "zero tolerance policy," which has subjected adult asylum seekers to criminal prosecution and forcibly separated parents from children for the express purpose of deterring asylum seekers from coming to the United States. Some mental health experts have concluded that the separation is profoundly damaging to the short-term and long-term mental, emotional, and physical health of vulnerable children, who lose their primary caregivers at a time of almost unimaginable stress and fear.
"The separation of these children from their parents is a betrayal of U.S. law and Connecticut values," said Joshua Perry, Deputy Director of Connecticut Legal Services.  "The Constitution State believes in family, freedom, and fairness.  We need the court to hold the government to those values."
"This Administration's systematic destruction of immigrant families is yet another abhorrent tactic in service of its hateful, racist vision of our country," stated Aseem Mehta '20, a law student with WIRAC. "These lawsuits echo the demands of organizers and immigrant-led movements nationwide: to reunite families immediately and to end policies of state-sponsored violence."
"I am standing with children who deserve a parent by their side as they face life or death consequences of deportation or continued family separation," said Senator Richard Blumenthal '73, who on Monday wrote to federal officials about J.S.R. and V.F.B. "In my letter to federal authorities, I demand that their parents be released on bond—as a federal court has ordered. To continue their separation is cruel and inhumane—and morally and legally wrong. This cruelty is not who we are as Americans, and I will stand with courageous advocates including those at the Yale Worker and Immigrant Rights Advocacy Clinic and Connecticut Legal Services to fight this policy with all that I have until these children are safe in the care of their families."
"The policy of forcibly separating very young children from their parents is the epitome of the Trump administration's cruelty and heartlessness," Governor Dannel P. Malloy said. "It is unconscionable that more than two weeks after the president's executive order purporting to end this barbaric practice, hundreds of families have yet to be reunited—potentially causing significant, lifelong psychological damage to children who have already experienced unimaginable trauma. Today's lawsuit seeks to immediately unite the two young children currently detained in Connecticut with their families. Connecticut has long fought for the ideals of freedom and equality, and today's action further cements that legacy."
"I remain deeply troubled by the Trump Administration's manufactured crisis at the border, which has separated as many as 3,000 children from their parents," said Congresswoman Rosa DeLauro. "This is child abuse, and it needs to end. The Trump Administration must stop the delay and start reuniting these families immediately—including the nine-year old boy and fourteen-year old girl at the heart of this lawsuit. The clock is ticking."
The cases are J.S.R. v. Sessions, Case No. 3:18-cv-01106-VAB, and V.F.B. v. Sessions, Case No. 3:18- cv-01110-VAB. Read more about them at: http://ctlegal.org/freeourkids/
The Worker and Immigrant Rights Advocacy Clinic, a part of the Jerome N. Frank Legal Services Organization at Yale School, represents immigrants, low-wage workers, and their organizations in labor, immigration, civil rights, and other matters. WIRAC has been on the frontlines of several high-profile immigration cases over the last two years, including being the first legal organization to secure a nationwide injuction during the original roll out of the Trump administration's travel ban as well as on the termination of DACA. Watch a video about WIRAC.
Connecticut Legal Services is Connecticut's largest nonprofit law firm, dedicated to improving the lives of low-income people by providing access to justice.  CLS' free legal assistance and advocacy help vulnerable people meet their basic needs and escape poverty.  CLS is the lawyer for immigrant children who are detained without their parents at Connecticut's federally- contracted children's shelter.