Friday, August 28, 2020
---
WIRAC Helps New York Undocumented Youth File Lawsuit Challenging DACA Memo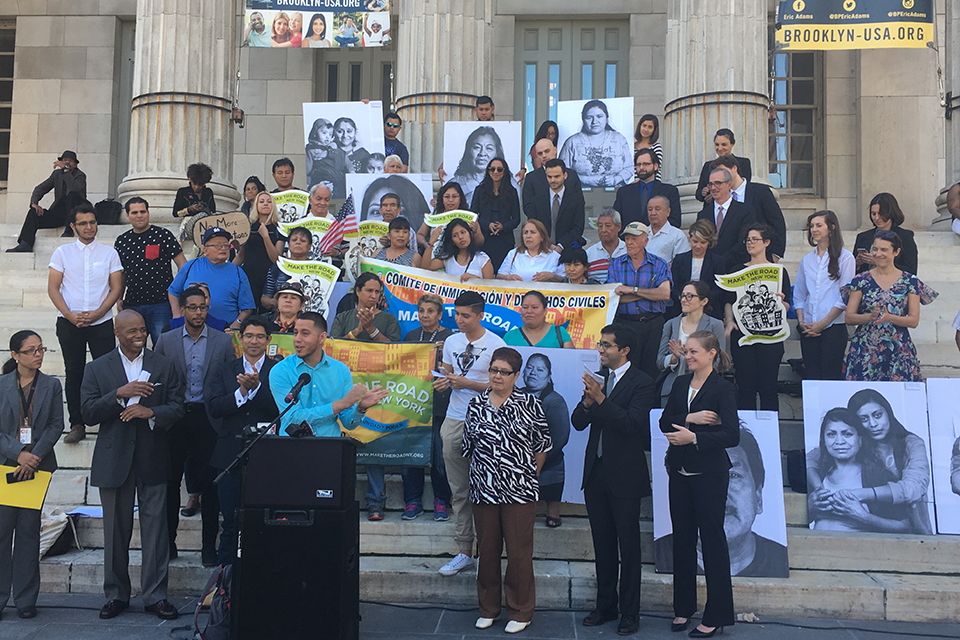 A rally held outside federal court in 2017 in the original case that challenged the rescission of DACA. On August 28, 2020, WIRAC filed a legal challenge to a federal memo drastically altering DACA.
Immigrant youth New Yorkers filed a legal challenge on August 28, 2020 to the Trump administration's latest attempt to dismantle the Deferred Action for Childhood Arrivals program (DACA). The filing in federal court challenges the administration's July 28 memo, arguing that the memo unlawfully and drastically altered the program, and that it was issued without authority by the purported Acting Secretary of Homeland Security, Chad Wolf. The new challenge amends an existing lawsuit, Batalla Vidal v. Wolf, which culminated in a U.S. Supreme Court victory for immigrant youth in June. This is the first legal challenge to the entire Wolf memo.
The plaintiffs — represented by the Worker and Immigrant Rights Advocacy Clinic at Yale Law School (WIRAC), Make the Road New York, and the National Immigration Law Center — are asking the court to invalidate the July 28 memo and require the government to process first-time DACA applications and advance parole requests and renewals under the terms of the original DACA program.
"For a second time, the Trump administration has robbed me of the opportunity to apply for DACA. After coming within days of applying for DACA in 2017, I was hopeful after the Supreme Court decision in June that I would finally be able to access DACA — and get a stable job, provide for my family and breathe a sigh of relief knowing I wouldn't be at risk of being separated from my children," said Johana Larios, a DACA-eligible individual who applied for DACA before July 28 but whose application will not be processed under the new memo, and member of Make the Road New York. "Just like me, there are thousands of other youth who are stuck in the same situation, and that is why I decided to join this lawsuit. We're ready to fight for DACA because our home is here."
Larios is one of four new individual plaintiffs harmed by the administration's latest actions on DACA who are joining the lawsuit. The new plaintiffs also include Ximena Zamora, a member of Make the Road New York who qualifies for DACA but is unable to apply under the new memo; M.B.F., a DACA applicant who submitted her application prior to the new DACA memo, but who like Larios will now not be considered for the program; and Sonia Molina, a current DACA recipient whose renewal application is pending and is now subjected to a one-year renewal. They join plaintiffs Make the Road New York and members Martín Batalla Vidal, Antonio Alarcón, Eliana Fernandez, Carolina Fung Feng, and Carlos Vargas.
"For the past three years, the Trump administration has continuously attacked DACA, leaving immigrant youth like me at risk of being separated from our loved ones," said Sonia Molina, DACA recipient and member of Make the Road New York. "DACA opened the doors to many opportunities. I have been able to finish college, help support my family, and give back to my community, even if just in two-year increments. The recent DACA memo is a direct attack on me and thousands of DACA recipients and DACA-eligible youth. We urge USCIS to reopen DACA to new applications, and fully reinstate renewals to a two-year period."
The July 28 memo directed U.S. Citizenship and Immigration Services (USCIS) to reject all first-time DACA applications, reject all requests by DACA recipients for permission to travel outside the U.S. through advance parole except in extremely narrow circumstances, and shorten renewals and work authorization from two years to only one year. The memo applies both to future applications and applications filed with USCIS before it was issued, including from new applicants who requested DACA after the Supreme Court decision in June 2020 should have resulted in the program being reopened.
"Immigrant youth won a monumental victory at the Supreme Court, but the Trump administration insists on trying to lawlessly dismantle and end DACA," said Javier. H. Valdés, Co-Executive Director of Make the Road New York. "Trump's latest attack is an imminent threat to thousands of eligible immigrant youth who are being denied the opportunity to apply for DACA for the first time, and threatens the livelihood of hundreds of thousands who have been safeguarded under the DACA program. For the past three years, we have fiercely fought alongside immigrant youth and we will continue to do so every step of the way."
"These abhorrent and unlawful attacks on DACA show the extent to which the Trump Administration is willing to ignore the Constitution and the laws governing federal agencies in order to inflict harm on immigrant communities," said Camila Bustos '21, a law student intern in WIRAC. "Our clients defeated the Administration last time, and they'll do it again."
Over the past eight years, DACA has opened up opportunities for nearly 800,000 immigrant youth to work, attend school, better support their families, and make even greater contributions to their communities. As a result of the Trump administration's unlawful attacks on DACA, an estimated 300,000 eligible immigrant youth have been denied the opportunity to apply for the program.
"The July 28 Wolf memo was another cruel and divisive move that unlawfully upends the lives of more than a million immigrant youth while Trump continues to dismantle DACA," said Marielena Hincapié, executive director of the National Immigration Law Center. "With our courageous plaintiffs and co-counsel, we continue fighting back. We remain steadfast in our commitment to ensure that the Trump administration is accountable to the law and immigrant youth remain safe and have the freedom to thrive here at home."
The Worker and Immigrant Rights Advocacy Clinic, a part of the Jerome N. Frank Legal Services Organization at Yale School, represents immigrants, low-wage workers, and their organizations in labor, immigration, civil rights, and other matters.