Tuesday, April 23, 2019
---
WIRAC Helps Write State's First Guidelines on Pregnant Workers' Rights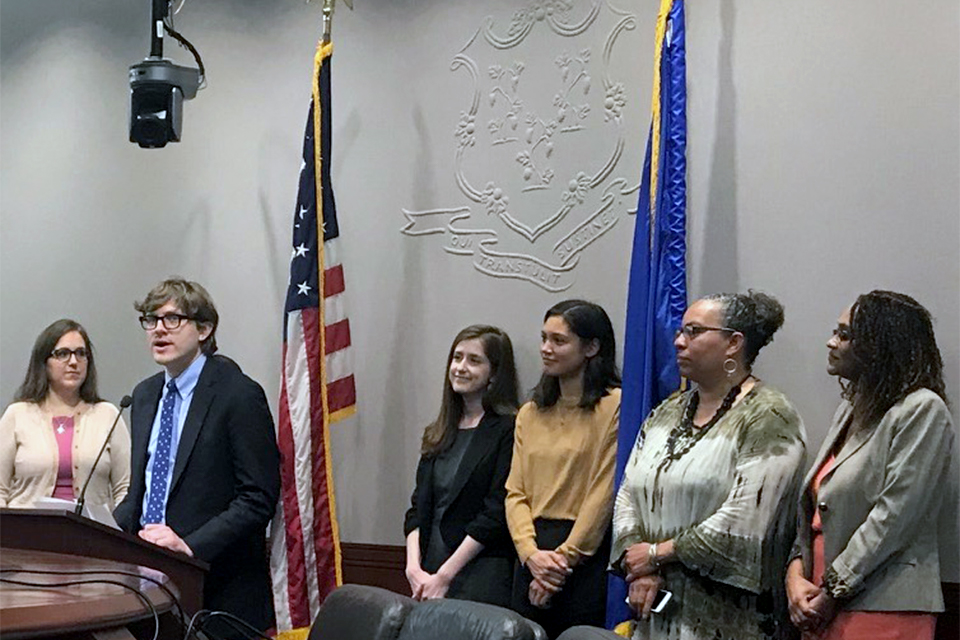 Petey Menz '20 speaks at briefing in Hartford on Connecticut's first guidelines on the rights of pregnant workers. From left are state Sen. Mae Flexer, Menz, Dana Bolger '19, Emily Villano '19, Connecticut Human Rights and Opportunities Commission (CHRO) Deputy Director Cheryl Sharp, and CHRO Executive Director Tanya Hughes.
The state of Connecticut issued its first guidelines clarifying the rights of pregnant workers and the obligations of their employers in a document that students from the Worker & Immigrant Rights Advocacy Clinic at Yale Law School helped research and draft.
The Connecticut Commission on Human Rights and Opportunities announced the guidelines, known as the Best Practices Bluepaper, on April 23, 2019 at a briefing with state officials and Yale Law School students. The Bluepaper is intended to ensure that all pregnant workers receive the reasonable accommodations to which they are entitled under state law, which prohibits employers from discriminating against employees and job applicants on the basis of pregnancy, childbirth, and related conditions. This is the first time the commission has issued such guidelines, which follow amendments to the Connecticut Fair Employment Practices Act in 2017. The clinic's research indicates that Connecticut's guidelines are now the strongest in the country.
"Many pregnant workers need a modest workplace accommodation, like the right to carry a water bottle, in order to continue working throughout their pregnancy, but many never ask for one," said Emily Villano '19, an intern at the clinic at Yale Law School's Jerome N. Frank Legal Services Organization. "Some workers fear losing their jobs, or being prematurely pushed out on leave, causing them to lose their source of income. Still others fear harassment or other forms of retaliation. Today's Bluepaper is the most comprehensive and strongest set of guidelines regarding the rights of pregnant workers issued by any state in the nation."
The Connecticut Fair Employment Practices Act (CFEPA) fills a critical gap for workers who are not covered by the federal Family and Medical Leave Act. Nationally, 40 percent of workers are not entitled to leave under the federal law because they work for small employers or they are new hires. In contrast, the state law covers employers with three or more employees and contains no length-of-employment requirement. As a result, many Connecticut workers rely on the state law as their primary source of leave for pregnancy-related conditions, or to recover from childbirth. The Bluepaper clarifies that women with an uncomplicated pregnancy typically need six to eight weeks of leave, although workers have the right to take less leave and, sometimes, to take more.
Students who worked on the Bluepaper also staff the Connecticut Work-Care Helpline, which provides free and confidential legal advice and limited representation to Connecticut workers who are pregnant, new parents, caregivers, or victims of family violence.
"Through these calls, we've learned firsthand just how desperately needed this Bluepaper is," Petey Menz '20 said at the briefing. "Pregnant workers in Connecticut often know that the way their employers are treating them is wrong, but too often, they don't realize that it is also illegal and that Connecticut has strong state laws guaranteeing rights to accommodations and leave."
Menz quoted, with her permission, a caller to the helpline who asked her employer for minor accommodations like a chair to sit on during her shift. The caller said she was mocked by her employer and later — when she said she would take time off after her pregnancy as recommended by her doctor — threatened with firing.
"In 2019, women should be able to be both mom and workers," Menz quoted the woman as saying. "We shouldn't be forced to choose between our own health, or our babies' health, and putting food on the table. I don't want any woman to have to go through what I went through and with this Bluepaper, I believe that fewer women will have to."
The Worker & Immigrant Rights Advocacy Clinic represents immigrants and low-wage workers in labor, civil rights, and other matters. The clinic is a program of the Jerome N. Frank Legal Services Organization, which provides legal representation to individuals and organizations in need of legal services but unable to afford private attorneys.