Monday, February 8, 2021
---
Yale Law School Announces Two Gifts Honoring Michael A. Varet '65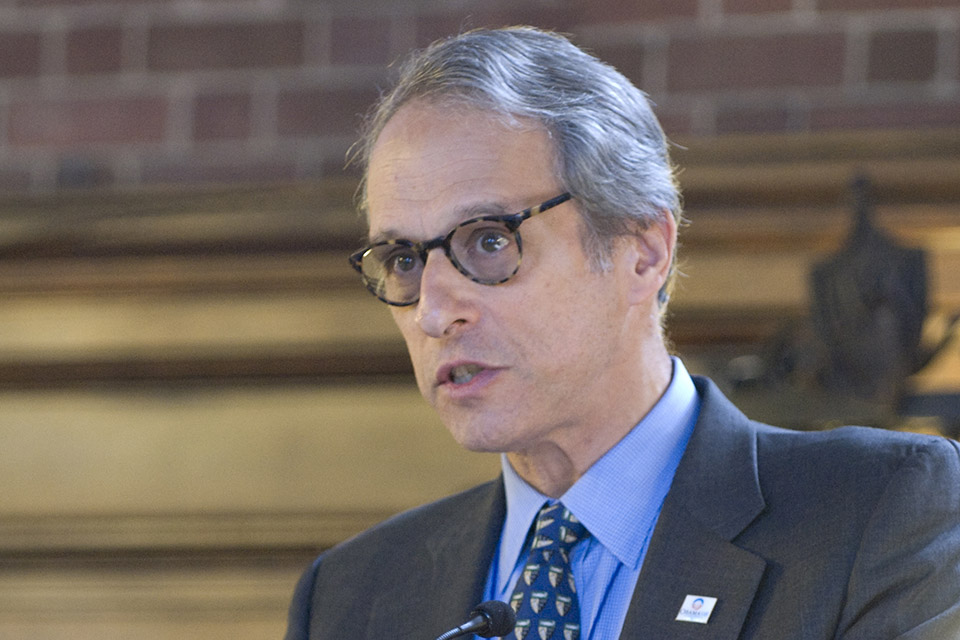 Michael A. Varet '65 speaking at Alumni Weekend 2008
Yale Law School has announced two gifts from the Middle Road Foundation honoring the life and legacy of Michael A. Varet '65: The Michael A. Varet '65 YLS Safety Net Support Fund and The Michael A. Varet '65 Summer Public Interest Fellowship Fund.
Made possible by Varet's wife, Elizabeth Rosenwald Varet, and his children, Joseph Rosenwald Varet, Sarah Rosenwald Varet '04, and David Rosenwald Varet, both funds will support critical needs of today's Yale Law School students. The Michael A. Varet '65 YLS Safety Net Support Fund will assist students with unexpected or emergency expenses — whether personal or academic — that are not covered by financial aid. The Michael A. Varet '65 Summer Public Interest Fellowship Fund will fund four scholars each summer who are working for organizations focused on environmental law and advocacy, such as the National Resources Defense Council, Earthjustice, the Environmental Defense Fund, the Sierra Club, and others.
"We are profoundly grateful to the Varet family for their gifts to the Law School," Dean Heather K. Gerken said. "Michael cared deeply about the many first geners we've welcomed into the school and understood how important it is to provide a 'safety net' for those students who do not already have one. Michael also cared deeply about the Law School's commitment to service, and this gift will enable generations of students to pursue public-interest careers. Although Michael never sought or expected acknowledgement of all that he gave to Yale, we owe him a debt and are honored that his family has chosen to celebrate his legacy in this way."
In life, Varet was deeply dedicated to his alma mater. He was a lifetime member of the Yale Law School Fund Board, served on the Yale Law School Association's Executive Committee, and enthusiastically led the Class of 1965 Reunion fundraising efforts year after year. One project of particular importance to Varet was the diversification of the Sterling Law Building's portraits collection to more fully reflect the School's history and to inspire future generations of students, which led him to underwrite the portraits of Charles A. Reich '52, James Thomas '64, Justice Sonia Sotomayor '79, and Pauli Murray '65 JSD, among others.
Varet's daughter, Sarah R. Varet '04, shared on behalf of the family, "We could not think of a better way to honor my father — who was completely devoted to Yale Law School — than to make a gift that will both meet the exigent needs of its students, about whom he cared deeply, and support critical public interest work undertaken to address the climate crisis."
The Michael A. Varet '65 Summer Public Interest Fellowship Fund will help train future lawyers to meet the enormous environmental and climate challenges facing the world today by enabling four students finishing their first year of studies at Yale Law School to devote their summers to work at environmentally-focused public interest organizations that would not otherwise have funding to hire them.
The YLS Safety Net was established in 2019 in response to the changing composition of the Yale Law School student body. Ten percent of the Class of 2023 are the first in their family to go to college; 27 percent are the first in their family to go to any professional school. Many of these students do not have the financial liquidity or family support to pay for the unexpected expenses that arise during their time at the Law School — whether that be dental care, a plane ticket home following the death of a family member, travel expenses for job interviews, or winter clothing.
Dean Gerken noted that the COVID-19 pandemic proved how timely the establishment of this fund had been. "Thanks to the YLS Safety Net, the Law School has been able to cover a myriad of unexpected student expenses during the pandemic, including emergency flights home, temporary housing, extra rent, unexpected moving costs, support to family members, and the technology needed to study remotely. Now that the Safety Net has been endowed by the Varet family, we have the necessary resources to meet the needs of students for generations to come."