Monday, February 27, 2023
---
Yale Law School Mourns the Loss of Nathan Baker Clinical Professor of Law J. L. Pottenger Jr. '75
Nathan Baker Clinical Professor of Law J. L. Pottenger Jr. '75 speaks at the groundbreaking for the redevelopment of Parkside Village, an affordable housing complex in Branford, Connecticut in November 2022.
J. L. Pottenger Jr. '75, the Nathan Baker Clinical Professor of Law, died on Feb. 23, 2023 at the age of 73.
"Jay was an extraordinary mentor, teacher, and lawyer. His dedication to Yale Law School was unwavering, and he continued his work to the very end, even tending to cases from his hospital room," said Dean Heather K. Gerken. "He is famed for his work on housing and community development, which has made an extraordinary difference in the New Haven community. His loving presence and inspiring work have greatly enriched this community."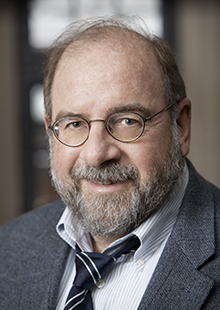 Pottenger devoted his career to Yale Law School's clinical program, where he accepted a full-time teaching position in 1980. He began by supervising students in litigation and transactional clinics, externships, and trial practice. Pottenger developed a wide range of expertise, including in matters of housing and community development, legislative advocacy, prison legal services, trial practice, landlord/tenant law, and professional responsibility.
"Jay was indefatigable," said Michael J. Wishnie '93, Deputy Dean for Experiential Education and William O. Douglas Clinical Professor of Law. "He stood with his students and clients against the wealthy and the powerful, and amidst the chaos and outrage of one struggle after another, it was clear he relished the fight. Jay did something he loved, teaching and service, for all the right reasons. I can't imagine LSO, let alone this world, without Jay in it, but I know his spirit endures in me and in so many other of his students, clients, friends, and colleagues."
The Law School's Housing Clinic, co-taught by Pottenger, has for years been involved in major cases involving fair housing issues, evictions, and foreclosures. In November, developers broke ground on the redevelopment of Parkside Village in Branford, Connecticut after years of delays. The Housing Clinic had been representing the Branford Housing Authority and a local affordable housing nonprofit since 2017.
In 2022, the clinic helped file a major lawsuit in Connecticut state court challenging the zoning policies of the to­­wn of Woodbridge, Connecticut, alleging that the town for decades impeded the development of affordable and multifamily housing through restrictive zoning laws.
Beginning in 2020, the clinic worked throughout the COVID-19 pandemic, filing amicus briefs in support of the nationwide eviction moratorium, representing tenants in court, and counseling small business owners on eligibility for relief under the CARES Act and other statutes.
"As the best teachers do, Jay taught by example. For his students, he modeled steadfast dedication to his clients and careful attention to every filing, whether in Housing Court or the U.S. Supreme Court," said Clinical Professor of Law Anika Singh Lemar. "For his colleagues, Jay showed us tireless willingness to embrace new challenges. For the last decade, Jay was my closest collaborator, I will miss learning from him and fighting alongside him and feel blessed to have called him a mentor and friend."  
In 2022, Pottenger received the Tapping Reeve Legal Educator Award, which recognizes a member of the Connecticut Bar Association whose teaching career has "made significant contributions to the cause of legal education in the state." Pottenger was also honored with the Connecticut Fair Housing Center's George and Patricia Ritter Pro Bono Award in 2014 and Connecticut Voices for Children's "Kids First" Award in 2006. New Haven Legal Assistance recognized Pottenger and Stephen Wizner, the William O. Douglas Clinical Professor Emeritus of Law, as co-recipients of its 2016 Equal Access to Justice Award.
Pottenger was born on March 3, 1950 as the eldest of six children. Pottenger graduated from Princeton University with an A.B. in urban affairs in 1971. He received a J.D. from Yale Law School in 1975. Following his legal education, Pottenger clerked for the Hon. M. Joseph Blumenfeld of the U.S. District Court for the District of Connecticut and the Honorable Philip W. Tone of the U.S. Court of Appeals for the Seventh Circuit. He served as an Associate at Paul, Weiss, Rifkind, Wharton & Garrison from 1977–1980.
Pottenger received clinical tenure in 1986 and was appointed Clinical Professor of Law three years later. In 1993, he was named Baker Clinical Professor of Law. From 1991 until 2002, Pottenger served as Director of the Jerome N. Frank Legal Services Organization at the Law School, which offers legal assistance to clients who cannot afford an attorney.
Beyond Yale Law School, Pottenger served as an Inns of Court Fellow and as a Visiting Scholar & Fellow at the University of London's Institute for Advanced Legal Studies. He was also a Visiting Scholar and Fellow at Oxford University's Centre for Socio-Legal Studies. In 1986, he taught at Harvard Law School as a Visiting Professor of Law.
Pottenger's professional service included a number of roles at the Association of American Law Scho­­ols (AALS). From 1996 to 2001, Pottenger served on the AALS Standing Committee on Clinical Education, including as Chair. He also contributed to the Connecticut Bar Association and the New York City Bar Association. Pottenger frequently testified before the U.S. Department of Education regarding legal education and accreditation standards. He also spoke before the National AIDS Commission. In 2013, he co-founded Open Communities Alliance, a civil rights organization that would become the plaintiff in the 2022 lawsuit brought by the Housing Clinic.
Pottenger advised the U.S. Agency for International Development on clinical legal education in China and served on the boards of the New Haven Legal Assistance Association, the Dwight Hall at Yale Center for Public Service and Social Justice, and the Connecticut Women's Education & Legal Fund, among other organizations. He was the longtime General Counsel of the Branford Interfaith Housing Corporation, the Branford Soccer Club, and the Greater Dwight Community Development Corporation.
Pottenger is survived by his wife Sue and his three children Will, Jack, and Emma, along with his siblings Marty, Lynn, Candy, Bill, and Betsey.