Monday, April 24, 2023
---
Claudia Flores Discusses the Lowenstein Clinic and Bridging Advocacy with Academia
Claudia Flores — Clinical Professor of Law, Director of the Allard K. Lowenstein International Human Rights Clinic, and Faculty Co-Director of the Orville H. Schell Jr. Center for International Human Rights — joined the Yale Law School faculty in July 2022 from the University of Chicago's Global Human Rights Clinic. Flores hopes to build upon the clinic's decades-long commitment to human rights advocacy.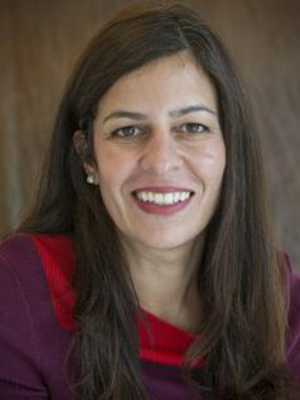 Flores was inspired to pursue clinical teaching after enrolling in NYU School of Law's Immigrant Rights Clinic as a law school student. 
"It was my most meaningful and formative experience in law school," she said. "It introduced me to a different way of learning — action and reflection paired with a formal pedagogical component." 
The clinic allowed Flores to gain experience representing real clients and working in partnership with a variety of community organizations that helped shape her approach to advocacy. 
"I wanted to enter clinical legal education to train the next generation of advocates while continuing to support social justice advocacy," Flores explained. 
Flores also clerked in the 9th U.S. Circuit Court of Appeals for Judge Harry Pregerson, who she said modeled for her the relationship between law, justice, and ethics. She not only learned how to think about the law empirically and normatively, she said, but developed an eye towards patterns of injustice on the global stage and the "limitations of the nation state as a vehicle for social justice." 
These experiences early on in Flores's career informed her interest in international human rights. Governments may distinguish between immigrants and citizens in policies and benefits, but the supranational system, in Flores's view, "is concerned with the rights people have because they are people and identifies the rights and entitlements all governments are obligated to guarantee everyone, regardless of citizenship and status." 
Flores has navigated a variety of issues through her work — immigrants' rights, death penalty advocacy, and women's rights in the U.S. and internationally. In doing so, she learned that a multi-pronged approach to advocacy including legal advocacy, policy work, media campaigns, and cross-border collaborations could make sustainable change possible.
Though the human rights framework faces many challenges, Flores said, "if you are committed to ensuring people have some recourse when the state is failing them, then we need to put some serious thought into what such a system might look like." 
Academia offers the space to explore how existing institutions work, what they could do, and how the global community could demand more from their governments. 
"I was excited to join the Yale community because of the faculty and students engaged with international law and human rights," Flores said. "The Lowenstein Clinic, in particular, has a history of doing incredible work."
Alongside Schell Center Executive Director Hope Metcalf, Flores teaches the Lowenstein Clinic. To allow students to engage more deeply with project partners and build expertise, the clinic will run as a year-long course and take on longer-term projects next year. To support collaborative learning, projects will be organized under clusters or themes. Student teams will work these projects while learning about and applying related human rights issues or strategies. One cluster in spring 2023 is human rights and digital community. Students are working with partners on two projects on hate speech in social media: one involving high-risk conflict states, and the other related to elections. Both teams have collaborated throughout the semester, allowing the clinic to develop significant expertise in this issue. 
"Civil society is often working under multiple constraints, including limited resources," Flores said. "Clinics, conversely, have the time and space to reflect on theory and practice. Students learn the importance of service and collaboration in human rights work, as well as how to be creative and interdisciplinary advocates."
The importance of being in conversation with people both in and beyond academia is, in part, why Flores began Entitled, a podcast on the complex questions of rights. Flores co-hosts the podcast with University of Chicago Law Professor Tom Ginsburg. 
"We wanted to create an accessible forum distinct from law review, articles, and classes to have important conversations about rights," Flores said. 
On the podcast, Flores and Ginsburg invite scholars, activists, and journalists to discuss issues related to rights, such as reproductive freedom, economic equality and the rights of nature. Students help co-produce the podcast. New episodes this fall will explore freedom of expression, including the definitions of misinformation and truth, how people communicate, and how human rights standards can protect free expression. 
Having joined Binger Clinical Professor of Human Rights James Silk '89 and Robert W. Winner Professor of Law and the Humanities Paul W. Kahn '80 as Faculty Co-Director of the Schell Center, Flores looks forward to contributing to the center's important role of keeping human rights issues at the forefront of discussion and debate within the Yale Law School community. 
"The Schell Center is an amazing resource at YLS, one that allows the community to benefit from the expertise of scholars and advocates as well as support student creativity and initiative," Flores said. "The Schell Center, the Lowenstein Clinic and the Entitled podcast, together, provide an exciting model for how to bridge the world of advocacy and academia in protecting human rights."