Thursday, September 1, 2022
---
Claudia Flores, Tom Ginsburg Explore Human Rights Debates in "Entitled" Podcast
In a podcast now in its second season, Yale Law School Clinical Professor of Law Claudia Flores and the University of Chicago's Tom Ginsburg, Leo Spitz Distinguished Service Professor of International Law, examine some of the most polarizing and complex questions around human rights today. Entitled seeks to contextualize contemporary debates about rights in hopes of fostering ways to work through disagreements and coming up with common goals for those who seek to protect and promote human rights.
The podcast is produced with support from the University of Chicago Law School and Yale Law School and is part of the award-winning University of Chicago Podcast Network.
Flores joined the Yale Law School faculty this year. She comes to Yale from the University of Chicago Law School.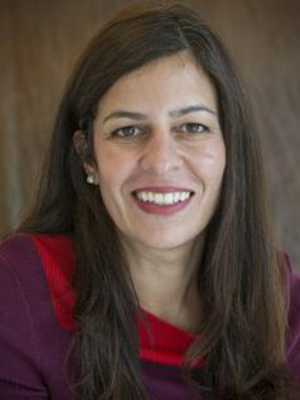 "Tom and I are close colleagues, and for a very long time, we both worked for international human rights and civil rights organizations in the U.S.," Flores said. "We both had similar perspectives on human rights in the sense that we were interested in working through different issues and thinking about implementation. I'm a pretty avid podcast listener and I'm interested in the way that we are changing how we consume and disseminate information in academia so that ideas can make their way into the general population."
Ginsburg said the two colleagues learned just how complicated human rights questions can be, although the issues may seem straightforward in the abstract.
"There are tradeoffs that have to be made, conceptual issues that have to be addressed, and there's lots of disagreement," Ginsburg explained. "We were trying to get a sense of the complexity of the field."
By posing questions, rather than providing answers, the podcast's hosts and guests explore timely debates — and not without disagreement. The two co-hosts have different views on some issues, such as immigration policy and the relative priority of different claims for affirmative action. But for both, the podcast has been generative, provoking deeper thinking on some of the major questions of human rights policy.
The guests Flores and Ginsburg invite to the podcast offer interdisciplinary perspectives from their practical and direct work on human rights. According to Ginsburg, the podcast team wants to spotlight people who work on human rights issues in and beyond academia, including politicians, activists, and ordinary citizens. These guests from varied fields offer a "behind the scenes" understanding of how human rights issues play out. Students in the University of Chicago's Human Rights Clinic, as well as research assistants and undergraduates, have supported the podcast's search for speakers.
The questions the podcast explores span diverse contexts and frameworks, providing unexpected, thought-provoking commentary on classic rights questions. For example, Ginsburg noted that he learned from Nicholas Johnson, Professor of Law at Fordham University School of Law, who discussed the importance of the right to bear arms for communities of color in the rural South that often lack state protections. And Flores recalled learning that some Indigenous groups object to the rights of nature movement on the grounds that it co-opts Indigenous conceptions of rights and norms and repackages them in the Western legal framework.
Flores said that first season of Entitled was foundational.
"It introduces the idea of rights and the kinds of things you think about when it comes to rights, including how to negotiate when one right comes up against another, whether and how to recognize group rights, and where rights may come from, whether a sense of morality or religion, government or community function," Flores said.
That season examined these questions through discussions about Afghan women's rights, the right to asylum, reproductive rights and bodily autonomy, freedom of speech, and the rights of nature.
The right to equality takes center stage in season two. Although widely accepted in the abstract, the right to equality, examined closely, can be complicated to define and protect, according to the hosts. After all, Ginsberg notes, crimes against humanity have been committed in the name of equality.
Equality is a particular area of interest for Flores. She highlighted the second season's third episode, which contextualizes equality with a close look at the upcoming vote on a proposed new constitution in Chile. By centering their conversations around human rights, the hosts can ask questions about issues like equality in a global context, Flores said.
"We're not just asking what rights look like in a specific context, but what expectations people and communities can have of their governments," she said.
In the second season's third episode, guests who were part of Chile's constitutional convention discuss a "real-time example of a country that's trying to define its understanding of rights," Flores notes. The polls, according to Ginsburg, indicate that the constitution will likely not pass. Regardless of the vote's outcome, this sudden crisis in the society is the result of popular pressure to reorganize Chilean society.
"That is new and distinct," Ginsburg said. "Chile is not the only society to do this. We've seen similar efforts to do this in Iceland and in the Arab Spring, and they lead to drafts but not necessarily new constitutions."
Flores concurred.
"Whatever happens, this is probably a really productive process for the country," she said. "This is a country that is deciding what its social contract is going to be, and constitutional change is a part of that."
Podcasts can play a role within a larger human rights discussion, according to Flores, who believes those involved in knowledge production should think about expanding how they share their thoughts and ideas.
"I think podcasts are not for everybody, but for a not-insignificant portion of the population, they are becoming a major source of news, conversation, debates, and analysis," she said. "I also think that universities have a lot to offer in terms of creating public dialogue and broadening the audience of this exchange."
This podcast is particularly timely given the retreat of international human rights law from U.S. domestic law, according to Flores.
"When I started my career, there was a lot of optimism about how treaties would advance social justice in U.S. courts, and over time, courts have closed themselves off," she explained. "States and cities have incorporated human rights treaties into their laws, but, for the most part, international human rights law is in a weaker position in the United States than years ago."
Still, Flores believes human rights principles have become stronger through domestic movements for immigrants' rights and Black lives.
"One of the motivations for the podcast is to reach an American audience and have a conversation about human rights, because it's really needed here," she said.
Flores and Ginsburg have garnered a strong domestic and international audience, with some college and law faculty assigning episodes of the podcast in their courses.