Wednesday, October 27, 2021
---
Clinics Mobilize to Provide Assistance During the Pandemic
As part of their outreach to the New Haven community, students in the Community and Economic Development Clinic distributed flyers throughout the city and staffed a hotline to answer questions from business owners.
Students from the Housing Clinic and the Community and Economic Development Clinic filed amicus briefs in support of the eviction moratorium, represented tenants in court, and helped small business owners access relief funds. And they're not done yet.
---
When the U.S. Supreme Court struck down the Centers for Disease Control and Prevention's (CDC) nationwide eviction moratorium in August — in the midst of the continuing COVID-19 pandemic — the ruling was a blow for public health and housing rights advocates, including members of Yale Law School's Housing Clinic, which had filed an amicus brief in support of the moratorium before the high court and several others.
But the clinic didn't waste any time wallowing in the loss. By September, students were strategizing how to best prepare for a potential onslaught of evictions in Connecticut, including by representing as many vulnerable tenants as possible in court. And they were in a better position to do that in part because of another prong of their multifaceted advocacy: Last spring, the clinic provided testimony in support of Connecticut's H.B. No. 6531 — An Act Concerning the Right to Counsel in Eviction Proceedings — which was signed into law in June and provides free legal representation to low-income tenants.
The briefs and testimony represent just a fraction of the work Yale Law School students and faculty in the Housing and Community and Economic Development clinics have done to ameliorate some of the risks to renters and small business owners over nearly two years. The students also defended tenants facing eviction, lobbied the state government on how to craft its own eviction moratorium, counseled local business owners on eligibility for relief under the CARES Act and other statutes, and negotiated rent reductions for people who lost their jobs.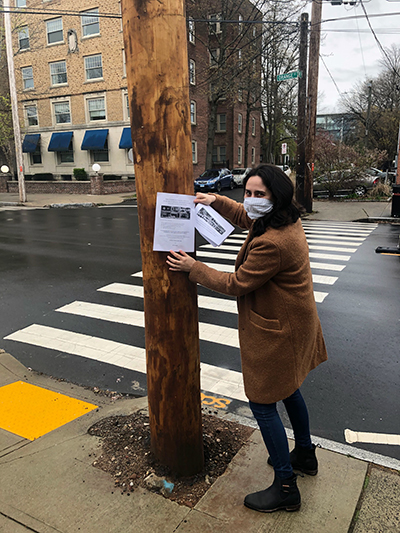 "It was a huge effort, but we really benefitted from how many Yale Law students were eager to help," said Hannah Abelow '21, now a Liman Fellow at Queens Legal Services. "It was pretty incredible."
It's also ongoing. Although a temporary pop-up clinic the students and Clinical Professor of Law Anika Singh Lemar started to support small businesses and nonprofits in the New Haven area has since ended, pandemic-related assistance work continues, particularly in the Housing Clinic.
"We're looking at a deluge of evictions just as the New England winter starts to set in and as the delta variant continues," said Zac Krislov '23. "We are thinking in every direction about what we can do."
A Local Look
When the pandemic's impacts first became apparent in March of 2020, several students quickly stepped up to adapt existing clinical resources and strategies to better serve the needs of the New Haven community. Abelow and other students got up to speed on the CARES Act and then trained non-clinic students on the law's eligibility requirements so they could assist in providing information to community members. Next, they distributed flyers throughout the city and staffed a hotline to answer questions from local businesses — yoga studios, dry cleaning stores, and Chinese restaurants among them — that called in.
"From that point forward, it was basically full steam ahead," recalled Lemar, who added that the Community and Economic Development Clinic is designed to be responsive to the needs of residents. "It's an intentionally wide-ranging and flexible practice."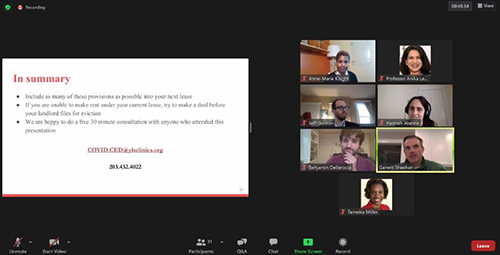 In the fall of 2020, Lemar and students formed the Small Business and Community in a Time of Crisis clinic, which provided a more structured way for students to advise independent contractors, small business owners, and nonprofit organizations on relief programs and unemployment assistance and negotiating leases, among other tasks. Abelow represented one woman who owned a food business but wasn't sure she qualified for assistance because she didn't have any employees.
"People were upset," Abelow said. "Their livelihoods were hanging in the balance. Sometimes we couldn't help people, and that was really hard."
Evan Walker-Wells '22, student director of the Housing Clinic's Evictions Track, helped handle a commercial eviction case — a first for the clinic. He and another student won a reprieve of several months for a minority-owned restaurant that ultimately closed.
"Every tenant should have representation... Expecting tenants to represent themselves against potentially well-funded landlords creates a totally uneven playing field."
—Adam Gerard '23
"We were able to help them stay in their space by negotiating a kind of settlement with the landlord, but as COVID-19 cases started getting worse again last year they decided they needed to do something else," he said.
Walker-Wells, under the direction of Nathan Baker Clinical Professor of Law and Housing Clinic Director J.L. Pottenger Jr. '75 and former visiting scholar Emily Benfer (now a senior policy advisor in the White House), also helped lead the Housing Clinic's support of the eviction moratorium in courts across the country. In eight briefs filed in six cases, Walker-Wells coordinated nearly two dozen amici from national and local organizations focused on health and housing — including the American Academy of Pediatrics and the American Medical Association — as well as experts from the Yale community and beyond, such as Princeton University sociologist Matthew Desmond, author of the 2016 book Evicted: Poverty and Profit in the American City.
Early in the process, the team had to decide whether to focus their arguments on the legal aspects of the case or instead prioritize the critical role that housing plays in public health.
"It became clear that the most important story to tell was how much we know about the connection between eviction and illness, building off years of public health research and sociology and synthesizing that to bolster the legal arguments," Walker-Wells said.
By the time of the clinic's brief before the U.S. Supreme Court this summer, one peer-reviewed study the students cited showed that even a one percent increase in eviction rates could increase COVID-19 infections by four percent.
"The study demonstrates that the relationship between eviction rates and COVID-19 infections is not linear, but exponential," the brief states.
Walker-Wells said he and Benfer stayed on the phone for close to six hours before they filed their first brief.
"We went through it line by line making sure everything was right," he said. "We tried to put ourselves in the mind of what do the courts really want to know and how can we make that connection."
Although the Supreme Court ultimately struck down the CDC's moratorium, Pottenger said he is "extremely proud" of the work Walker-Wells and other students put into the briefs.
"The Supreme Court ruled against us, but they ruled against us at the end of August 2021, not September 2020," Pottenger said. "There was a whole year in which the moratorium and public health were protected while these cases were being litigated across the country."
Real-World Lessons
For students, the Housing and Community and Economic Development clinics were already appealing for the opportunities they provide to work with real clients on real issues. But the legislation and litigation over pandemic relief efforts made the work even more urgent.
"It's not too frequent that you see a Supreme Court ruling affecting the day-to-day lives of tenants," said Adam Gerard '23, a student in the Housing Clinic.
"The law is more than just a classroom exercise. It's something that wields real force in people's lives. That's an incredible opportunity and responsibility."
—Zac Krislov '23
Gerard helped prepare the clinic's testimony for the right to counsel bill earlier this year, using an anonymized client's story to argue in favor of the law. He said he's seen firsthand the difference an attorney or student-attorney can make, and mentioned the case of a client who lost her job — and multiple members of her family — to the pandemic.
"It's in no one's best interest for her to be on the street," he said. "Every tenant should have representation. I've been training for almost a year and there is still plenty I don't know about housing law. Expecting tenants to represent themselves against potentially well-funded landlords creates a totally uneven playing field."
Despite the intense focus on relief efforts, the Housing and Community and Economic Development clinics have also kept up their pre-pandemic commitments, including on behalf of clients fighting against segregation and in favor of affordable housing. Last fall, the clinics represented the Open Communities Alliance in its attempt to change discriminatory zoning policies in Woodbridge that have excluded low- and moderate-income families for decades. Students from both clinics successfully represented the Branford Housing Authority, winning tax credits for a 67-unit apartment building in which 60 units will be set aside for low-income households. And Housing Clinic students filed a lawsuit on behalf of the Center for Leadership and Justice challenging policies that created segregated neighborhoods in the North End of Hartford.
The pandemic exacerbated the already well documented harms of discriminatory housing policies.
"The numbers show that the impact of the pandemic has been most harshly and severely felt in those communities because they are poor and segregated," Pottenger said.
Students said they learned a lot from their clients and the work.
"I'd never seen housing used as a public health strategy in the way is has been during the pandemic," Walker-Wells said. "And it should be. Housing and health are deeply connected — almost completely intertwined. It was really exciting to be a part of that."
Krislov agreed.
"The law is more than just a classroom exercise," he said. "It's something that wields real force in people's lives. That's an incredible opportunity and responsibility."
By Rebecca Beyer