Tuesday, January 16, 2018
---
GHJP Works to Address the Skyrocketing Cost of Medicines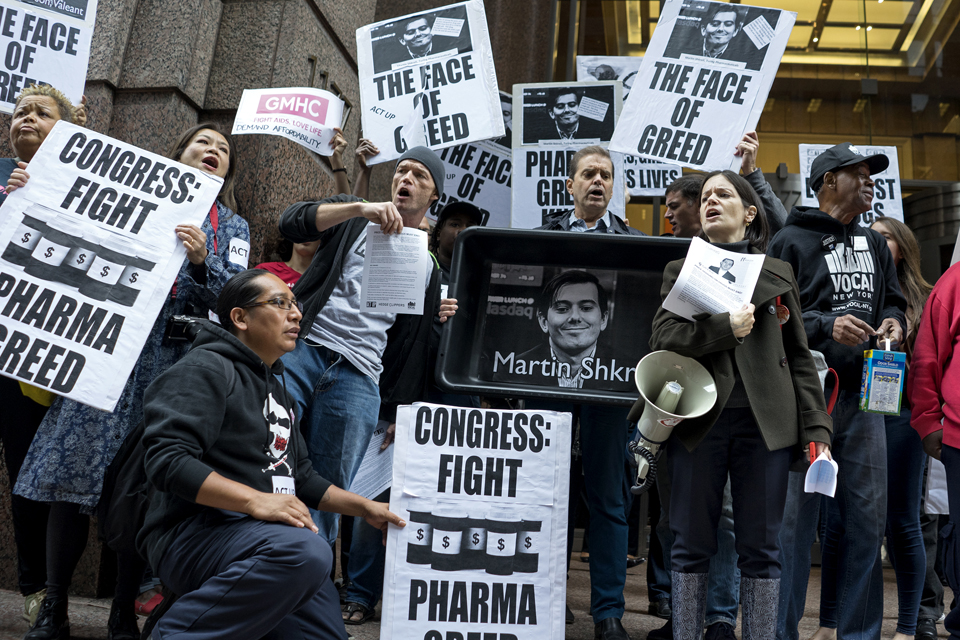 Activists hold signs containing the image of Turing Pharmaceuticals CEO Martin Shkreli during a protest in New York highlighting pharmaceutical drug pricing.
The Yale Law School experience transforms the lives of students, alters the future of their clients, and changes the national conversation. This Yale Law Report feature spotlights the innovative and life-changing work happening through four clinics and centers in which students lead the way.
---
THE GLOBAL HEALTH JUSTICE PARTNERSHIP
Addressing the skyrocketing cost of medicines and examining what it means when people cannot afford life-saving medications
Recent headline-grabbing stories such as the epi-pen cost spike and Martin Shkreli's price gouging have provided watershed moments for national conversations about health care and the rising cost of prescription drugs, drawing attention to the alarming trends in the cost of medicines and what it means when people cannot afford life-saving medications.
According to the U.S. Centers for Medicare & Medicaid Services, the United States spent $122 billion on prescription medication in 2000. By 2015, that number had jumped by 266 percent, to $324.6 billion. This problem—at the intersection of global health, human rights, and social justice—is the kind of challenge taken up by the Global Health Justice Partnership (GHJP), a program hosted jointly by Yale Law School and Yale School of Public Health that was founded in 2011 by Amy Kapczynski '03, Alice Miller, and Gregg Gonsalves.
In 2016, Kapczynski and students Hannah Brennan '13, Christine H. Monahan '16, and Zain Rizvi '17 published an article in the Yale Journal of Law & Technology (YJoLT) titled "A Prescription for Excessive Drug Pricing: Leveraging Government Patent Use for Health."
In it, the authors argued that a little-known patent law (U.S. Code Section 1498), which had been used in the 1960s to procure the production of cheaper generic drugs, could be called upon again. And now Rebekah Gee, Louisiana's health secretary, is rallying support for a proposal to the Department of Health and Human Services to invoke Section 1498 to help her state and its citizens.
"States are playing a role now that they often have historically, which is being a laboratory of democracy." — Professor Amy Kapczynski
Brennan, who works for a plaintiff-side law firm that focuses on domestic access to medicines issues and who was an author on GHJP's YJoLT article, says that Gee's work is a real breakthrough.
"When we first started working on the Section 1498 paper, most people, other than a handful of activists, thought the approach was a bit 'out there' (to say the least)," Brennan told the YLR.
"Secretary Gee's willingness to explore this option represents a recognition that the status quo in medication procurement does not work for most people, and there are other, workable options that need to be explored."
In May of 2017, Kapczynski and Aaron Kesselheim, who was in fall 2017 the Irving S. Ribicoff Visiting Associate Professor of Law at YLS, wrote an article in Health Affairs about Section 1498; Kapczynski, Kesselheim, and Rivzi also wrote an op-ed in the Washington Post that month, stating: "By invoking this power, the government could transform our approach to important but drastically overpriced new medicines. Consider the implications for just this one class of  medicines: In 2014, the government treated only about 2 percent of all Medicaid recipients who have hepatitis C with Sovaldi, for nearly $1 billion. If it uses our approach, it could treat all those left untreated for less than $150 million, plus a reasonable royalty for the company."
In its latest white paper, GHJP is providing more tools to combat high drug prices with a report on legislative actions states can take. "Curbing Unfair Drug Prices: A Primer for States" provides strategies on transparency laws, which seek to clarify the basis upon which drug companies set their launch prices, and price gouging laws, which explicitly prohibit either price increases or absolute launch prices above a certain threshold of unconscionability.
"States are playing a role now that they often have historically, which is being a laboratory of democracy," said Kapczynski.
Adam Pan '19, one of the students who collaborated on the report, was impressed by how important state legislation can be to national policy reform. Pan, along with Kapczynski and Ted Lee '18, presented to the Connecticut healthcare cabinet about the report.
"We were able to answer a few questions that members of the cabinet had about legislative efforts occurring in other states," says Pan, "Something we found during our work on the report was that sometimes states were unaware of drug-pricing initiatives in other states."
While GHJP will continue advocating for drug pricing reform, the alumni coming out of the clinic extend the work throughout the country.
"More than anything," said Brennan, "GHJP instills a patient- focused approach in its students, ensuring that the patient need drives any intervention. …[T]oo often in impact litigation the face of the individual client becomes obscured. GHJP reminds its student not to allow that to happen, and I think that is invaluable."
— Read more from the Yale Law Report feature on life-changing legal work covering the Arbitration Clinic, the Worker & Immigrant Rights Advocacy Clinic, and the Financial Markets and Corporate Law Clinic.