Wednesday, January 19, 2022
---
Heather K. Gerken Reappointed Dean of Yale Law School
Over the past five years, Dean Heather K. Gerken has strengthened Yale Law School's tradition of academic excellence, fortified support for the student body, and launched innovative new programming while navigating an unprecedented pandemic. In recognition of her record of accomplishments and vision for the future, Yale University President Peter Salovey reappointed Gerken to a second term as Dean on Jan. 19, 2022.
Gerken, the Sol & Lillian Goldman Professor of Law, became Dean in 2017 and is the first woman to serve in this role. Her next five-year term will begin on July 1, 2022.
In her first term, Gerken has implemented a bold vision for Yale Law School. Among her many contributions, she has built upon the institution's rigorous intellectual environment by providing strong support for faculty scholarship and expanding academic and experiential learning opportunities for students. Gerken also launched a transformative leadership program that creates a curriculum for the next century, increased the diversity of the student body and faculty, and stewarded robust philanthropic support that has enabled the School to thrive and provide additional need-based financial aid.
"Members of the YLS community remarked on Dean Gerken's dedication to the mission of the School, her record of building new innovative programs, her advocacy for scholarly and clinical work, and the inspiring passion that she brings every day to her job," said Salovey. "She has already accomplished an ambitious agenda in her first term, and I am confident that the Law School will continue to benefit tremendously from her vision, talent, and energy in the years ahead."
Gerken is an acclaimed teacher and one of the country's leading experts on constitutional law and election law. After coming to New Haven in 2006, she founded and still runs one of the most inventive local government law clinics, the San Francisco Affirmative Litigation Project. Throughout her deanship, Gerken has spoken passionately about how Yale Law School's ambitious educational model generates a "distinctive blend of practice and theory" that equips students with a versatile, wide-ranging legal training.
Salovey reappointed Gerken for a second term at the recommendation of the Dean Review Advisory Committee, chaired by Joseph M. Field '55 Professor of Law Douglas Kysar.
"Dean Gerken is a champion for our community and has achieved a remarkable set of goals in her first term while guiding us through an extraordinarily challenging time," said Kysar. "Her tireless work on behalf of this institution has greatly enhanced our intellectual life and positioned the Law School to lead well into the future."
"Dean Gerken has led the Law School through an uncharted moment in time, always remaining optimistic about the future and focused on the School's excellence in teaching, scholarship, and service." —Yale University President Peter Salovey
Under Gerken's leadership, the Law School admitted the five most diverse classes in its history with some of the highest yields ever, bringing in talented students from around the world with a strong record of academic performance and exceptional accomplishments. In the 10 years prior to 2016, an average of 32 percent of the student body were students of color. In the Class of 2024, approximately 54 percent are students of color and just over half are women. More than a quarter of the class is the first in their family to attend graduate or professional school and approximately one in six is the first in their family to graduate from college. Gerken and her administration have worked diligently to provide financial, professional, and mentoring support to students who come to the Law School without existing networks or financial support. She also helped nearly triple the number of veterans attending Yale Law School by expanding recruitment efforts and participation in the Yellow Ribbon Program. In addition, Gerken remains steadfast in her commitment to increasing faculty diversity, often partnering with other parts of the University to bring in renowned scholars from a diverse array of fields.
One of Gerken's top priorities as Dean is to ensure that all students have access to the world-class legal education Yale Law School provides regardless of their financial means. In her first term, Gerken significantly bolstered the Law School's enduring commitment to need-based financial aid by fortifying existing programs, adding new grants for students with the highest need, and creating a Safety Net Fund to assist students facing hardships. Yale Law School is one of only a handful of law schools in the country to provide financial aid that is solely based on need, and nearly 70 percent of students received scholarship support in the 2020–2021 academic year.
"As a result of her fundraising efforts and astute fiscal planning, Dean Gerken has steered the School through the turbulence of the pandemic and kept it on healthy financial footing, enabling the institution to flourish and ensuring it will remain a leader in legal education for decades to come," said Salovey.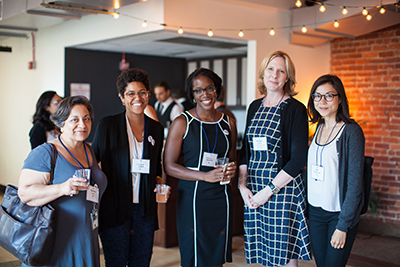 Throughout her deanship, Gerken has championed the remarkable legacy of Yale Law School graduates effecting change across every sector of society. To build upon that storied history, Dean Gerken worked with faculty and alumni to launch The Tsai Leadership Program in November 2021. This innovative program seeks to redefine the future of legal education, giving the faculty the ability to design a wide-ranging curriculum while providing professional training and mentorship opportunities for students. Its goals are to ensure every graduate is prepared to address the biggest challenges of our time and light up the many career paths available to them.
"Through this program and many other initiatives, Dean Gerken has strengthened the bonds within the dynamic Yale Law School alumni community," said Salovey.      
In his announcement, Salovey also remarked on the many notes he received describing Gerken's dedication to the School's mission and her ability to nurture and sustain a sense of community, even during the pandemic, "whether it be her practice of calling every new admit or the time she devotes to learning about the work, perspectives, and interests of faculty, staff, students, and alumni."  
"Dean Gerken has led the Law School through an uncharted moment in time, always remaining optimistic about the future and focused on the School's excellence in teaching, scholarship, and service," added Salovey.
Looking ahead, Gerken said she is excited to build on the progress of the last five years. She will focus her second term on expanding access to the Law School by increasing scholarships for students with the highest need, hiring new faculty, and supporting the remarkable intellectual community that has always been at the heart of Yale Law School.
Gerken wished to thank the Dean Review Committee, which in addition to Professor Kysar, included Anne Alstott '87, Jacquin D. Bierman Professor in Taxation; Fiona Doherty '99, Clinical Professor of Law; Justin Driver, Robert R. Slaughter Professor of Law; Paul Gewirtz '70, Potter Stewart Professor of Constitutional Law; Claire Priest '01, Simeon E. Baldwin Professor of Law; James Silk '89, Binger Clinical Professor of Human Rights; and Taisu Zhang '08, Professor of Law.
"It has been an enormous honor to lead this Law School over the last five years, and I am humbled by the faith that President Salovey, the faculty, and the members of this community have placed in me," said Gerken. "I am in awe of how much we have accomplished together as a community even during this difficult period in our country's history, and I look forward to building on our best traditions as we collectively ready this institution for both the challenges and opportunities that lie ahead."