Monday, January 25, 2021
---
Innovative Gun Violence Course Generates Novel Journal Issue
The United States leads the developed world in rates of gun violence, a true epidemic that affects everyone. The statistics can be alarming: annually, nearly 40,000 Americans die due to gun violence, an average of over 100 people per day. Another 73,000 people experience firearm injuries — some life-altering in severity.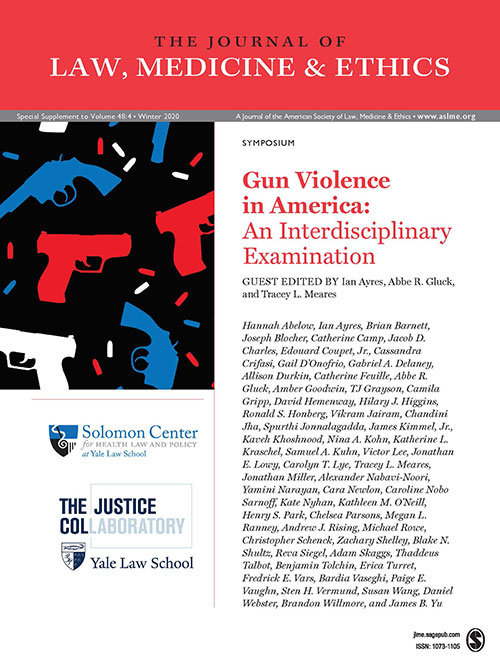 To examine the deleterious effects of this growing crisis, Yale Law School faculty and students convened collaborators from Yale University and across the country to publish a groundbreaking special issue of The Journal of Law, Medicine & Ethics (JLME) devoted to the gun violence epidemic. The issue, created through a partnership between two innovative Law School centers, the Solomon Center for Health Law & Policy and The Justice Collaboratory, features 26 articles by students, professors, scholars, physicians, advocates, and other experts who seek to address the problem through interdisciplinary conversation and research. The authors tackled the issue from four angles — criminal justice, medicine and public health, the roles of regulation and litigation, and data and empirics.
"The multiple perspectives in this volume reveal the benefits of an 'all hands on deck' approach to addressing the important public health problem, its many victims and its future," the issue's introduction states.
The JLME issue also marks the culmination of a special course taught at Yale Law School in the spring of 2020 titled "The Law, Policy, and Guns." The course was taught by Abbe R. Gluck '00, the Alfred M. Rankin Professor of Law and the founding Faculty Director of the Solomon Center; Tracey L. Meares, the Walton Hale Hamilton Professor and a Founding Director of the Justice Collaboratory; and Ian Ayres '86, the Oscar M. Reubhausen Professor of Law and a Deputy Dean at Yale Law School.
Katherine Kraschel, Executive Director of the Solomon Center, and Caroline Nobo Sarnoff, Executive Director of the Justice Collaboratory, were also critical to the course and each authored pieces in the JLME issue.
"A hallmark of a successful project for the Solomon Center is when experts from across disciplines are in deep dialogue with one another about the most pressing issues of the moment," said Kraschel. "Gun violence is a critical issue of our time. We are grateful to the many collaborators that have made this project such a success."
Looking at the issue of gun violence through a criminal justice lens, the authors review various methodologies to critique the status quo and propose new ways to address the issue, including examining an important theme of community engagement.
"Americans are quick to categorize gun violence as a criminal justice and/or policing problem, but at the Justice Collaboratory we always take an interdisciplinary approach to understanding issues of public safety and justice reform," said Meares. "So it's no surprise we were anxious to change the narrative around gun violence."
From the medical and public health perspective, authors discuss a range of issues, including the intersections of gun policy and clinical care,  stigma and mental health, extreme risk protection orders, and behavioral addiction.
"This class demonstrated that the Law School is committed to reducing gun violence and to ensuring that students have an opportunity to learn about the law and policy of guns in America and ultimately, help to shape a better and safer future."
— Erica Turret '20
The third lens seeks to better understand the roles of litigation and regulation as two legal mechanisms to address gun violence. As one article explains, Congress granted the gun industry exceptional, and arguably unconstitutional, tort immunity in the controversial Protection of Lawful Commerce in Arms Act statute in 2005. Reading the statute in line with the Supreme Court's federalism principles would enable gun violence victims and their families to hold gunmakers responsible for wrongdoing.
Lastly, the issue examines the critical need for empirical evidence to shine a light on the marked gap in the understanding of gun violence due to the lack of hard data.
"I'm an economist and lawyer, but neither legal nor economic analysis by themselves are likely to lead to tractable policies for such an entrenched problem," said Ayres. "Evidence-based policies from a number of disciplines that take into account our nation's commitment to multiple dimensions of liberty and equality is the best way forward."
Ayres also noted the need to increase federal funding for research into gun violence. It wasn't until 2019 that lawmakers reached a deal to restart such funding after a 20-year freeze.
"The resumption of even minimal funding is a symbolic gesture — to be sure in the right direction, but at the moment not enough to think that it will lead to results that will substantially reduce deaths or injuries," explained Ayres.
Experts from the Law School and Yale University have come together to study a national issue through an interdisciplinary lens before. In 2018, the Solomon Center — led by Professor Gluck and Lafayette S. Foster Professor of Law Kate Stith — adopted a similar curricular model and produced an issue of JLME on the opioid crisis following a major seminar that convened experts from across the University.
In both special issues, the collaborations produced cutting-edge scholarship while providing an innovative learning experience for students.
"This class demonstrated that the Law School is committed to reducing gun violence and to ensuring that students have an opportunity to learn about the law and policy of guns in America and ultimately, help to shape a better and safer future," said Erica Turret '20, who grew up in Parkland, Florida and attended Marjory Stoneman Douglas High School where a tragic school shooting occurred in 2018.
"This is such a special opportunity to produce scholarship on a pressing national issue and to write alongside leading experts in the field," added Turret. "It has been the perfect end to my time in law school and an experience I will never forget."
Sam Kuhn '21 worked with Professor Meares on an article studying the families of those who have been killed or seriously injured by gun violence. He said the experience was energizing for those passionate about finding solutions to the problem.
"This class presents a powerful opportunity to understand the scope of America's gun violence problem, contribute to some research at the intersection of law and public health, and energize a group of law students and professors around this issue at the beginning of what will hopefully be our long and active careers trying to mitigate social harm," said Kuhn.
With the publication of this special JLME issue, the scholars and experts involved hope to explain how the complex nature of the gun violence epidemic will never have one simple solution, but require a growing body of work across disciplines to stem the tide of death and injuries in this country.
"It is imperative that we engage with a diverse network of experts, scholars, and activists to interrogate the true nature of America's gun problem," said Meares. "In the end, we prioritized the research and paper topics that we felt were most important to next steps — like science and theory, which means better data to understand the problem, and a focus on community-led interventions that are already happening and we know work."
By using this interdisplinary, data-driven approach, authors are hopeful that practical, concrete policy changes will follow and a new generation of students will be engaged in being a part of the process.
 "We hope to teach students and ourselves by thinking deeply about the subject," said Ayres. "And I hope the published papers provide evidence and analysis that is useful to policy makers and scholars who work on this important issue."
The JLME issue was also supported through the generous support of Yale Law School's Oscar M. Ruebhausen Fund.
Journal articles will be unlocked for open access on a rotating basis over the next several weeks. To see the list of unlocked articles at any given time, click here and look for the green unlock icons.