Monday, May 2, 2022
---
Justice Sonia Sotomayor '79 in Conversation at Liman/LSO Colloquium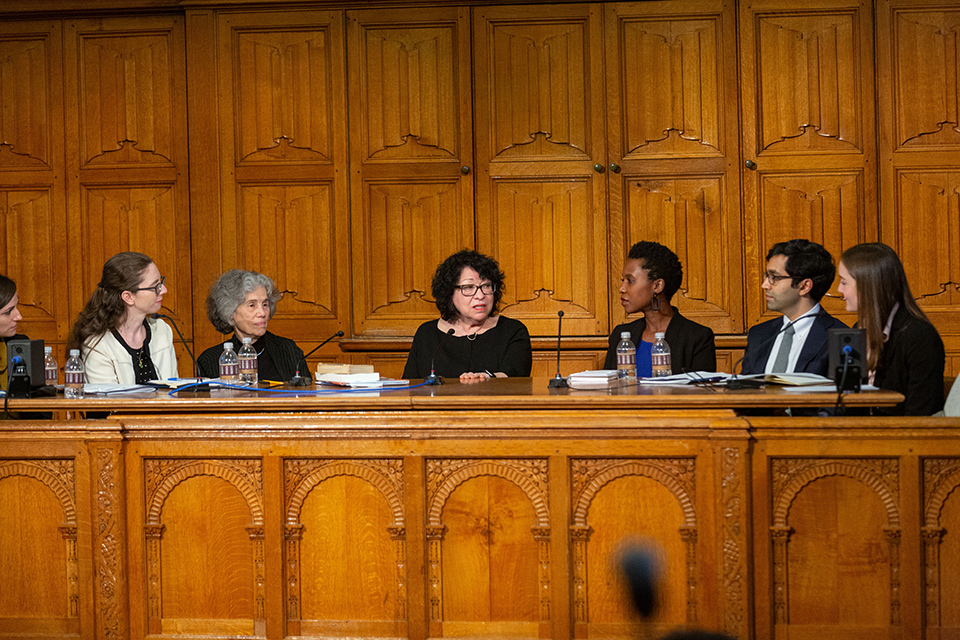 Justice Sonia Sotomayor '79 joined a panel of alumni moderated by Professor Judith Resnik to celebrate the 25th anniversary of the Liman Center and more than 50 years of the Jerome N. Frank Legal Services Organization and Yale Law School's clinical program.
Supreme Court Justice Sonia Sotomayor '79 joined Yale Law School alumni from the Liman Center and the Law School's clinical program in a conversation to open the 25th Annual Liman Public Interest Colloquium on April 7.
This year's colloquium honored both the 25th anniversary of the Liman Center and more than 50 years of the Jerome N. Frank Legal Services Organization and Yale Law School's clinical program. Titled "An Intergenerational Community Committed to Public Service Education and Lawyering," the event celebrated the achievements of these interconnected programs at Yale Law School and reflected on the challenges of the current moment.
READ ABOUT CLINICAL EDUCATION AT 50
Dean Heather K. Gerken joined Muneer Ahmad, Deputy Dean for Experiential Education and Sol Goldman Clinical Professor of Law, and Judith Resnik, Arthur Liman Professor of Law and Founding Director of the Liman Center, who provided brief histories of these programs as part of their welcome of Justice Sotomayor, who had come in 2017 to Yale to launch the Liman Center's 20th anniversary colloquium.
"When I think of the Liman Center's achievements over the past 25 years — when I think of the Center's constant drive to transform itself in the name of fighting injustice — I marvel at the power of constant communication and exchange among and between advocates, students, and scholars dedicated to imaginative and persistent public interesting lawyering," said Gerken.
In her opening remarks, Resnik recounted the origins of the Liman Center and its development over the last quarter century, and noted what an honor it was to have Justice Sotomayor in attendance to celebrate the milestone.
"I have an amazing job, which is to teach here and to interact with a whole host of people who want to make the world a little bit better than it currently is, and from whom I learn a great deal," she said.
Resnik and Justice Sotomayor were joined in conversation by six Law School alumni who were actively involved in YLS's clinical program, five of whom are or were Liman Fellows. The group represented a range of talented individuals serving in a variety of careers across the country.
The discussion covered a range of issues about the work of the Court. Alicia Bannon '07, Director of the Judiciary Program at the Brennan Center for Justice and a 2009 Liman Fellow, brought up the role of amicus briefs. Two current Liman Fellows, Isadora Ruyter-Harcourt '21 and Kelley Schiffman '18, touched on the evolution of the justice's views and dissents. Former Liman Summer Fellow Katherine Munyan '17 and Amit Jain '18, current law clerks for Justice Sotomayor, steered the exchange toward public opinion and the relationship between the Court and other branches of government. The topic of public outreach was raised by Judge Holly Thomas '04, a 2005 Liman Fellow who was recently confirmed to the U.S. Court of Appeals for the Ninth Circuit after service on California state courts.
The conversation with Justice Sotomayor was part of a three-day colloquium that included a performance by Visiting Clinical Lecturer in Law Reginald Dwayne Betts '16 of his play Felon: An American Washi Tale.
Other panel discussions explored the dynamics of public interest education and lawyering, innovation and entrepreneurialism in promoting equality, the role of protest in contemporary social movements, the interaction and interdependencies of public and private practice, and the roles of fellowships, clinical education, and law schools in contributing to communities and in innovation in legal theory and practice.
The Arthur Liman Center for Public Interest Law sponsors an annual colloquium to bring together scholars, students, and a diverse group of lawyers from across the country for discussion. Over more than two decades, the colloquia have addressed an array of topics including the critical role of state courts in access to law, the use of money as punishment, the impact of fines and fees, detention and incarceration, and the impact of legal rules, legal education, and lawyers. These annual conferences are one component of the Liman Center, which promotes access to justice and the fair treatment of individuals and communities seeking to use legal systems. Since its founding, the Liman Center has awarded 170 graduates of Yale Law School one-year fellowships to work on behalf of an array of people interacting with the law. Hundreds of students, from Barnard, Brown, Bryn Mawr, Harvard, Princeton, Spelman, Stanford, and Yale have held Liman Summer Fellowships. The Center's sustained research has provided new information on pressing issues in the legal system.
The Jerome N. Frank Legal Services Organization (LSO), which began in the early 1970s, provides legal representation to people and organizations who are unable to afford private attorneys. Students, supervised by Yale Law School faculty members, handle a wide variety of casework and policy initiatives on behalf of their clients. LSO students work in fields including criminal defense, sentencing reform, immigration, workers' rights, housing, community and economic development, veterans legal services, consumer rights, mental health advocacy, and nondiscrimination law. Today, LSO is one of several facets of the clinical program at Yale that does an immense amount of diversified work to improve the lives of people and communities around the country.