Friday, September 16, 2022
---
Justyna Gudzowska '04 Tells How Targeted Sanctions Can Leverage Human Rights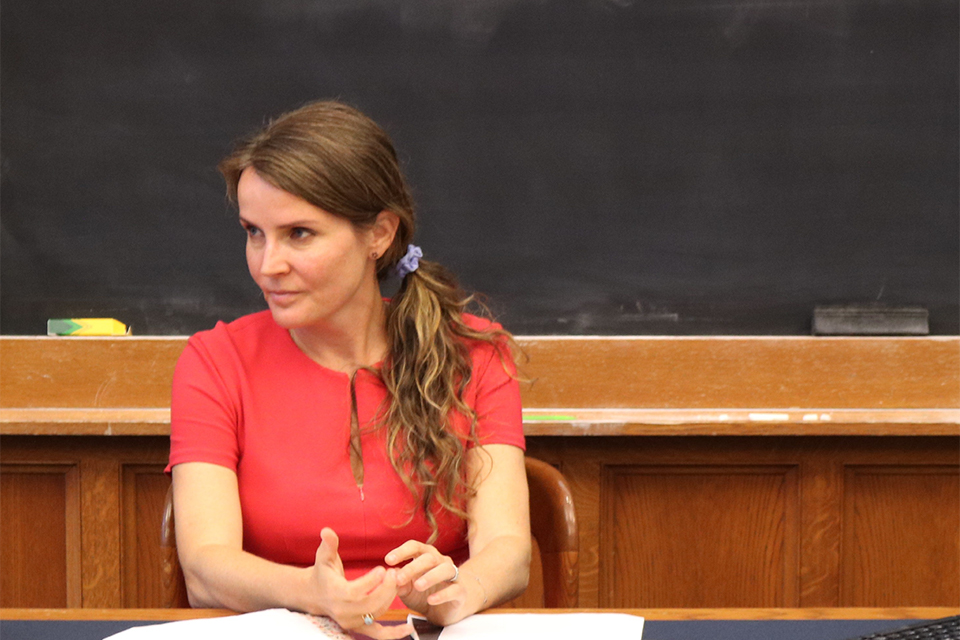 Justyna Gudzowska '04, Director of Illicit Finance Policy at The Sentry, led the Human Rights Workshop, "Targeted Sanctions as a Tool for Human Rights and Accountability."
The Orville H. Schell Jr. Center for International Human Rights welcomed Justyna Gudzowska '04 to lead the Sept. 15 Human Rights Workshop, "Targeted Sanctions as a Tool for Human Rights and Accountability." Gudzowska, the Director of Illicit Finance Policy at the investigative and policy organization The Sentry, discussed her innovative work using financial pressure to create leverage for human rights. 
According to Gudzowska, The Sentry focuses its efforts on the "intersection of human rights atrocities and corruption, because our investigations have shown that one tends to fuel the other, and there is a link between systemic corruption and conflict, including atrocities." The Sentry's work is concentrated on countries like South Sudan, the Democratic Republic of Congo, and Myanmar, which she described as "violent kleptocracies" where "institutions of the state are captured by political elites for their own gain."
Gudzowska explained that The Sentry's theory of change involves creating consequences for actors profiting from human rights abuses. 
"What we try to bring to the [human rights] space is advocacy for tools of financial pressure to change the situation on the ground and the incentive structure of those committing atrocities, because we have found there are often financial motives behind atrocities," Gudzowska said. 
Sanctions have historically been comprehensive, disproportionately affecting the country's population rather than the people in power, she said. At Yale, Gudzowska recalls learning about the inefficacy of comprehensive embargoes and sanctions in a course on international business transactions. At the time, she explained, the U.N. had leveled a comprehensive embargo on Iraq that, though aimed at Saddam Hussein and other political leaders, had disproportionately hurt the population after elites circumvented it. Thus, she said, the embargo was widely considered a failure. Many human rights organizations have since been reluctant to advocate for sanctions, Gudzowska explained. 
However, the relationship between human rights and sanctions has gradually begun to shift. 
"Over the past few decades, sanctions have morphed into a different type of tool," Gudzowska said. "Targeted sanctions target the perpetrators, the actual individuals or entities that are involved in nefarious activities."
 These sanctions freeze the actors' assets, restrict their travel, and attempt to eliminate the resources available to them. 
In addition to sanctioning the primary perpetrators, The Sentry works to identify each perpetrator's network. 
"That's how money is moved and assets are held," Gudzowska explained. 
She noted that putting assets in the names of family members and associates is one of the most common sanctions evasion techniques seen today. 
"Bad actors know well enough not to put assets in their own name, so they use family members, associates, and other proxies," she said. 
Though The Sentry seeks to avoid targeting someone because of their association alone, Gudzowska reasoned that if someone is holding a perpetrator's assets in their name, it becomes "fair game." She explained that this approach makes sense for Russia and Myanmar, where leaders are often associated with "businessmen that do their bidding," she said. 
 
Gudzowska explained that the targeted sanctions recommended by The Sentry are imposed by the executive branch and implemented by the Department of the Treasury, in accordance with the Global Magnitsky Human Rights Accountability Act. The law was passed in 2016, allowing the U.S. government to target actors committing serious human rights abuses wherever they may be located.
"Some human rights organizations are coming around and calling for sanctions," Gudzowska noted, though disagreements about the use of sanctions persist. For instance, she noted that many people believe that sanctions against Russia are not working because the war in Ukraine has continued. However, Gudzowska said that it's unrealistic to expect sanctions to work overnight. She added that changing behavior through sanctions could take months or years. 
Moreover, Gudzowska emphasized that sanctions do not work in isolation. 
"They are a tool and not a foreign policy in itself," Gudzowska said. "They are, in fact, one of many tools of foreign policy that have to be paired with diplomacy, communication strategies, and stronger anti-money laundering frameworks." 
Sanctions also work most effectively, according to Gudzowska, when they are multilateral. The Sentry is tracking a pending bill in Japan that would allow the country to sanction human rights abuses, making it the last G7 country to pass such a law.
Sanctions are not only about changing bad actors' behavior, according to Gudzowska, but about holding bad actors accountable and deterring others from committing serious human rights abuses. She used an example from her time working on counterterrorism sanctions against ISIS. 
"The point was not to change the minds of ISIS leaders, but to deny them resources and cut off as many means of funding as possible so they cannot finance their operations," she explained. "We have to think of sanctions as having other goals."