Monday, March 20, 2023
---
Lowenstein Project Engages Students in Human Rights Advocacy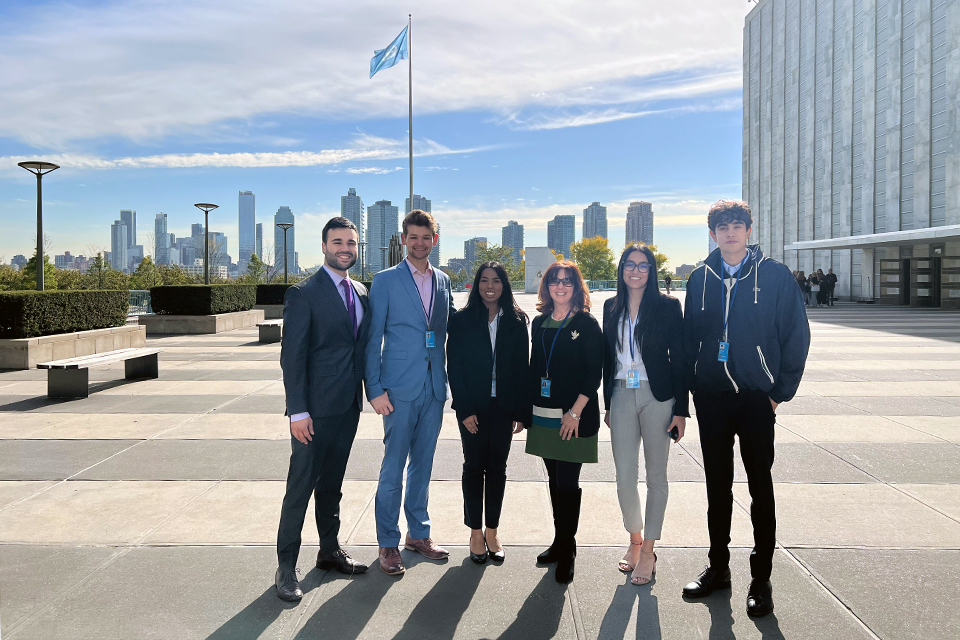 Schell Center Visiting Human Rights Fellow Leila Sadat and members of her Lowenstein Project team visited the United Nations in October. For the past two years, students in the project have been tracking a draft crimes against humanity treaty in a U.N. committee.
Students in the Lowenstein International Human Rights Project this fall partnered with organizations around the world on a wide range of human rights issues. Though this student-led human rights group at Yale Law School, participants worked on issues ranging from advancing the rights of same-sex parents in China to documenting the ripple effects of abortion restrictions in the United States. More than 100 Yale law, graduate, and undergraduate students participated this year.
Lowenstein Project students work in small teams, usually on behalf of, and with guidance from, human rights or other public interest organizations. The students' work generally addresses the organizations' research needs.
One team this fall helped to advocate for reparations for civilians victims of the ongoing armed conflict in Yemen. Students worked with Cover-Lowenstein Fellow Kristine Beckerle '15 and Mwatana for Human Rights, a Yemen-based human rights group that investigates, reports on, and pursues accountability and redress for international law violations. During the semester, students made two submissions to the U.N. Special Rapporteur on Truth, Justice, and Reparation. Their work built on a June 2022 report by Mwatana and the Lowenstein Human Rights Clinic that was the first in-depth study making the case for reparations to civilian victims of Yemen's war. The submissions underscored the urgency of the case amid many calls for accountability and redress.
Sarah Quinn '24 said that participating in Mwatana's Lowenstein Project deepened her understanding of international human rights and efforts to secure reparations for rights violations. 
"Preparing the submission has been a fantastic learning opportunity, which has vastly contributed to my knowledge of international law and the structures of the United Nations," Quinn said. "Exposure to and collaboration with Mwatana has given me a great deal of insight into the multi-faceted struggle to achieve justice for victims of rights violations and has also been an immensely clarifying and motivating experience which has strengthened my commitment to pursuing a career in international justice."
Students' research, writing, advocacy, and organizing also provided meaningful help for the organizations whose work they supported. 
According to Beckerle, the Lowenstein Project team "asked the right questions, thought strategically, and prepared persuasive submissions that, at their core, made the case that Yemen's war has been ongoing for nearly a decade, that the warring parties have failed abysmally to provide redress to civilian victims of their wrongs, and that there is much more the U.N. system can do to support Yemeni demands for reparation and justice."
For other students, the Lowenstein Project provided an opportunity to gain substantive experience in human rights as soon as they arrived at Yale.
Joe Sullivan-Springhetti '25 was part of a team that worked to garner international support for the world's first global treaty on crimes against humanity. The team assessed and tracked the policy positions of 86 nations at the U.N. General Assembly's Sixth Committee, helping to focus and direct the advocacy efforts of government leaders and nongovernmental organizations to muster cross-regional support for the initiative. This year, he noted, the treaty moved ahead to the most advanced stage in its history.
"Working on the Lowenstein Project was a wonderful opportunity to engage with meaningful, real-world legal issues in my first term of law school," Sullivan-Springhetti said. "Playing even a small part in such a significant achievement was really gratifying — and an amazing way to start our experience here at Yale."
Leila Sadat, Schell Center Visiting Human Rights Fellow and founder of the Crimes Against Humanity Initiative in 2008, supervised the work by the Lowenstein Project team and a team of students at the Washington University School of Law. Sadat, the James Carr Professor of International Criminal Law at Washington University in St. Louis, found the experience rewarding. 
"For the past two years, students have been tracking the progress of the draft crimes against humanity treaty in the U.N. General Assembly's Sixth ('Legal') Committee," she explained. "On March 13-14, 2023, the German and French missions will host a workshop on the crimes against humanity convention, and two Lowenstein Project students will be assisting with the meeting as well as serving as notetakers."
Other projects addressed issues including the evolving relationship between human rights and technology. In collaboration with the University Network of Human Rights, one team provided research for a policy memorandum that was presented to the U.N. Human Rights Council. The memorandum emphasized the potential threats new technologies pose to humanity and called for the creation of a thematic U.N. Special Rapporteurship focusing on New Technologies and Human Rights.
Hayoung Choi GRD '23, who worked on the memorandum on new technologies, said the project provided a real-world example of ongoing norm-creation processes. 
"It was a great opportunity to learn about human rights issues that can be caused by technologies such as genetic engineering, artificial intelligence, and social media, and what kind of norm-setting efforts are happening at the international level," Choi said.
Students in the Lowenstein Project also gained exposure to innovative methodologies within human rights work. One team helped advance disability rights advocacy with the Graphix Project, a human rights education initiative that uses the power of comics and digital platforms to connect youth activists. In addition to conducting research, students on the Graphix Project team worked to connect human rights advocates to advance disability activism. A conference planned for April at Yale will bring together activists and experts from several countries.
"The students are all amazingly bright and eager and have done a brilliant job in organizing interviews with activists from Sudan to Sri Lanka, and Colombia to Bangladesh," said Christian Clark, Schell Center Visiting Human Rights Fellow and founder of the Graphix Project. 
The Lowenstein Project was founded in 1981 and is named in honor of Allard K. Lowenstein, a U.S. congressman and pioneering human rights activist. It is part of the Orville H. Schell, Jr. Center for International Human Rights.