Thursday, October 13, 2022
---
Panel Discusses Public Health and Racial Justice Approaches to Gun Violence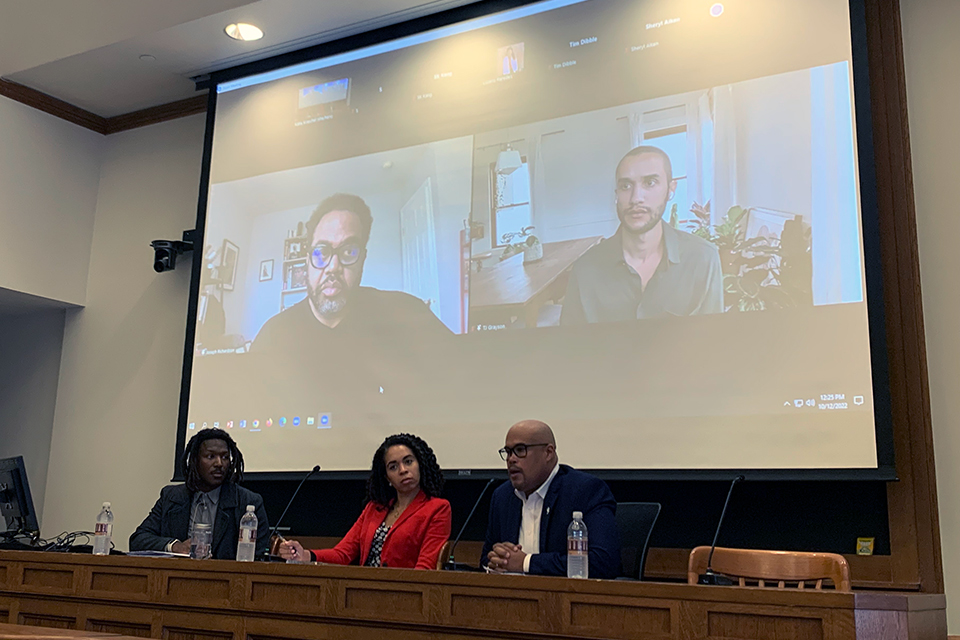 Left to right, in person: Joshua Aiken '24; Aimee Carlisle of Brooklyn Defenders; Violence Interrupter Marcus McAllister. Left to right, on screen: Joseph Richardson Jr., Professor at University of Maryland; TJ Grayson, Justice Catalyst Fellow at the Advancement Project.
On Oct. 12, the Solomon Center for Health Law and Policy hosted a multidisciplinary panel discussion about ways to address the dual harms of gun violence and criminal legal responses to gun possession in communities of color. The panel was the second event related to gun violence hosted by the Solomon Center, following an Oct. 3 discussion of NYSRPA v. Bruen, the case in which the Supreme Court overturned New York's law requiring a license to carry concealed weapons in public places. The panel was co-sponsored by the Black Law Students' Association, YLS Defenders, and the Yale Health Law and Policy Society (YHeLPS).
The event was moderated by Josh Aiken '24, a law student and Ph.D. candidate in History and African-American Studies whose research focuses on race and U.S. gun laws. The panel included Dr. Joseph Richardson, Jr., Professor of African-American Studies and Anthropology at the University of Maryland and founder of Transformative Research and Applied Violence Intervention Lab (TRAVAIL); Marcus McAllister, a nationally known speaker, consultant, and expert in the field of violence interruption; Aimee Carlisle, a public defender at the Bronx Defenders and co-signatory on an amicus brief in NYSRPA v. Bruen submitted by a coalition of public defenders; and TJ Grayson '21, a Justice Catalyst Fellow at the Advancement Project in Washington, D.C., where he supports abolitionist campaigns to end police violence.
Aiken set the thematic context for the discussion by noting the dimensions of interpersonal violence and state violence associated with gun violence that disproportionately impact communities of color. For instance, he said, Black people are far more likely than white people to be victims of gun homicides as well as stopped, frisked, and searched by police in an effort to "get guns off the streets." Black people are also more likely to be shot by police and be subjected to mandatory minimum sentences for gun possession.
Aiken then asked a direct question of each panelist before turning to an open discussion. First, Grayson discussed the evolution of his thinking since  publishing a piece with Amber Goodwin in 2021 in the Journal of Law, Medicine, and Ethics titled "Investing in the Frontlines: Why Trusting and Supporting Communities of Color Will Help Address Gun Violence." The thesis of the piece was that the communities with the most at stake in terms of interpersonal gun violence and the state violence of policing should take the lead on how to address these harms. The piece discussed community-based gun violence interruption programs like those of McAllister, a fellow panelist. Grayson said that he has realized that not all programs are created equal, and they should be evaluated by the extent to which they empower communities. Grayson also noted that, because these programs are aimed at addressing deeply rooted antecedents to violence, policymakers should not expect quick fixes and abandon programs when they don't immediately produce quantifiable mortality reductions. To do so risks a quick reversion back to regressive forms of policing that do not create long-term public safety, he said.
Continuing the theme of investing in the "front lines," Aiken asked McAllister how he got involved in violence interruption and why this tactic is known as a public health approach to gun violence. McAllister shared how, at age 18, he was sentenced to 10 years in a federal penitentiary. After his release, he turned his prior involvement in gang culture into an asset to prevent violence. He worked as a violence interrupter with Cure Violence (then called CeaseFire), discouraging young people from engaging in violence and helping them meet their basic needs. Cure Violence and other programs like it,  treat gun violence like a contagious disease, McAllister said, explaining the the trauma from gun violence gives rise to anger that leads to retaliation, and the cycle of trauma continues. Violence interrupters often respond to shootings to discourage retaliation and break this cycle, like contact tracers do for infectious diseases.
Aiken then asked Richardson to talk about his research into the structural violence underpinning interpersonal gun violence. As an example, Richardson discussed how the life expectancy in the northwest of Washington, D.C. stands at 89 years versus 68 years in the southwest. This massive disparity is due to a legacy of policies that created areas of concentrated, racialized poverty, he said. Disproportionate rates of COVID-19, gun violence, and other health issues have followed the same geographic distribution. As far as gun violence is concerned, Richardson argued, society's chief response has been with law enforcement. Richardson said that the popular narrative that all young people carrying firearms are malicious is not true: many simply feel unsafe and do not trust the police. He added that this distrust is well-reasoned. For instance, Richardson noted, the Baltimore Police Gun Task Force was found to plant guns on Black community members. Richardson's studies of individuals admitted to hospitals with gun-shot wounds found that previous incarceration for felonies was a major risk factor for gun violence victimization. This fact raises questions about how factors such as difficulties accessing jobs, housing, and schooling may make people more vulnerable to gun violence, he said.
Next, Carlisle discussed the public defenders' amicus brief in NYSRPA v. Bruen. Carlisle underscored the difference between gun possession and gun violence. While guns are necessary for shootings, Carlisle said, law enforcement tactics erroneously conflate the two offenses as if the former amounts to a violent act. As a trial attorney, one-third of Carlisle's felony caseload is gun possession offenses, changes that put her clients at risk of mandatory minimum sentences of 3.5 to 15 years in prison, depending on their legal history. Carlisle explained that the public defenders' brief told stories of their clients to illustrate why these clients carry firearms despite not having a license — their abandonment by the state and fear of victimization — and the violence inflicted by police with the mission to get guns off the street. She noted that her clients are often the victims of gun violence and that standard narratives only identify them as potential perpetrators. Carlisle echoed Richardson's comments about the negative externalities of felony convictions. Carlisle said her clients in New York are branded as "violent felons" even if the gun was never used and this designation forever deprives them of opportunities.
The panelists then discussed what a public health and racial justice approach to gun violence means and the role that criminal law should play.  Richardson emphasized the need to disentangle medicine and public health from the criminal legal system. He shared how police officers in Baltimore have entered hospitals to interrogate gunshot victims while they are receiving urgent care and under sedation. McAllister noted the need for some type of response to acute violence while simultaneously addressing the chronic root causes.
"We need to put out the fire and look at the cause of the fire," McAllister said.
Both panelists recognized that the answers lie in impacted communities. Richardson cited the House of Umoja, a Philadelphia grassroots program to counsel young people involved in violent activities, as a pioneer of a community-based, public health model. Carlisle then rgued that mass incarceration was antithetical to public health due to the documented violence and health harms associated with incarceration. Lastly, Grayson reiterated his reservations with the public health community's demands for quantitative data showing immediate results from antiviolence programs. He argued that, in the past, public health professionals prematurely turned away from community-based solutions and social investment. Instead, he continued, they embraced carceral approaches to violence that have not eliminated gun violence and have caused violence of their own. Grayson said that there needs to be a long-term commitment to connect communities impacted by gun violence with the services and opportunities they deserve.