Thursday, March 9, 2023
---
SFALP Files New Case Against Direct Marketing Company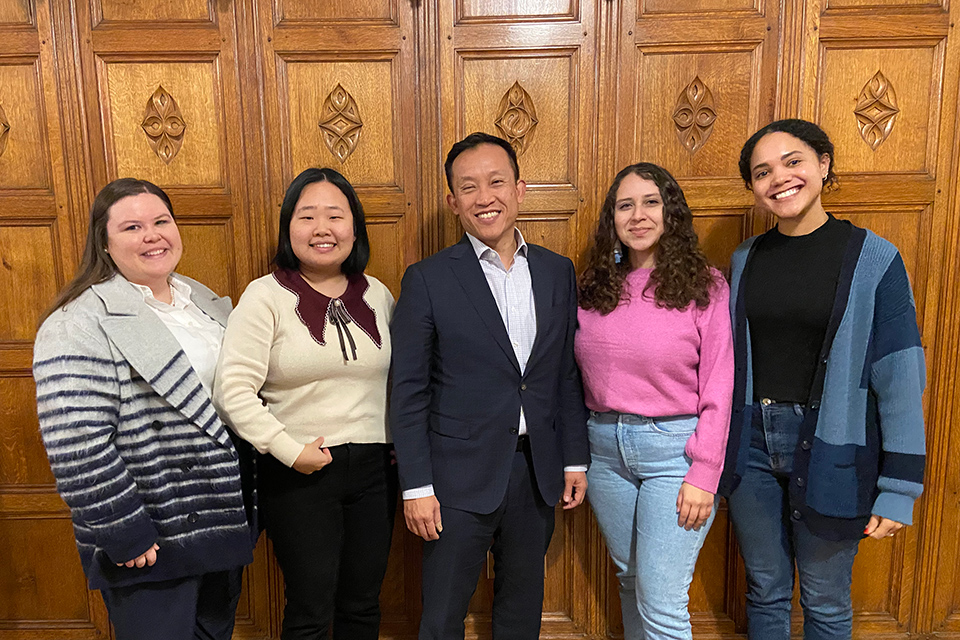 SFALP students Ashlee Fox '25, Amy Jeon '24, Doménica Merino '24, Isabelle Zaslavsky '24 met with San Francisco City Attorney David Chiu (center) this week.
San Francisco City Attorney David Chiu announced today that he has filed a lawsuit against direct marketing company Personnel Concepts and its parent companies for impersonating government actors in order to trick small businesses into buying its products.
Chiu's announcement coincides with National Consumer Protection Week and his first visit to Yale Law School, where he is meeting with students in the clinic that has partnered with his office for over 15 years. The San Francisco Affirmative Litigation Project (SFALP) pairs Yale Law School students with deputy city attorneys to develop and litigate affirmative cases.
Amy Jeon '24 helped draft the complaint as part of the clinic's case development team. She and teammates Isabelle Zaslavsky '24, Doménica Merino '24, and Ashlee Fox '25 work on developing promising cases, identifying key facts and hammering out potential legal theories.
"Working for a city government — especially San Francisco — enables me to think creatively and expansively about litigation and its impact," Jeon said. "It's exciting to anticipate potential counterarguments or to do a deep dive into a statute we're hoping to use in a complaint. I see the Personnel Concepts case as an example of the real good that the Office can do by protecting small businesses from inaccurate and unlawful mailings."
Personnel Concepts sells workplace compliance posters and sends deceptive solicitations designed to look like government communications to California businesses, according to the suit. The solicitations falsely imply that businesses must purchase the products in order to comply with labor laws or face penalties, when in fact governments make these notices available to businesses for free. The complaint also alleges that the products Personnel Concepts provides do not include all necessary labor notices, depriving workers of valuable information on their rights in the workplace.
Once a business purchases a poster from Personnel Concepts, the complaint alleges, the company begins an aggressive telemarketing campaign falsely insisting that additional posters and annual subscription packages must be purchased to comply with the law and avoid fines. If businesses refuse to pay the invoice, dispute the charges, or attempt to decline the products and services, Personnel Concepts demands payment through a collection agency.
"SFALP's case development team provided invaluable research assistance to help SFCAO better understand the prevalence and impact of government impersonation schemes on California consumers," said Deputy City Attorney Ronald Lee.
The lawsuit, which was filed on behalf of the People of the State of California, alleges this pattern of impersonating government agencies and deceiving businesses owners violates several California laws. The People are seeking penalties, restitution for impacted businesses, and injunctive relief to ensure additional businesses are not harmed.
Over the course of SFALP's history, clinic students have worked on a wide range of consumer protection cases, including against the National Arbitration Foundation (NAF), payday lender Check'n'Go, and the travel booking company Justfly, among others.