Wednesday, September 14, 2022
---
SFALP, the Opioid Epidemic, and Public Impact
Dean Heather K. Gerken and some of her SFALP clinic students in 2022.
This summer, the San Francisco Affirmative Litigation Project clinic saw major victories in a case against opioid manufacturers and distributors. The litigation could have a nationwide impact on public health.
---
The numbers behind the nation's ongoing opioid epidemic reveal a problem of staggering scale. Between 1999 and 2016, more than 200,000 people in the United States died from overdoses directly related to prescription opioids — an estimated 145 people every day. Alongside the human toll is the economic cost. One estimate suggests the opioid epidemic has cost over $1 trillion from 2001 to 2017.
But those monumental numbers can elide the fact that the opioid crisis is also a distinctly local issue, with cities across the country forced to cope with the toll of the epidemic in their own communities.
Since 2018, students in Yale Law School's San Francisco Affirmative Litigation Project (SFALP) clinic have been at the forefront of one of the largest complex litigations in the nation, San Francisco's case seeking to hold opioid manufacturers, distributors, and pharmacy chains responsible for fueling the opioid epidemic. And this summer, SFALP saw major victories in its work with San Francisco, with major implications for public health nationwide.
On July 12, the case reached a major settlement when the City Attorney announced a $54 million settlement with two opioid manufacturers. Under the terms of the settlement, the city of San Francisco will receive $34 million in cash payments and the manufacturers will provide the city with $20 million worth of the overdose reversal drug Narcan.
San Francisco has been particularly devastated by the epidemic, with opioid overdose deaths skyrocketing 478% between 2015 and 2020 and opioid-related emergency room visits tripling, according to data from the city.
"Under this agreement, our City will receive significant resources to combat the opioid crisis and bring relief to our communities," said San Francisco City Attorney David Chiu.
But that didn't bring the case to a close. Walgreens, the remaining defendant, chose in April to proceed with a bench trial rather than settle the case. Back when the litigation began, students helped file the original complaint alongside the San Francisco City Attorney's Office and have worked on the case at every stage since, from developing the case theory to navigating discovery disputes and trial prep.
The clinic students' work paid off: on Aug. 10, after a months-long trial, a federal judge issued a landmark ruling finding Walgreens liable for its role in exacerbating the opioid epidemic in San Francisco. The ruling came in the first bench trial decided in the plaintiff's favor in the national opioid litigation.
"This crisis did not come out of nowhere. It was created by the opioid industry, and local jurisdictions like San Francisco have had to shoulder the burden for far too long," Chiu said after the Walgreens decision.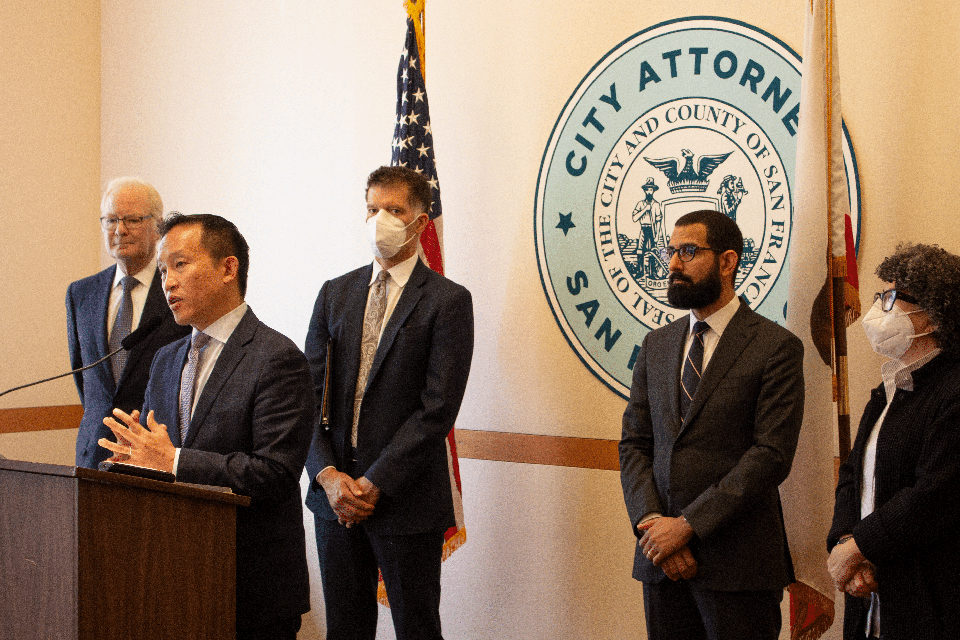 Blending Theory and Practice
The clinic embodies the vision of Dean Heather K. Gerken, who has long championed the fact that Yale Law School's broad-gauged curriculum uniquely bridges the theory-practice divide. The San Francisco opioid litigation provided a perfect opportunity to put that vision to the test.
The case alleged that opioid producers orchestrated a widespread fraud that portrayed drugs like OxyContin and fentanyl as safe and effective, while at the same time opioid wholesalers failed to report massive quantities of suspicious sales. According to the City Attorney of San Francisco, 163,645,704 opioids were distributed in San Francisco County from 2006 to 2014, enough for 22 pills per person per year.
From the beginning of the litigation, SFALP students were heavily involved in detailed work on both substantive and procedural issues in the case.
"Yale Law students have done vital work on this case from its inception," said Dean Heather K. Gerken, who founded SFALP in 2006 and continues to lead it. "It is so gratifying to see their efforts with the City Attorney's Office pay off in such an impactful way that will make a difference nationwide."
Gerken is one of the few law deans in the country who leads her own clinic.
The clinic's seminar introduces students to local government lawyering with an emphasis on the ethical questions that government lawyers face, and the evolving landscape of affirmative litigation by government entities.
"Dean Gerken intentionally makes space for students to reflect on theoretical questions that spring from our practical work," said Catalina Odio '23, a veteran of the clinic and current student director. "We discuss how the concept of 'the client' can look different in the government lawyering space, the long-term implications of pushing for nationwide injunctions, and the fitness of certain issues for legislation or advocacy work as opposed to litigation. It is a very enriching blend of theory and practice."
Work on the opioids case has allowed students to tackle both substantive and procedural issues in all aspects of the litigation through researching time-saving evidentiary procedures, reviewing opening statements, and giving feedback on the first few days of trial.
"The students in the SFALP clinic play a critical role in our affirmative litigation docket — expanding our bandwidth and brainpower to bring large and impactful cases," said Sara Eisenberg, Chief of Complex and Affirmative Litigation at the Office of the City Attorney, who worked on the opioids case with Law School students. "Major trials like this create a mountain of work, and having clinic students on our team allowed us to stay on top of it and hopefully gave the students unique experience of engaging in what's been described as the 'trial of the century.'"
Leading up to the start of the Walgreens trial this spring, clinic member Layla Malamut '23 found herself immersed in research for complex questions related to civil procedure, evidence, and tort law.
"SFALP has laid a strong foundation for my career and professional aspirations," she said. "I've been able to see and learn about stages of litigation I had never encountered before and discovered that I really enjoy trial work and would like to work in a similar capacity after I graduate and enter the workforce."
Work to Solve Impossible Problems
The clinic's work on the opioids case epitomizes the kind of impact the clinic can have, according to Lecturer in Law Emma Sokoloff-Rubin '18, the Director of SFALP.
"This is a classic SFALP case," said Sokoloff-Rubin, who co-teaches the clinic seminar and manages the core operations of the clinic. "It emerges from real harm to real people. It uses the unique power of local government to take on a seemingly untouchable industry, and to remedy harm that is nearly impossible for private plaintiffs to address. It's bold and complex and devastatingly essential."
One of the things that sets SFALP apart is the wide range of substantive areas in which the clinic is able to engage.
Since its inception, the clinic has sued rideshare companies Uber and Lyft for violating state worker misclassification laws, litigated against oil companies for their role in perpetuating climate change, and won a permanent nationwide injunction barring the Trump administration from denying funding to sanctuary cities, among numerous other cases that allow students to partner with the City Attorney's Office on groundbreaking public interest lawsuits.
Malamut said that this broad range of work helped attract her to SFALP as a 1L, after attending an information session during her first semester of Law School.
"I was particularly drawn to the breadth of substantive topics and the unique opportunity to work on highly complex cases with a huge public impact," she said. "I had always wanted to see what impact litigation looked like. SFALP has been able to do just that."
The work in the opioid litigation has attracted attention from across the country, with clinic students speaking to national outlets about their work on the case and the impact it has had on them as students and future lawyers who will have difficult problems to solve.
"I found myself frustrated when, in working with individual clients, I could advocate for them but I couldn't actually change the issues that were causing the problems that they came to us with," clinic student Laila Robbins '24 told Law360.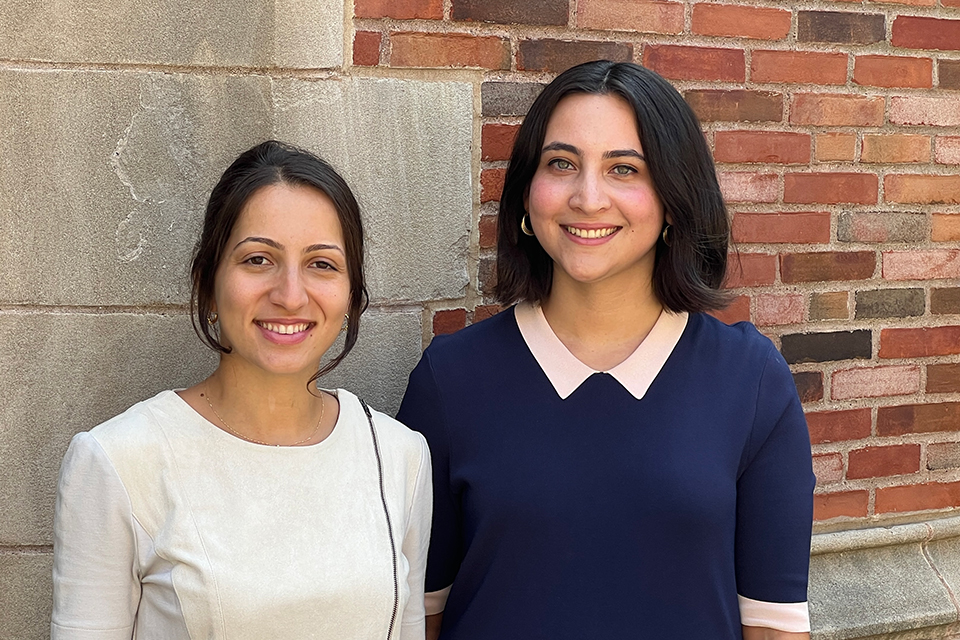 Building a Clinic Community
As part of their work together, attorneys in San Francisco ensure students gain full exposure to all aspects of a case and receive extensive feedback on their writing and litigation skills, as well as mentorship and opportunities to participate in litigation development and strategy.
With time and through its close-knit work, the clinic has developed into something more than just an educational and experiential opportunity — it has become a community. Gerken and Sokoloff-Rubin aim to make themselves accessible for both clinic and non-clinic-related student needs. Gerken attends all the clinic's spring seminars and has taught one on her own work on federalism.
But the conversations between the Dean and clinic students go deeper, and Gerken also helps students think through their decisions about courses, summer jobs, and post-graduation plans.
"SFALP is one of the most supportive spaces I've been fortunate to be a part of at YLS," Malamut said. "Dinners and other social events are a great way to hear about what other people have been working on and to connect with like-minded peers."
That community connection extends past graduation.
"The SFALP community has become a national network of creative, thoughtful, and dedicated public interest lawyers," said Jill Habig '09, Founder and President of the Public Rights Project. "It is not an overstatement to say that being part of the founding SFALP team as a student changed the trajectory of my life and career. It opened up a career path for me that has become my professional calling."
Odio, one of the current student directors, helps mentor new students and organize social events to bring clinic members together.
"There is a wide variety of professional backgrounds, career goals, and personal experiences represented in the clinic, which makes it a very special place for conversation, brainstorming, and just hanging out," Odio said.
That diversity of experience allows students to contribute unique perspectives to cases like the opioid litigation, and to learn from and with each other.
"I've seen firsthand as a clinic student, and now as the director, the unique environment Dean Gerken has built over the last 15 years," Sokoloff-Rubin said. "Students bring extraordinary dedication, energy, and expertise to the table, and SFALP allows them to do cutting-edge legal work that makes a real impact on the world."