Tuesday, August 17, 2021
---
YLS Welcomes an Accomplished and Diverse Group of Students
Dean Heather Gerken welcomed the newest class of students to Yale Law School in a convocation address on August 17, 2021. After a year of hybrid learning during the 2020–2021 academic year, all students are returning to the Law School to live and learn in person under the same roof. The new class is the most diverse in Yale Law School history and comes to New Haven with a record of academic excellence and exceptional accomplishments. 
Gerken delivered the greeting to incoming students via Zoom on the first day of new student orientation, shortly before students met in person for lunch in the Sterling Law Building and Baker Hall courtyards. Her remarks acknowledged the challenging backdrop in which the class starts their legal careers while expressing gratitude and hope for the moment.
PHOTO GALLERY: Convocation — August 17, 2021
Paraphrasing Oliver Wendell Holmes Jr., who spoke of living "greatly in the law," Gerken encouraged students to participate fully in the life of the Law School.
"You will be surrounded with some of the most interesting students and faculty in the country. So engage. Debate. Learn. And generate ideas of your own," she said. "Learn for the pleasure of it — for the sheer joy of it. The YLS conversation is one of the most interesting conversations you'll ever encounter."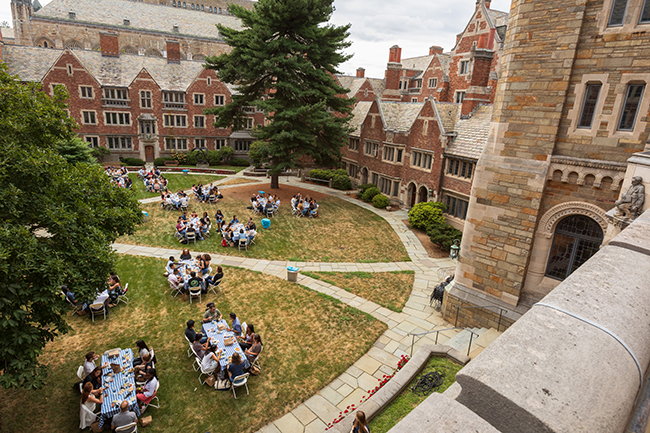 Her address provided a snapshot of the class of 2024 as she shared facts about its 201 members. Of the incoming students, more than 54 percent are students of color and just over half are women. More than a quarter of the class — 28.4 percent — are the first in their families to attend graduate or professional school. And roughly one in six are the first in their families to graduate from college.
Twelve transfer students also join the class of 2023, along with 40 LL.M. students, six J.S.D. students, three M.S.L. students, and one Ph.D. student.
"You will be surrounded with some of the most interesting students and faculty in the country. So engage. Debate. Learn. And generate ideas of your own."
—Dean Heather K. Gerken
The incoming class arrives in New Haven from around the country and around the world, with a wide range of academic and life experiences. Students come from seven different countries, 36 states, and 73 undergraduate institutions. Together, they have worked and lived in 70 different countries and read and speak 29 different languages. Altogether, the Class of 2024 holds 71 advanced graduate degrees in subjects that range from Ancient Philosophy to Neuroscience.
"We want to prepare each of you to be uniquely positioned not just to have an opinion, but to have an impact," Gerken told the new class.
The class of 2024 has among its members a rabbi, a pastor, and a priest; a fourth-degree black belt; a professional mandolin player; someone who supervised nuclear reactors; an internationally ranked chess player; and an Off-Broadway theater producer. The class also includes a professional ballet dancer, a CIA analyst, a documentary filmmaker, a labor organizer, and a leader of a missile defense platoon.
In her address, Gerken spoke to the class about how to think about life as a lawyer and a leader.
"You cannot do the job of lawyering without knowing how to engage productively with those with whom you disagree," she said. "That form of engagement is the touchstone of our profession, and now is the time to start inhabiting those values."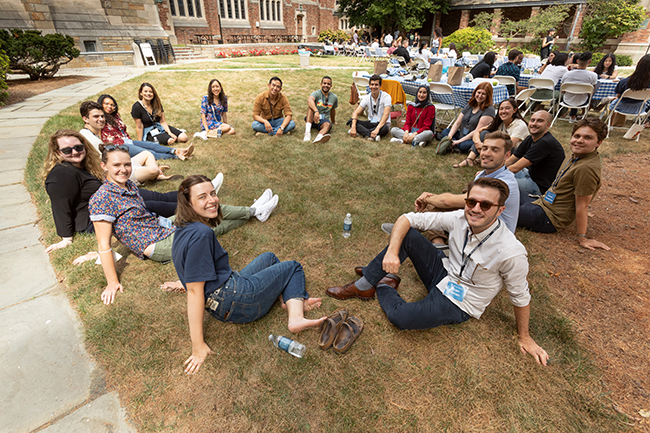 Dean Gerken also noted the robust precautions and planning that have allowed the semester to proceed in-person during the ongoing public health situation. She urged the class to take care of one another within the Law School and New Haven communities during the coming year. "This semester, taking care of each other takes on heightened importance," she said.
As has become her tradition, Gerken gave students words of advice for succeeding in the first year of law school.
"The secret to success is just being patient with yourself," she said. "Our Yale Law graduate Pauli Murray wrote, 'What is often called exceptional ability is nothing more than persistent endeavor.'  So be persistent, and don't be discouraged."