Friday, June 5, 2020
---
Solomon Center Celebrates the Class of 2020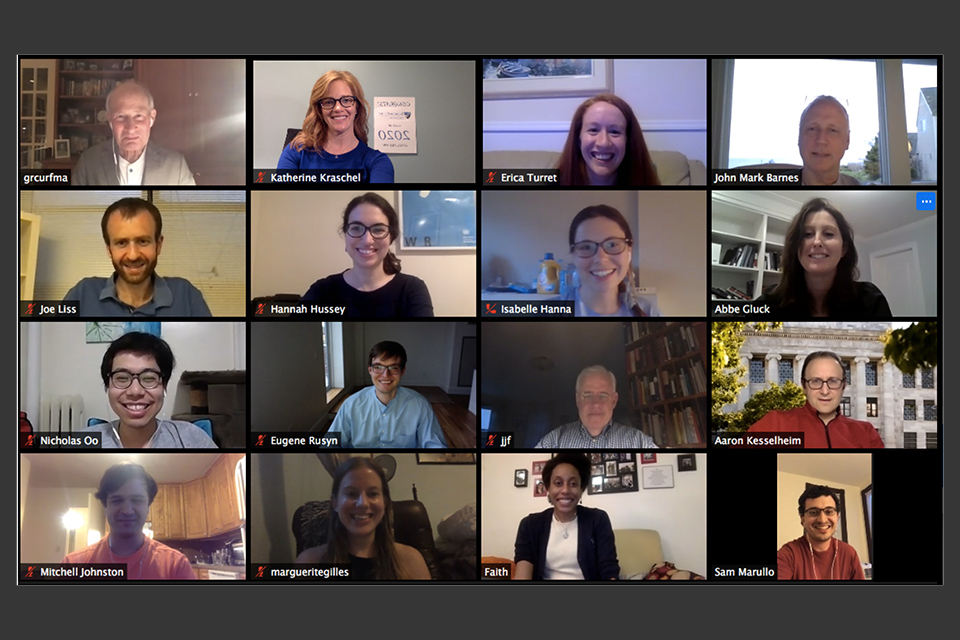 On Sunday, May 17, 2020, Solomon Center faculty, staff, and affiliated scholars joined graduating students to extend their graduation wishes over Zoom.
On May 18, the Solomon Center team celebrated as our students of the Yale Law School class of 2020 graduated and became our newest Solomon Center alumni.
Over their three years as law students, the Center's 2020 graduates have played a pivotal role in the growth of the Solomon Center: expanding our Medical-Legal Partnerships; establishing the Center as a thought-leader on the opioid crisis and gun policy; facilitating major conferences on topics including cancer, AI in health care, and the Affordable Care Act; and spearheading important work related to COVID-19. They have also inspired our faculty and staff regularly with their enthusiasm, intellect, hard work, and creativity. 
As our newest graduates venture out into the professional world, we look forward to what they will accomplish, and we are excited to highlight several graduates who begin their legal careers in fellowships that will allow them to expand on the health law and policy work they began at the Law School:
Rita Gilles '20, EJW Fellow, Mount Sinai Pediatric Associates
This fall, Rita Gilles will begin an Equal Justice Works fellowship, sponsored by Proskauer and Bloomberg, at Mt. Sinai Pediatric Associates in East Harlem. There she will provide legal aid to low-income families of children and adolescent patients under the supervision of the Mount Sinai Medical-Legal Partnership and New York Legal Assistance Group's Legal Health department.
As a law student, Rita served as one of the 2018–19 co-leaders of Yale Health Law Policy Society (YHeLPS) and a Solomon Center Student fellow in addition to playing a major role in the Solomon Center's Medical Legal Partnership programs. "I learned about Medical-Legal Partnerships in my very first semester at Yale, thanks to the opportunity to work at HAVEN," said Rita. "I was then lucky enough to work with Alice Rosenthal at the pediatric Medical-Legal Partnership at YNHH for almost two years, where I saw firsthand the impact MLPs can have on patient health."
At Mount Sinai, Rita will continue her work addressing social determinants of health, offering legal services in a healthcare setting to support children and families in East Harlem whose legal needs adversely affect their health. "I couldn't be more excited to continue my MLP work in New York City!" she said.
Reflecting on her health-related work with the Solomon Center, Rita noted "The Solomon Center was a cornerstone of my law school experience and has helped shape my dream to work at the intersection of law and health care. My work in the MLPs gave rise to my fellowship, and my work in YHeLPS allowed me to work on amazing events at YLS, including a panel about healthcare and immigration, that directly relate to my work next year and gave meaning to my law school experience."
Hannah Hussey '20, Gruber Fellow, New York Legal Assistance Group's LGBT Project
With the support of a Gruber Fellowship, Hannah Hussey '20 will also build on her law school MLP experience, working as a fellow with New York Legal Assistance Group's LGBT Project. Hannah has developed a fellowship intended to "combat economic insecurity for LGBTQ youth through knowledge building, direct representation, and policy advocacy." She hopes "not only to resolve legal issues for young people, but also to provide tools they can use to advance their own leadership."
Though Hannah's fellowship project will not be expressly health-oriented, she credits the Pediatric Gender MLP, co-run by the Solomon Center and the Center for Children's Advocacy, as being "instrumental" in shaping her fellowship project:
"One of the valuable aspects of the MLP is that it serves as a single resource for transgender youth looking for different kinds of support. For instance, a young person coming in for transition-related care may also have questions about how to change their school records, how to enroll in insurance, or how to navigate applying for financial aid as a trans student. The interdisciplinary nature of the MLP means the team can help with all of that! When designing my project, it felt important to think about how I could replicate some of that dynamic outside of the healthcare context. … I have learned a great deal from the committed healthcare providers at the Yale Gender Program that I will be taking forward with me from YLS."
Sam Marullo '20, Heyman Fellow, Office of the Speaker, House of Representatives, United States Congress
As a Heyman Fellow, Solomon Center Student Fellow Sam Marullo '20 will spend next year working on federal health policy in the office of Speaker of the House Nancy Pelosi.
In this position, he will build on his remarkable efforts to influence opioid policy in Connecticut as a law student, through which he and a classmate secured state funding making medication-assisted treatment for opioid use disorder available in Connecticut prisons. Reflecting on the experience, Sam stated "People at the Solomon Center, along with the leaders of the Legislative Advocacy Clinic, encouraged me to think big when pushing for changes to Connecticut's opioid response policies. The Center helped connect me with medical experts, draft op-eds, and publish academic work linked to the center's opioids course."
His new role with the Speaker of the House will also require big thinking on pressing health issues of the day: "COVID-19 is obviously the top priority right now, and even within that there's the core public health response, improvements to health and human services programs, economic assistance for individuals, stimulus for small business, and lots of other pieces," Sam  said. "I'm also excited to continue working on some of the issues I worked on at Yale, including prescription drug pricing and the federal government's response to the opioid crisis."
Doni Bloomfield '20, Postdoctoral Fellow, Program on Regulation, Therapeutics, and Law (PORTAL)
Doni Bloomfield '20 will also build on his health-law experience at YLS, beginning his legal career as a postdoctoral fellow with the Program on Regulation, Therapeutics, and Law (PORTAL) within the Division of Pharmacoepidemiology and Pharmacoeconomics at Brigham and Women's Hospital and Harvard Medical School.
As a law student, Bloomfield took "FDA Law" with Dr. Aaron Kesselheim, PORTAL Director and Solomon Center Distinguished Visitor at Yale Law School. He subsequently served as a teaching assistant for Dr. Kesselheim and pursued scholarship on the pharmaceutical industry through antitrust and intellectual property courses within YLS and the School of Management.
Building on his pre-YLS background as a biotechnology reporter for Bloomberg News, and his multifaceted engagement law and pharma in law school, Doni will use his PORTAL fellowship to research and write about a range of issues associated with drug pricing, competition, intellectual property, and likely also COVID-19.
As the 2019–2020 year also saw the establishment of a Solomon Center-PORTAL fellowship for law students, it is possible that Doni might collaborate with and oversee the work of some of these fellows and set an example for future YLS graduates to begin their careers as scholars with PORTAL.
---
We salute and celebrate these and all of our graduating students.
"It has been incredibly gratifying to see the class of 2020 learn and grow over the past three years," said Solomon Center Executive Director Katie Kraschel. "They are an accomplished, compassionate, and inspiring, and I look forward to continuing to celebrate their accomplishments as Solomon Center alumni."