Gruber Fellowships in Global Justice and Women's Rights
---
The Gruber Program for Global Justice and Women's Rights at Yale Law School is proud to announce the 2022-2023 Peter and Patricia Gruber Fellows in Global Justice and Women's Rights. Congratulations to Lauren Ashbrook (YSE '22), Shantrice King (YSN '22), Zain Lakhani (YLS '22), Laura Pappalardo (YSA '22), and Chelsea Thompson (YLS '22). Each fellow has developed a yearlong project in collaboration with a host organization that aims to advance justice and human rights. The Gruber Program Fellowships are a university-wide program, established to support projects and graduates and recent alums from all YLS graduate and professional schools. Read about these outstanding Fellows and their projects here.
Each year the Gruber Program awards a number of fellowships to graduating Yale students and recent alumni. Gruber Fellowships in Global Justice and Women's Rights are post-graduate fellowships that allow recent graduates of Yale graduate and professional schools to spend a year working on issues of relevance to the fields of global justice and/or women's rights.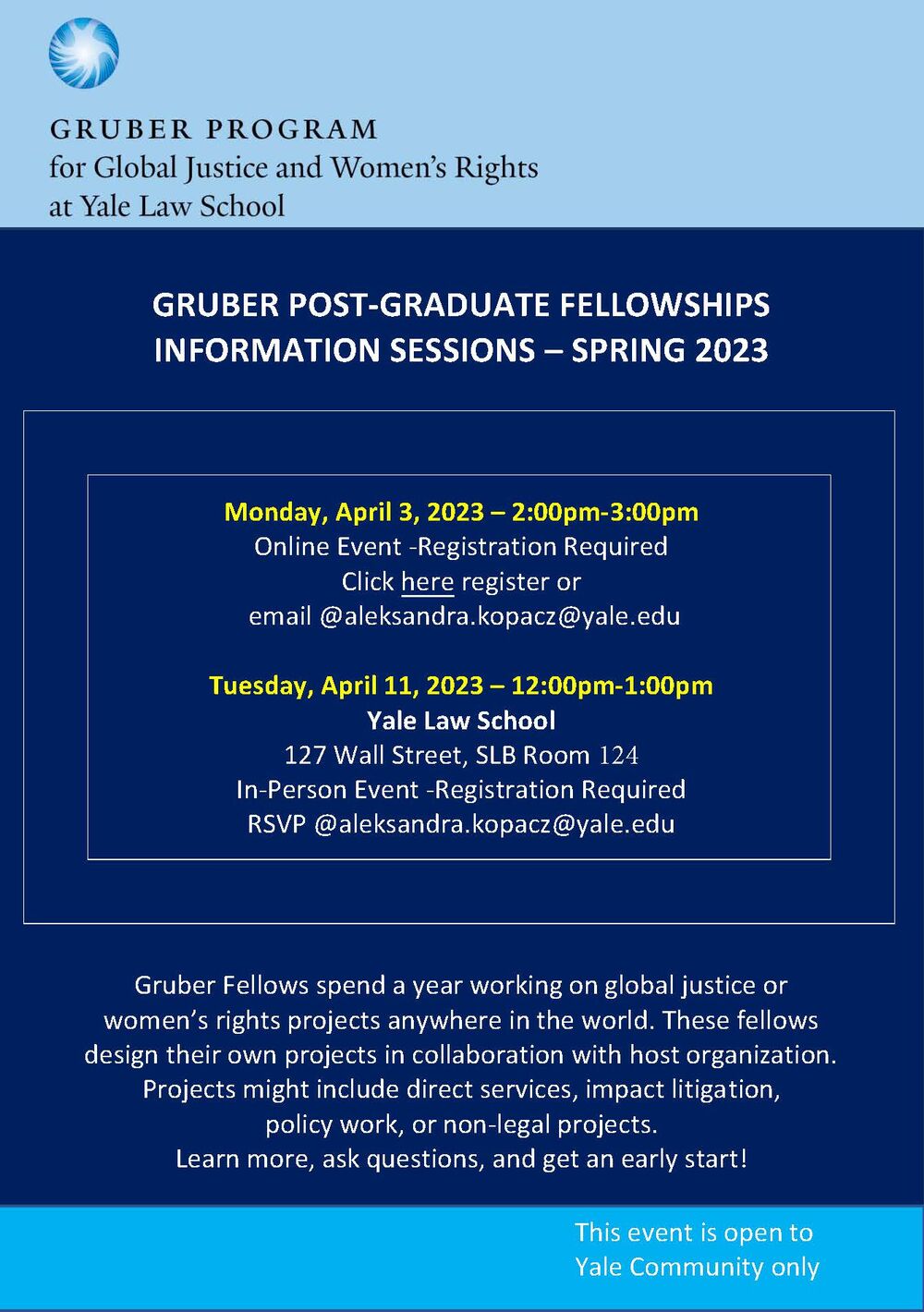 The application deadline for 2023-2024 Gruber Fellowships in Global Justice and Women's Rights will be due on Thursday, February 2, 2023. Check this website for updates on campus information sessions and application details. Students and recent alumni (up to three years after graduation) of all Yale graduate and professional schools are eligible to apply.
Interested students are strongly encouraged to attend a campus information session. All applicants should meet with Mindy Jane Roseman, Director of the Gruber Program, to discuss project proposal ideas and receive feedback on one draft. Preliminary meetings should take place as early as possible, and preliminary drafts should be submitted for review/feedback at least one day in advance of your meeting. To schedule a meeting with Mindy, please contact Aleksandra Kopacz.