---
Judith Resnik 
Founding Director / Arthur Liman Professor of Law [full bio]
Law School Room M43
203-432-1447
judith.resnik@yale.edu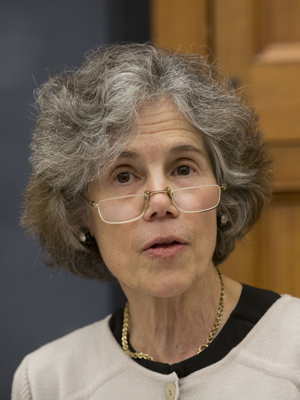 Resnik has led the Liman Center at its inception in 1997. During this past year, she has continued to work on her book, Impermissible Punishments, supported by a 2018-2020 Andrew Carnegie Fellowship. Much of this year was also focused on aiming to alleviate some of the harms of COVID for people in detention. In the spring of 2020, Bloomberg News ran her op-ed, Protecting Prisoners in Pandemics Is a Constitutional Must, and she submitted a declaration in several jurisdictions about the availability of provisional remedies for judges responding to COVID litigation. One of her articles, Preclusion and Inaccessible Arbitration: Data, Non-Disclosure, and Public Knowledge (with Stephanie Garlock and Annie J. Wang) published in 2020 in a symposium in the Lewis & Clark Law Review, was the basis for a March 2021 op-ed, Unlocking courts: Ending arbitration mandates and gag orders in Hearst media Connecticut news outlets. Other recent essays include The Puzzles of Prisoners and Rights: An Essay in Honor of Frank Johnson in a symposium in the Alabama Law Review; (Un)Constitutional Punishments: Eighth Amendment Silos, Penological Purposes, and People's "Ruin," and Constituting Security and Fairness: Reflecting on Charles Reich's Imagination and Impact, both in the Yale Law Journal forum. 
Jennifer Taylor
Director
Law School Room J33
203-436-3530
jennifer.taylor@yale.edu
Jennifer Taylor, a 2010 graduate of Yale Law School, was a member of the Prison Legal Services and New Haven L
egal Assistance clinics while a law student, as well as a student co-convener of the Liman Workshop. Since graduating, she has worked as an attorney at the Equal Justice Initiative (EJI) in Montgomery, Alabama, representing incarcerated clients challenging their convictions, sentences, and inhumane conditions of confinement. Her clients have included men and women on death row and people sentenced to life without parole as children. Taylor also researched, wrote, and spoke as part of EJI's public education project linking mass incarceration and American racial history. In addition, she contributed content and design to exhibits for The Legacy Museum: From Enslavement to Mass Incarceration and The National Memorial for Peace and Justice. Taylor holds a B.A. in comparative studies in race and ethnicity from Stanford University and a master's in journalism from Columbia University. In addition to serving as primary editor, researcher, and contributing author of multiple EJI reports on racial history, she has published many law review articles and media pieces on race and law, and spent three months researching comparative criminal law in South Africa.
Elizabeth Keane
Center Coordinator
Law School Room J35
203-432-9165
elizabeth.keane@yale.edu
Keane manages the operations of the Liman Center. Prior to joining the Center in 2017, she spent nearly a decade at Shipman & Goodwin LLP, where she worked in the Department of Legal Marketing and oversaw its business development and marketing communications. Prior to that, Keane managed multistate operations and was part of a national business development team within the financial industry.
Serena Crawford
Director of Communications
serena.crawford@yale.edu
Crawford helps tell the stories of the Liman Center and its fellows to reach a variety of audiences. Prior to the Liman Center, she worked as a project manager in the Yale School of Medicine Office of Development and Alumni Affairs and as a staff writer in the Yale University Office of Development. She is the recipient of fellowships from the National Endowment for the Arts and Literary Arts. Crawford graduated from Middlebury College and earned an M.F.A. in creative writing from the University of Oregon.
Laura Fernandez
Senior Liman Fellow in Residence [full bio]
laura.fernandez@yale.edu
Fernandez is a Clinical Lecturer in Law and Research Scholar in Law at Yale Law School, in addition to being Senior Liman Fellow in Residence. Her research focuses on questions of prosecutorial power, ethics, and accountability. Before joining Yale Law School, she was Senior Counsel at Holland & Knight, LLP, where she worked as a fulltime member of the Community Services Team. Laura clerked for the Honorable Jack B. Weinstein of the Eastern District of New York, and was an E. Barrett Prettyman Fellow at Georgetown Law Center, where she obtained her LL.M. She holds an A.B. in Literature from Harvard College, a J.D. from Yale Law School.
Skylar Albertson
Curtis-Liman Clinical Fellow
skylar.albertson@yale.edu
Albertson was recently a law clerk for Judge Janet C. Hall of the U.S. District Court for the District of Connecticut. He also clerked for the Honorable Guido Calabresi of the U.S. Court of Appeals for the Second Circuit. During 2018–2019, he held a Liman Fellowship and worked at the Bail Project, a national revolving bail fund. The Bail Project uses donated funds to post bail, offers voluntary support for appearing in court, and reuses funds returned to the Bail Project following the close of individuals' court cases. Albertson helped coordinate the opening of bail fund sites in Indianapolis, Indiana; Maricopa County, Arizona; San Diego, California; Chicago, Illinois; and Compton, California. He also contributed to a policy framework the Bail Project developed to guide jurisdictions seeking to move away from the use of cash bail. Albertson is a 2013 graduate of Brown University and a 2018 graduate of Yale Law School. He participated in the Criminal Justice Clinic, the Liman Workshop, and Liman Projects.
Grace Li
Fellow in Residence
grace.li@yale.edu
Li was recently a law clerk for Judge Theodore McKee of the U.S. Court of Appeals for the Third Circuit. After graduating in 2019 from NYU School of Law, she held a fellowship at the New York Civil Liberties Union, where she worked on behalf of people in prison and on parole. She was lead counsel in the monitoring of Ligon v. City of New York, a lawsuit challenging NYPD patrols of private apartment buildings. Li graduated from Princeton University. While at NYU School of Law, she was a Root-Tilden-Kern Public Interest Scholar, a member of the Equal Justice Initiative and Federal Defender clinics, and an intern in public defenders' offices. Before law school, Li created and ran academic tutoring programs in prisons and jails with the Petey Greene Program.
Dwayne Betts
Senior Liman Scholar [full bio]
reginald.betts@yale.edu
Betts is a Ph.D. candidate at Yale Law School and the critically acclaimed author of three collections of poetry and a memoir. He conceptualized The Million Book Project, funded by the Mellon Foundation, to bring 500 books, a Freedom Library, to 1,000 prisons and juvenile detention centers across the country. His latest book, Felon: Poems, won the NAACP Image Award and the American Book Award and was a finalist for the Los Angeles Times Book Award. He has been awarded fellowships by the Guggenheim Foundation, the National Endowment for the Arts, the New America Foundation, Harvard's Radcliffe Institute of Advanced Studies, and the Open Society Foundation. Betts is also a commissioner on the Connecticut Criminal Justice Commission, and his research focuses on the effects of state administrative law on incarceration and the genesis and long-term societal consequences of incarcerating juveniles with adults. As a Liman Fellow in 2016-2017, he worked in the New Haven Public Defender's Office. He holds a J.D. from Yale Law School.
Brian Highsmith
Senior Research Affiliate
brian.highsmith@yale.edu
Highsmith is pursuing a Ph.D. program in Government and Social Policy at Harvard. He has been central to the Liman Center's organization of a series of webinars on Fines, Fees, and Government Funding, which aim to bring together experts in public finance and in monetary sanctions to remedy the unjust use of money as punishment. His article, Defund Our Punishment Bureaucracy, was published in June 2020 in The American Prospect. Brian's current research focuses on the budgetary costs to governments of policing and punishment systems and the connections between residential segregation and local governments' reliance on criminal fines and fees. After graduating from Yale Law School in 2017, Highsmith was a Skadden Fellow at the National Consumer Law Center. He has also worked on policy at the White House National Economic Council, the Center on Budget and Policy Priorities, and the office of Senator Cory Booker.
Jonathan Petkun
Senior Research Affiliate
jonathan.petkun@yale.edu
Petkun received his J.D. from Yale Law School and his Ph.D. in economics from MIT, where he was a National Science Foundation Graduate Research Fellow. His research uses the tools of applied microeconomics to study questions in empirical civil procedure, employment law, and tax. Petkun is especially interested in how the legal and economic organization of large public institutions in the U.S.—particularly the military and state and federal courts—affect the lives of individuals who participate in them. With Judith Resnik, he has explored how publicly available data can shed light on the structure and practices of the federal courts, and how data collection and dissemination could be improved to advance this understanding. His research now investigates how civil filing fees affect access to courts for low-resource litigants and whether discretionary fee waivers mitigate these barriers. Petkun is a graduate of Swarthmore College and a veteran of the U.S. Marine Corps.
Affiliated Faculty
Peter Brooks
Sterling Professor Emeritus of Comparative Literature [full bio]
Yale University
Trattie Davies 
Critic [full bio]
Yale School of Architecture
Gregg Gonsalves, PhD
Associate Professor of Epidemiology [full bio]; Associate (Adjunct) Professor of Law, Yale Law School; Co-Director, Global Health Justice Partnership; Co-Director, Collaboration for Research Integrity and Transparency
Elizabeth K. Hinton
Associate Professor of History & African American Studies and Professor of Law [full bio]
Yale Law School
Reena Kapoor
Associate Professor of Psychiatry; Associate Program Director, Forensic Psychiatry Fellowship [full bio]
Yale School of Medicine
Louisa Lombard
Associate Professor of Anthropology [full bio]
Yale University
Courtney Skipton Long
Associate Director for Membership Programs
Yale University Art Gallery
Jaimie P. Meyer, MD, MS 
Associate Professor of Medicine and Epidemiology [full bio]
Yale School of Medicine
Lisa Puglisi
Assistant Professor of Medicine [full bio]
Yale School of Medicine
S. Zelda Roland
Founding Director, Yale Prison Education Initiative at
Dwight Hall at Yale [full bio]
Director, University of New Haven Prison Education Program
Emily Wang
Professor of Medicine and of Public Health [full bio]
Yale School of Medicine
Howard Zonana
Professor of Psychiatry and Professor (Adjunct) of Law [full bio]
Yale School of Medicine
Co-Faculty
Fiona Doherty
Clinical Professor of Law and Director, Jerome N. Frank Legal Services Organization [full bio]
Yale Law School
Miriam Gohara
Clinical Associate Professor of Law [full bio]
Yale Law School

Lucas Guttentag
Senior Counselor to the Deputy Attorney General [full bio]
U.S. Department of Justice
Advisory Council
Emily Bazelon
Staff Writer, The New York Times Magazine
Lecturer in Law, Senior Research Scholar in Law, and Truman Capote Fellow
Yale Law School
Hon. Nancy Gertner
Judge, US D. Mass (Ret.)
Senior Lecturer on Law
Harvard Law School
Vicki Jackson
Laurence H. Tribe Professor of Constitutional Law
Harvard Law School
Doug Liman
Film Director and Producer
Melissa Murray
Frederick I. and Grace Stokes Professor of Law
Faculty Director, Birnbaum Women's Leadership Network
New York University School of Law
Sia Sanneh
Senior Attorney, Equal Justice Initiative
McGregor Smyth
Executive Director, New York Lawyers for the Public Interest