Impeachment Trial Memorandum
---
On September 24, 2019, Speaker of the House Nancy Pelosi announced that the House of Representatives would initiate a formal impeachment inquiry against President Donald J. Trump.  On December 18, 2019, the House voted two articles of impeachment against President Trump for high crimes and misdemeanors (H. Res. 755). Shortly after the impeachment inquiry began, the Peter Gruber Rule of Law Clinic at Yale Law School commenced work with former U.S. Senators Russ Feingold (D-WI 1993-2011) and Chuck Hagel (R-NE 1997-2009) to prepare a detailed Memorandum to current U.S. Senators in anticipation of a potential Senate impeachment trial. The Memorandum provides guidance on the Senate's rules and senators' roles and obligations during a presidential impeachment trial. After the House of Representatives passed H. Res. 755, the Memorandum was distributed to all sitting U.S. senators.
Public Documents
Press
Clinic Assists Former U.S. Senators in Drafting Impeachment Trial Memorandum
Census Team
---
The Census Bureau is stumbling toward a dramatically inaccurate 2020 Census. The Bureau is cutting historic investments in field infrastructure and pre-census testing, while implausibly claiming that it can fill this gap by relying on ill-designed, largely untested new methods. As a result of these challenges, the 2020 Census is on track to massively undercount Hispanic and African Americans and other people of color, depriving their communities of political representation and federal funds.
The clinic, on behalf of the National Association for the Advancement of Colored People (NAACP), filed a Freedom of Information Act lawsuit in October 2017 against the Census Bureau's parent agency, the Department of Commerce, seeking a more complete picture of the state of the Bureau's preparations for 2020. The NAACP and Department of Commerce settled the case in February 2019, which secured the release of important previously-withheld Census Bureau planning and budgeting documents. In September 2019, the Commerce Department agreed to pay more than $18,000 in attorneys' fees and costs.
In addition, in March 2018, the clinic filed a second lawsuit against the federal government on behalf of the NAACP; Prince George's County, Maryland; the NAACP Prince George's County Branch; and local NAACP leaders. The law firm Jenner & Block is co-counsel in this matter. The Plaintiffs sought to address severe underfunding and multiple critical design flaws in the 2020 census including the decision to cut the number of field offices in half and reduce the number of enumerators by nearly one-third. The Plaintiffs alleged that the government was at imminent risk of failing to conduct a fair and accurate census, as required by the Constitution. In January 2019, the district court granted in part and denied in part the government's motion to dismiss. In April 2019, after the Census Bureau released its Final Operational Plan for the 2020 Census, the Clinic amended the complaint to include statutory claims under the Administrative Procedure Act. On August 1, 2019, days before Plaintiffs were scheduled to file their motion for preliminary relief, the district court dismissed the entire action. Plaintiffs appealed the case to the Fourth Circuit, which granted a motion to expedite over the government's objection. The court held oral argument on October 30, 2019. On December 19, 2019 the court unanimously reinstated the Enumeration Clause claims in the suit and explained, "mindful of the Supreme Court's recent guidance affirming judicial review of 'both constitutional and statutory challenges to census-related decision-making' . . . we conclude that the district court erred in dismissing the plaintiffs' Enumeration Clause claims as unripe."
Public Documents
Decision, U.S. Court of Appeals for the Fourth Circuit (filed December 19, 2019)
Complaint (filed March 28, 2018)
Complaint (filed October 5, 2017)
Decision Granting Motion to Dismiss
Appellant's 4th Circuit Opening Brief
4th Circuit's Decision
Press
Restrictions On Deployed U.S. Troop Data Could Put 2020 Census 'At Risk' (NPR)
NAACP Secures Agreement to Increase 2020 Census Transparency (NAACP)
All the Reasons the 2020 Census is Shaping Up to Be a Disaster (Talking Points Memo)
Judge Refuses to Throw Out NAACP's Lawsuit Over 2020 Census (New York Times)
ROLC, NAACP Challenge to 2020 Census Preparations Moves Forward (Yale Law School)
The census is a threat to communities of color (Washington Post)
NAACP lawsuit seeks to prevent undercount of minority communities (Washington Post)
Rule of Law Clinic Files Suit Over Census Preparations (Yale Law School)
Rule of Law Clinic Sues Commerce Department Over Census Records (Yale Law School)
Prison Gerrymandering
---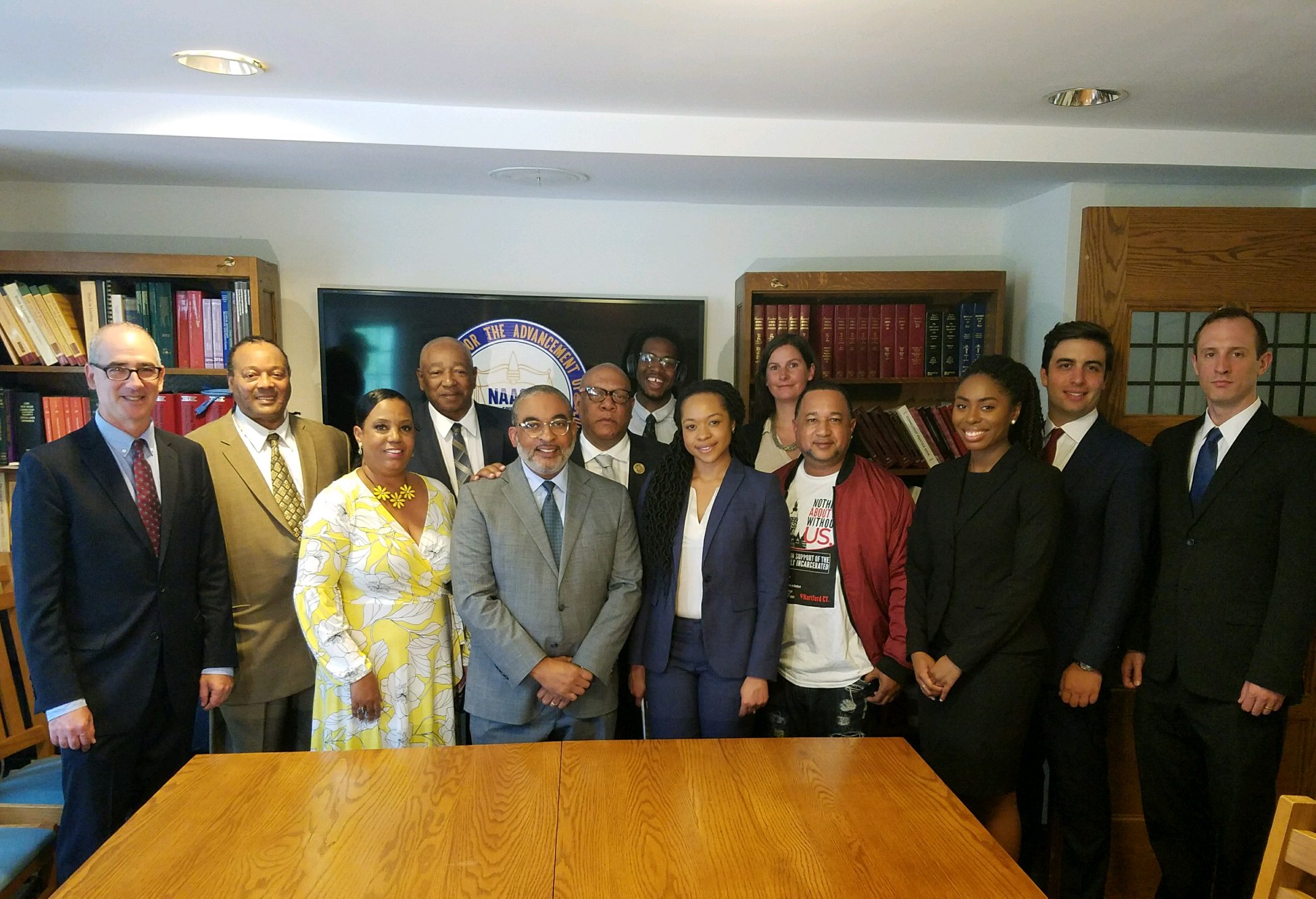 [Caption: Members of the Rule of Law Clinic and the NAACP at a press conference on June 28, 2018, announcing the lawsuit. Those pictured include Professor Mike Wishnie '93, Brad Berry '88, NAACP General Counsel, Clinical Lecturer in Law Hope Metcalf, Ashley Hall '19, Keturah James '19, Rich Medina '18, and John Super '20.]
On June 28, 2018, the clinic filed suit in federal court on behalf of the National Association for the Advancement of Colored People (NAACP), the NAACP Connecticut State Conference, and five Connecticut residents to compel the State of Connecticut to adopt a new redistricting map that counts prisoners in their home state legislative districts rather than in the districts where they are being incarcerated, thereby safeguarding the Fourteenth Amendment principle of "one person, one vote". The NAACP is co-counsel on the suit.
By law, Connecticut is divided up into a number of districts with equal population—and each district elects one representative to send to the Connecticut State Legislature. The law requires each district to have equal population because having more people in one district dilutes the value of their individual votes and puts those residents at a disadvantage in competing for their representative's time and attention. Conversely, having fewer people in a district gives voters there an advantage—the value of their own vote is inflated, and their legislator can do a better job in representing them because she has fewer constituents to represent.
But for purposes of drawing legislative maps, Connecticut counts incarcerated persons at the location of their prison, not their pre-incarceration addresses. This process is called "prison gerrymandering." Disproportionately, these prisoners come from urban centers like New Haven, Bridgeport, and Hartford, and Connecticut puts them in prison in rural areas like Enfield and Somers. This means that instead of their hometown representatives, prisoners must rely on representatives from those areas where prisons are located to protect their interests in the State Legislature—something that is unlikely to happen. By contrast, their home representatives—where prisoners' families are—carry the de facto responsibility of representing their interests. Counting disenfranchised prisoners where they are confined instead of at their home address inflates the voices of rural, white residents at the expense of predominantly minority residents in overpopulated urban districts.
The state moved to dismiss the action, and on February 19, 2019, Judge Warren Eginton denied the motion, holding that the case can proceed to discovery and trial. The state filed an unusual interlocutory appeal to the Second Circuit and asked Judge Eginton to stay all further proceedings in the district court. On May 8, 2019, the Court denied the request, concluding that, "[F]or purposes of considering whether a stay should issue under the dual jurisdiction rule, the Court finds that defendants' appeal on the basis of the Eleventh Amendment is frivolous."
The state's appeal was argued before the U.S. Court of Appeals for the Second Circuit on September 10, 2019. On September 24, the Court unanimously affirmed the district court's refusal to dismiss the action, holding that the case could move forward. The Second Circuit also directed that on remand the case should be referred to a three-judge district court appointed by the Chief Judge of the Second Circuit.
Public Documents
Complaint, NAACP v. Merrill, No. 3:18-cv-01094 (filed June 28, 2018)
Opinion & Order Denying Motion to Stay
Opinion & Order Denying Motion to Dismiss
Plaintiffs' Opposition to Motion to Dismiss
ROLC Student Ashley Hall's Testimony Before the CT Government Administration & Elections Committee in Support of H.B. 5611 to End Prison Gerrymandering in CT (3:02:23 - 3:11:00) (February 15, 2019)
Order Affirming in Part District Court's Order
Prison Gerrymandering Factsheet
Expert Report: William S. Cooper
Plan A Map
Press
Connecticut Could Pass Bill For More Equitable Counting Of Prison Inmates, WSHU Public Radio, (March 30, 2021)
Committee Forwards Prison Gerrymandering Bill To Senate, CT News Junkie (March 29, 2021)
Opinion: State must end prison gerrymandering, CT Post (March 18, 2021)
Bill aimed at ending 'prison gerrymandering' approved in committee, CT Post (March 29, 2021)
Committee Takes On Prison Gerrymandering, CT News Junkie (March 11, 2021)
Bill Would Change How Inmates Are Counted For Redistricting, Associated Press (March 10, 2021)
Advocates Look To End Prison Gerrymandering In Connecticut, WSHU Public Radio, (March 10, 2021)
Prison Gerrymandering Suit Can Proceed, New Haven Independent (September 24, 2019)
Judge Allows Prison Gerrymandering Lawsuit to Move Forward, NBC Connecticut (February 21, 2019)
Prison Gerrymandering Lawsuit Moves Forward in Connecticut, Courthouse News (February 20, 2019)
NAACP Wins First Battle in Lawsuit to End Prison Gerrymandering in CT, The Crime Report (February 20, 2019)
Lawmakers Take Up Bills to Strengthen Felons' Voting Rights, Change Inmate Count Practice, The CT Mirror (February 15, 2019)
Prison Gerrymandering Challenged in Connecticut Lawsuit, Between the Lines (January 16, 2019)
Counting Prison Inmates Differently Could Shift Political Power to Cities, Pew Stateline (January 2, 2019)
Prison Gerrymandering, New York Law Journal (January 2, 2019)
ROLC, NAACP Sue Connecticut Over Prison Gerrymandering, Yale Law School (June 28, 2018)
Editorial: Connecticut should end practice of 'prison gerrymandering,' New Haven Register (July 15, 2018)
Markeshia Ricks, NAACP Sues State For "Prison Gerrymandering, New Haven Independent (June 28, 2018)
Mary E. O'Leary, NAACP, Yale Law sue state over 'prison gerrymandering', New Haven Register (June 28, 2018)
NAACP Sues To Throw Out Connecticut Legislature's Map Over Prison Gerrymandering, Huffington Post (June 28, 2018)
NAACP Sues Connecticut Over 'Prison Gerrymandering,' Hartford Courant (June 28, 2018)
NAACP sues Connecticut over 'prison gerrymandering,' The Guardian (June 28, 2018)
How Prison Gerrymandering Strips Power from Communities of Color, In These Times (August 16, 2018)
Prison Gerrymandering Must End in Connecticut, Connecticut Law Tribune (February 7, 2020)
The 25th Amendment
---
The Twenty-Fifth Amendment has been largely overlooked by history, but in recent months, has drawn increasing attention in the media and popular culture. While its potential for human drama has been explored in detail, its legal requirements and implications remain poorly understood, and have been misstated even by experienced legal commentators. This is in part because the Amendment has received little judicial and scholarly attention. The relative sparseness of the Amendment's interpretive development is especially striking given the gravity of its subject: the removal from power of the elected head of the Executive Branch.
Among the provisions of the Twenty-Fifth Amendment, Section 4—which provides for situations where the President cannot or will not recognize his own inability—is particularly momentous and little understood. In the more than fifty years since the Amendment's ratification, Section 4 has never been invoked. There are no judicial or other authoritative opinions directly evaluating its proper implementation. Unlike other constitutional processes involving the office of the President, such as impeachment or even other sections of the Twenty-Fifth Amendment, there is no historical practice to guide its employment. As a result, uncertainty persists about such basic questions as to when Section 4 can or should be invoked, who would make important decisions, and how Section 4's processes should be implemented.
This "Reader's Guide" seeks to provide guidance on these critical interpretive questions. Drawing on the constitutional text, legislative debates, and scholarly analyses, it seeks to provide a road map for the faithful application of Section 4 of the Twenty-Fifth Amendment.
Public Documents
The Reader's Guide to the 25th Amendment
Addendum: List of Possible Congressional Actions
Press 
What Is The 25th Amendment And How Could It Undermine Trump?, NPR (September 6, 2018)
Rule of Law Clinic Releases "Reader's Guide" for the 25th Amendment, Yale Law School (April 18, 2018)