Mr. Giammarco arrived in the United States as a lawful permanent resident at the age of four in 1960. He served honorably in the U.S. Army and the Connecticut National Guard. He is married to a U.S. citizen, and the couple has a young daughter. In 1982, Mr. Giammarco filed a naturalization application, which the government never finished processing. In 2011, while his application was still pending, Immigration and Customs Enforcement (ICE) arrested Mr. Giammarco, illegally detained him without bond for nearly a year and a half, and then deported him to Italy based on old shoplifting and possessory drug convictions. After spending fifty-one years of his life in the United States, Mr. Giammarco was forced to adjust to life in a foreign land thousands of miles away from his family and home.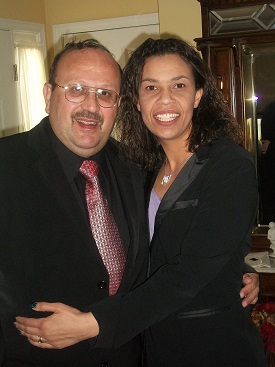 In the summer of 2013, the year after he was deported, Mr. Giammarco retained the clinic, which that fall filed a federal mandamus lawsuit on his behalf seeking to compel U.S. Citizenship and Immigration Services (CIS) to adjudicate his 1982 naturalization application. The district court dismissed the action sua sponte in fall 2014 for lack of jurisdiction, but then granted Mr. Giammarco's motion to vacate its order and reinstated the action in fall 2015.  In March 2016, Judge Vanessa L. Bryant issued a thirty-page opinion ordering DHS to adjudicate his 1982 naturalization application. Giammarco v. Beers, 170 F.Supp.3d 320 (D. Conn. 2016), notice of appeal withdrawn. 
In addition to the mandamus lawsuit, the clinic explored many strategies to secure Mr. Giammarco's return home to his family in Connecticut. In 2014 and 2016, Mr. Giammarco applied for a pardon to the Connecticut Board of Pardons and Paroles. The Board denied both applications, the latter one by a 2-1 vote. The clinic also submitted multiple applications for humanitarian parole on behalf of Mr. Giammarco, all of which were denied by ICE.
The clinic also pursued state legislative strategies. In spring 2015, the Connecticut General Assembly considered but did not enact a private bill that would have pardoned Mr. Giammarco, H.J. 46, "Resolution Pardoning Former Sergeant Arnaldo Giammarco." In the 2016 legislative session, the co-chairs of the Judiciary Committee of the Connecticut General Assembly issued a legislative subpoena to Mr. Giammarco to testify in-person regarding his remorse and the impact of his deportation upon his family. When DHS refused to permit him to return as commanded by the legislative subpoena, Mr. Giammarco petitioned for a writ of habeas corpus ad testificandum. Judge Bryant dismissed the action, and the Second Circuit affirmed. Milardo v. Kerlikowske, 2016 WL 1305120 (D. Conn. Apr. 1, 2016), aff'd, 665 Fed. Appx. 24 (2d. Cir. 2016)
After two district court lawsuits, three Second Circuit appeals, two pardon applications, and three humanitarian parole applications, Mr. Giammarco reached a settlement with USCIS in early 2017. USCIS stipulated that the record failed to show that a particular larceny conviction on Mr. Giammarco's record constituted an aggravated felony, under recent Supreme Court precedent, and Mr. Giammarco agreed to submit a new naturalization application in lieu of proceeding on his 1982 application. In July 2017, Mr. Giammarco had a naturalization interview at the U.S. Embassy in Rome, where he was approved and sworn in during a military naturalization ceremony that same day. Ten days later, after almost five years away, he returned home to his family in Connecticut as a United States citizen.
Complaint, Giammarco v. Beers, No. 3:13-cv-01670-VLB (D.Conn.) (Nov. 12. 2013)
H.J. 46, "Resolution Pardoning Former Sergeant Arnaldo Giammarco" (2015)
Press Release (March 16, 2016)
Emergency Petition for Writs of Habeas Corpus ad testificandum (filed March 16, 2016)
Memorandum In Support of Emergency Petition for Writs of Habeas Corpus ad testificandum (filed March 16, 2016)
Memorandum of Decision Granting Plaintiff's Cross-Motion for Summary Judgment (issued March 17, 2016)
Memorandum of Decision Granting Defendant's Motion to Dismiss Emergency Petition For Writs of Habeas Corpus ad testificandum (issued April 1, 2016)
Summary Order and Judgment Affirming Denial of Writ of Habeas Corpus ad testificandum (issued October 31, 2016)
Brief of Amici Curiae for Americans for Immigrant Justice, et al. in Support of Respondents in Jennings v. Rodriguez (filed October 24, 2016)

Media Clips
Peggy McCarthy, Deported Connecticut Army veteran gains U.S. citizenship, reunites with family, New Haven Register, July 24, 2017.
Chris Riotta, Immigration Detention Centers: Immigrant Describes Conditions, Experience in Indefinite Detention, International Business Times, December 1, 2016.
Henry Gass, On eve of Trump presidency, Supreme Court takes up key immigration case, Christian Science Monitor, November 29, 2016.
Arnold Giammarco, Op-Ed: After 50 Years as a Legal Immigrant, I Spent 18 Months in Immigration Detention Without a Bail Hearing, ACLU, November 28, 2016.
Prolonged Detention Stories, Website in Connection with the Jennings v. Rodriguez Amicus Brief.
Peggy McCarthy, Life In Italy 'Devastating' For Deported Army Veteran, Hartford Courant, April 25, 2016.
Rowan Kane, Federal judge denies Connecticut deportees' request to return, New Haven Register, April 2, 2016.
Vinny Vella, Yale Students Ask Federal Judge To Let Deported Residents Return for Hearing, Hartford Courant, March 28, 2016.
Dave Collins, Connecticut Lawmakers Subpoena Deported Former Residents, Associated Press, March 1, 2016.
Mary O'Leary, Connecticut Legislative Committee Subpoenas Seek Testimony From Deported Former Residents, New Haven Register, February 26, 2016
Peggy McCarthy, Veterans Expelled From U.S. For Minor Crimes Fight Deportations, The Register Citizen, November 3, 2013.